30th November 1997
Danger in the hills
By Arshad M.Hadjirin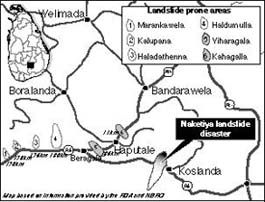 The Meterological Dept. has predicted more rains in the next few weeks, and this spells bad news to those in the hills. Senior engineers racking their brains to prevent yet another landslide, are apprehensive. The main road connecting the Badulla District to Moneragala is at risk, at Beragala,they say.
Already the worst ever landslide at Koslanda, has destroyed one route to Wellawaya.
With heavy rains during the last three months, the seemingly rock hard mountains gave way to underground water seepage. One could see an earthslip at every bend on the drive to Badulla via Beragala. Roads which wind along the contours of landscapes are cracked, while others have taken a nose dive into the precipices. In short the situation is grave. These roads will have to be rerouted very soon, say engineers at the Road Development Authority (RDA).
Director, Uva Province Road Development Authority, M.Thuraisamy, said that an 'early warning' has been issued to all residents in and around landslide prone areas and that most have already vacated their houses.
Areas under imminent danger along the A4 route, are the stretch from Marangahawela to Koslanda, and on A16 from Beragala to Kahagalla. Also under threat is the stretch between Ella and Wellawaya which has suffered enormous damage due to earth slips. Indian experts working in the area had earlier predicted that the overhanging boulders would crash down during the next rain. RDA officials were expected to take a decision on closure of these roads for all types of vehicles at the time of writing.
Divisional Secretary, Haldumulla, H.L.S. Wijesinghe said he has instructed as many as 58 families to evacuate from these areas. They will each get a government grant of Rs. 10,000. Many have taken refuge at school buildings in safe areas, while some were temporarily put up at a nearby church at Koslanda. Chief Engineer RDA Badulla District, Thilak Silva, says they are not in a position to avert a possible landslide at Beragala. "This is the most dangerous area. We have tried every measure, and are not in a position to prevent a natural disaster," he said. During the past three weeks more than 140 acres of land have been washed away, and Mr.Silva believes that a total of 500 acres may be at risk due to landslides within the next couple of weeks.
A.Nadarajah who saw his house being washed away in the Koslanda landslide, like a toy house floating in a basin, said he had never seen such a sight in his life. "I've lived in this area for the last seventeen years, but never seen a landslide of this magnitude," he said. Many others who had especially travelled great distances to see the landslide at Naketiya, Koslanda also agreed.
Mr. Thuraisamy explaining the landslide phenomena said many waterways converge underground creating two blocks of soil divided by a layer of water. The washing away of the upper layer is known as a landslide. Generally landslides are triggered off by heavy rains. Engineer Mr. Silva said the Samanalaweva dam, which came under severe criticism at the time of construction, could also be a contributory factor to landslides. "Most of the waterways from these hills were directed to the dam without much foresight," he said.
R.M.S.I.Arembepola, Head of Landslide Division of the National Building and Research Organisation (NBRO) said they had mapped out around 800 square kilometres in the Badulla and Nuwara Eliya districts. "We left out Koslanda and the adjoining areas due to certain financial constraints," he said. The NBRO hopes to cover the entire upcountry including Ratnapura, Kandy, Matale, Kegalle and Kalutara districts, by the year 2003.
The NBRO which carries out research on soil conditions, gives advice on how to tackle problems that could arise especially in landslide prone areas. But they are unable to effect any preventive measures as they are not the authority to do so. "Lack of co-ordination, and financial constraints have put off several suggestions to safeguard landslide prone areas," Mr. Arambepola said.
He further said their landslide predictions depend heavily on the amount of spade work they are able to carry out. A team of Geologists, Geometric Engineers, Human Settlement Planners, Land-use Planners, Architects, and Hydrologists have to inspect every site where a landslide map is needed.
Meanwhile the Computer Aided Design Unit, of Research and Developement, RDA, is at present redesigning several roads which traverse the landslide prone areas. However this will take some time.
Mr. Arambepola says that a thumb rule has been set out to evade landslide disasters. "Residents should evacuate any landslide prone area if it records a rainfall level of 200mm within a day. But the problem is that, not every location has the facility to record the rainfall," he said.
Mr. Thuraisamy said the only preventive measures at this moment would be to divert the seepage waters, introduce subsurface drainage systems, completely ban chena cultivation and tree felling along these areas. "However with the heavy rains continuing, landslides are an inevitable occurrence," he said.
Areas under imminent danger
A4 Route - 170Km Marangahawela - 173-4 Km
Kalupahana - 176-7 Km
Halatuthenne - 180 Km
Haldumulla - 186-7 Km
Beragala A16 Route - Kahagalla (11Km from Beragala)
---
Continue to Plus page 3 * Shot down
Return to the Plus contents page
| HOME PAGE | FRONT PAGE | EDITORIAL/OPINION | NEWS / COMMENT | BUSINESS
Please send your comments and suggestions on this web site to
info@suntimes.is.lk or to
webmaster@infolabs.is.lk