23rd November 1997
Innocent expressions
With a warm atmosphere providing the kind of supportive stimulus they need, these 'special' young people are ready for Daya Mina's annual exhibition on Nov. 26 and 27at the Lionel Wendt
Sampath ( not his real name) looks almost normal. At fifteen, this bright-faced youngster loves cricket and given half the chance would like nothing better than to watch the matches on TV and cheer his heroes on. He will never be able to emulate them. A learning disability, probably brought on by malnutrition in early childhood has left deep scars on this child from the Wellawatte slums.
Piyumi (name changed) has after a dint of patient effort learned to type. She paints and sings too. Afflicted by Down's syndrome, she though in her twenties has to grapple with high parental expectations in addition to her handicap.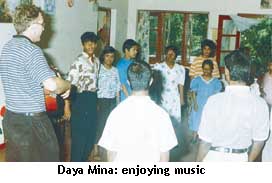 There are many Sampaths and Piyumis at Daya Mina. At this day care centre for 'special children' in Embuldeniya, 47 young adults, are taught basic living and vocational skills. The emphasis is on including them in society and a dedicated staff, headed by Sister Anastasia handle them with love and encouragement.
Daya Mina is especially busy these days. For some years now, they have held an annual exhibition of their work and though this was not possible last year, this year they are ready. On November 26 and 27 at the Lionel Wendt , 'Our World' will give the public a chance to see and support the work at Daya Mina.
"They may be slow, they may have learning disabilities, but given the chance, they can also contribute," says Sister Anastasia. She sees the importance of recognising and encouraging their efforts, be it in candle making, sewing, painting , pottery or woodwork.
Set up in 1989, Daya Mina caters to those between the ages of 15 and 40. Its sister organisation is Supem Uyana and here 'special children' find refuge. The exhibition will feature both their work.
Daya Mina provides day care facilities with the philosophy that even those with learning disabilities, those who are autistic, have Down's Syndrome have something to contribute to society, that with the proper guidance and support they need not be hidden away. Having moved to their present premises, an upstair house at Embuldeniya in 1993, construction of another one storey building next door is also underway.
Begun last December, it has now progressed to the first floor with the support of the German Embassy and the British High Commission, but is now 'a little stuck for lack of funds'. It is hoped that with the completion of this building, attractively painted in shades of blue with facilities such as a kitchen, cafeteria, dressing room etc, Daya Mina can expand and take in a few dozen more of those on the waiting list.
"The waiting list is long, too long," concedes Sister Anastasia. She points out that some four percent of Sri Lankans suffer from mental disabilities and though awareness is increasing, 'they still don't get what they deserve." A good example would be this very exhibition they are preparing for. No sponsors were to be found. Cricket and other sports, it seems, are still more a priority for corporate concerns. While Daya Mina seeks to be self-supporting through the sale of its work and produce, to provide more there has to be greater support, both financially and otherwise. At present three Danish volunteers are on a three month assignment at Daya Mina and another young lady also Danish has been helping for the past one and a half years.
In a little room by the stairs at Daya Mina hang some framed verses. One, in particular, seems to embody the spirit of Daya Mina. It goes:
A meeting was held quite far from earth
It's time again for another birth
Said the Angels to the Lord above
This special child will need much love
He may not run, nor laugh nor play
His thoughts may seem quite far away
In many ways he won't adapt
And he will be known as handicapped
So let's be careful where he's sent
We want his life to be content
Please Lord find parents who will do
A very special job for you
They will not realise right away
The leading role they are asked to play
But with this child sent from above
Comes stronger faith and richer love.
The atmosphere at Daya Mina is warm and seems to provide the kind of supportive stimulus that many of the young people do not receive from society that can only see their shortcomings. As the midmorning bell rang for tea, all the young people who had been working on their handicrafts headed for the main hall, and cheerful chatter accompanied the clatter of cups and saucers. Then it was time for the music class, one of the most popular of all their activities.
"They choose the songs they sing," said a smiling volunteer, who helps conduct the music class. "They love the interaction."
Much of the work that will be on display at the exhibition is the result of painstaking effort, sometimes done over and over again till the desired result is achieved. There is naturally more spoilage than would normally ensue, but for the determined effort it represents, the Daya Mina creations need all our support.
In addition to pottery, woodwork and a variety of handicrafts, a range of Christmas gift items will also be on sale.
---
Continue to Plus page 12 * Pitagamkarayo all the way * For the sake of us all
Return to the Plus contents page
| HOME PAGE | FRONT PAGE | EDITORIAL/OPINION | NEWS / COMMENT | BUSINESS
Please send your comments and suggestions on this web site to
info@suntimes.is.lk or to
webmaster@infolabs.is.lk