23rd November 1997
Pitagamkarayo all the way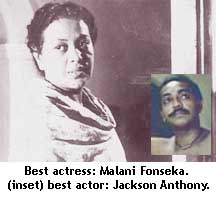 It was a rewarding night for Tissa Abeysekera for all the hard work he put in, when his epic teledrama Pitagamkarayo carried away the major honours at last week's Sumathi Tele Awards presentation. Pitagamkarayo bagged nine awards in all, Tissa himself being adjudged the best scriptwriter and best director. As producer he collected the Teledrama of the year award too.
Malini Fonseka's memorable performance as Ema Nona made her the best actress while Jackson Anthony playing her elder son was best actor. Sabitha Perera, the daughter-in-law became best supporting actress.
M .D. Mahindapala's photography made him the best cameraman. Other awards were for art direction (KA Milton Perera & Ranjith Silva) and Make up (Ranjith Mathangaweera).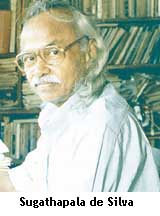 It was rather unfortunate that Harsha Makalanda's music score failed to win the award even though it was one of the three nominees. Harsha had done a lot of research into the different types of music in folk tradition and created an ideal score to suit the flow of the drama spanning three generations. The judges would certainly have been divided on the issue.
Both Malini and Jackson paid glowing tributes to Tissa attributing their success to the intense involvement of the director. "In a country where we have no facilities to be trained professionally, Tissa's advice and guidance were invaluable," Jackson stressed.
A word of thanks to CTC Eagle for sponsoring Pitagamkarayo providing excellent entertainment to the viewers. Is it too much to ask for a repeat telecast?
Congratulations Tissa for your great effort and we hope you will give us many more in the years to come.
Nostalgic memories
The rendering of the first ever Sinhala film song at the Sumathi Tele Awards night brought nostalgic memories to those of us who sat in the Kingsley cinema in Armour Street sometime in January 1947 watching the Minerva production, Kadavunu Poronduwa directed by B.A.W. Jayamanne. Rukmani Devi and Stanley Mallawarachchi playing the lead roles sang 'Sandyave Sreeya Ramya Lesa Pena (composed by veteran lyric writer, actor Hugo Fernando) which became an instant hit.
Damayanthi Jayasuriya and Lakshman Wijesekera sang it the other night to the accompaniment of the National Youth Services Council dance troupe. Music was by Rohan Weerasinghe.
Those popular Theeru lipi
Reading for his diploma in journalism in the Colombo University, journalist Kitsiri Nimalshantha did an exhaustive study of Theeru lipi (column features) in the Sinhala newspapers. The study is very interesting reading and gives a wealth of information on how column writing became popular in the Sinhala press.
Kitsiri traces back the first Theeru Lipiya to 1907 when Lakmini Pahana, the second Sinhala newspaper in its January 19 issue published a column written by 'Desanapala' under the title 'Agama Deshanawa' . As the name suggests, it was more or less a sermon preaching the ill effects of blindly following western practices. Kitsiri's publication Sinhala puvat path theeru lipiye vikashaya ha sannivedanaya' carries a list of the well known columnist. It shows how all better known authors had been contributing to newspapers under pseudonyms.
Among them were Piyadasa Sirisena (Deshabhimana in Sinhala Jatiya), Martin Wickremesinghe (Sura Vinoda- Swadesha Mitraya, Mayurapada - Dinamina & Hetuwadi - Silumina), W .A. Silva (shurapada - Lanka Samaya) I.M. R. .A Iriyagolle (Sudarshana-Sinhala Bauddhaya & Imrai-Lankadipa), Hemapala Munidasa (Manuvinoda Swadesha Mitraya), Kumaratunga Munidasa (Asaranayage Kannalawwa-Lakmini Pahana, Devi-IIapatha & Gadubu-Subasa) and Rapheal Tennekoon (Gamaya-Lankadipa).
From its inception in 1947, 'Lankadipa' carried Theeru Lipi which were enjoyed by the readers. The most popular was 'Vagathuga' written by Sri Chandrarathne Manawasinghe. (He wrote 'Sandaruwan' in the Irida Lankadipa).
When D.B. Dhanapala who was responsible for popularising column writing in Lankadipa moved over to Gunasenas to start 'Dawasa' (1961), he introduced Apata Wechcha De (Lionel Lokuliyana), Hella & Ekath Ekata (David Karunaratne), Mesamayehi (Dhanapala) and Deiyo Sakki (Piyal Wickremasinghe).
In recent years one of the most popular columnists was Dayasena Gunasinghe who wrote several columns to the Irida Divaina-Raigam Rala, Ukussa, Bhuta Reporter and Lunatikka.
Entertaining for five decades
Popular singer for over five decades, Mohideen Baig left the scene six years ago this month. Starting his career in the latter part of the 1930s singing Karuna moode namu gilila with K.K. Rajaluxmi, Baig was in great demand as a playback singer just as Mohamed Rafi was in the Hindi Film scene.
Paying tribute to Baig, Kala Lanka Foundation's T. M. Sanghadasa says that Baig was a devout Muslim who went to the mosque five times a day and led a simple, peaceful life. He was a versatile singer with the ability to sing in at least four languages - Sinhala, Tamil, Hindi and Urdu. He is regarded as the singer who has sung the most number of Buddhist songs.
Baig also made a name for himself as one who had a liking for patriotic songs. He was picked up by maestro Mohamed Ghouse to sing in the second Sinhala film. Asokamala. Having listened to him sing some Ghazal and Khavali songs, Ghouse was taken by Baig's style of singing and invited him to sing in the film.
His renderings including Nayana Veni Sudo are popular to this day, even after 50 years.
---
For the sake of us all
A leading dramatist and writer of this country Sugathapala de Silva finds himself lost and forgotten when he needs help most.
By Madhubhashini Ratnayake
For whom is this being written? For a great writer and dramatist, who, now partly paralyzed, lies in bed and turns his face to the wall to write letters on the faded paint? For his wife and children, who in the smallest of flats at Ratmalana, take care of him as he cannot get up from the bed, just like they had done when he was making waves in the field of drama and radio drama in this country?
No. For none of them. For they do not ask for help. The man with long white hair remembers to make a joke each time his memory comes back to him. "Now I know why babies cry so much when they are kept in bed all day long, surrounded by pillows," he says. "My word, the anger they must have towards their parents!" He had always laughed. Partial paralysis is not going to make him stop now.
But it is we who should be crying. Because the man is Sugathapala de Silva, one of the greatest dramatists in this country, and ranked among one of its best writers. And now, when he is ailing, we have given nothing to him, who has given us so much. There are two rooms in the flat. One is the hall, which perhaps can hold about four people comfortably. The other is the study cum bedroom, a ten by ten room which holds an impressive collection of books stuffed in shelves above and around the bed - and the table where all his work would have been written. There is nothing else there. Not even space to move.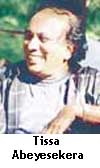 Sugathapala de Silva is the key player behind the formation of the theatre group "Ape Kattiya" which existed in the early sixties, being the strongest force that withstood the wave of stylized drama taking the country by storm after the enormous success of Sarachchandra's play Maname in 1956. They stood strongly by the thathvika or the realistic tradition of drama, despite the mushrooming of feeble imitations of Maname and perhaps modern Sri Lankan drama owes a lot to this man who now lies prostate in bed.
He is 69 years old now. His seventh novel was published just before his sudden sickness. Till he had to take to his bed, he was writing, going out to judge drama competitions, always having the joy of knowing that a group of people who really love the art of drama, was coming up. In him, there was always optimism.
Yet we are in sore need of it. In a country where strength of limbs in international sport fields is rewarded with houses and cars, shouldn't some recognition be given to those who have served our people less glamourously with their head and minds all through their lives? While there is no grudge against those sportspeople who brought fame to Sri Lanka being rewarded, there is still a wish that there would be a more fair distribution of appreciation. At least to the point that a leading artiste in this country would not find himself lost and forgotten when he needs help most.
True artistes may not be the best businessmen. They may not even be the most moderate of people when it comes to cigarettes and drink. Yet given all these faults, true artistes are still invaluable to a country. They make the soul of the nation, the backbone of its culture.What is it that is being asked for here? Perhaps a government sponsored organization to help ageing, ailing artistes, who had been too busy dedicating their lives to art to take the precaution of saving something for a rainy day. Perhaps a non-governmental private organisation, who could do so much by some timely assistance.
But it is not he who asks for help. It will be unlike the man to do so. It is for our own sakes that help is being asked, for it is to our country's shame if we allow such a man to be left unaided like this. So help is being asked for the sake of art, for the sake of young artistes who are trying to carve out the difficult road of uncommercialized art for the sake of other creative people who may have suffered the same fate as quietly as he does for our country.
---
Continue to Plus page 13 * Unforgettable, that's what you are
Return to the Plus contents page
| HOME PAGE | FRONT PAGE | EDITORIAL/OPINION | NEWS / COMMENT | BUSINESS
Please send your comments and suggestions on this web site to
info@suntimes.is.lk or to
webmaster@infolabs.is.lk