23rd November 1997
| | |
| --- | --- |
| Indian batsman S. Ganguly cuts the ball to the boundry for four runs during his century at Mohali on the fourth day of the first cricket Test between India and Sri Lanka yesterday. - REUTERS | Contents |
---
Srinath's two wicket burst leaves Lanka gasping for survival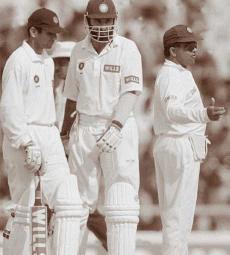 MOHALI, India, Saturday (AFP) - India struck two vital blows in the last hour of the fourth day to leave Sri Lanka gasping for survival in the first Test here on Saturday.
The Sri Lankans, trailing by 146 runs in the first innings, were 61 for two at close, facing a hazardous fifth day on a wearing wicket that is losing its bounce. P Javagal Srinath, India's premier fast bowler, gave the Indians a good chance to go one-up in the three-match series when he removed Sanath Jayasuriya and Roshan Mahanama in a deadly five-over burst.
The lanky speedster, showing no signs of the shoulder injury that kept him out of the game for nine months, had Jayasuriya (17) caught behind off the inside edge and then trapped Mahanama leg-before for 11. But Marvan Atapattu (26), century-maker in the first innings, and Aravinda De Silva (six) played out time cautiously to prevent any more setback for the tourists. Saurav Ganguly set the stage for the home team's dominance with an elegant 109, his fourth Test century in 15 matches, that carried India's first innings to 515 for nine declared an hour after tea. Left-hander Ganguly, seven overnight, hit 10 boundaries and two sixes before he was ninth out at which Indian captain Sachin Tendulkar applied the closure. The Indians, who had put on a laborious 202 on the third day and just 59 runs in Friday's first session, came alive after lunch as Ganguly accelerated the rate of scoring. He scored 49 off the 97 runs scored in the post-lunch session, before partnering Abey Kuruvilla in a rip-roaring ninth wicket stand of 89 in 50 minutes. P Kuruvilla hit three towering sixes in a career-best unbeaten 35 off 39 balls that finally livened up proceedings for some 5,000 home fans after three dull days. The late burst rattled the Sri Lankans and off-spinner Muttiah Murlitharan conceded 16 runs in one over — four byes, four wides, one no ball, a six by Kuruvilla and a single. Sri Lanka's debutant wicket-keeper Lanka De Silva, who replaced the off-form Romesh Kaluwitharana, conceded 19 byes and twice missed easy stumpings off Murlitharan. The off-spinner picked up three for 174 in a marathon bowling stint of 75 overs, while Chaminda Vaas and Jayasuriya took two wickets each. India's overnight pair of Mohammad Azharuddin and Ganguly, who resumed at 293 for four, batted through the morning session to take the score to 352 by lunch. P Azharuddin made 53, his 17th half-century from 86 Tests, before being trapped leg-before by Vaas in the second over after lunch.
SCOREBOARD 
Sri Lanka first innings 369 (M.Atapattu 108, S.Jayasuriya 53; A.Kuruvilla 4-88, J.Srinath 4-92).
India first innings (overnight 293 for four)
N.Mongia b Muralitharan                 57
N.Sidhu run out                        131
R.Dravid c Ranatunga b Jayasuriya       34
S.Tendulkar c D'sena b Jayasuriya       23
M.Azharuddin lbw b Vaas                 53
S.Ganguly c Tillekeratne b Vaas        109
A.Kumble c D' sena b Muralitharan       22
J.Srinath c Mahanama b S.de Silva        6
R.Chauhan c Dharmasena b Murali          2
A.Kuruvilla not out                     35
Extras (b-19 lb-10 w-6 nb-8)            43

Total (for nine wickets declared)      515
Did not bat: D.Mohanty
Fall of wickets: 1-120 2-214 3-259 4-274 5-353 6-400 7-419 8-426 9-515.
Bowling:
Vaas 36.5-11-107-2 (2w, 1nb),
S.de Silva 28-5-81-1 (1nb),
Dharmasena 34-11-65-0,
Muralitharan 75-30-174-3 (4w, 3nb),
Jayasuriya 30-9-59-2, Ranatunga 3-3-0-0.
Sri Lanka second innings
S.Jayasuriya c Mongia b Srinath 17
M.Atapattu batting              26
R.Mahanama lbw b Srinath        11
A.de Silva batting               6
Extras (lb-1)                    1
Total (for two wickets)         61
Fall of wickets: 1-22 2-40
Bowling (to date):
Srinath 6-0-29-2,
Mohanty 8-2-25-0,
Kuruvilla 3-1-3-0,
Kumble 1-0-3-0,
Chauhan 1-1-0-0.
---
Sanath to wed Lankan girl?
By Bandula Jayasekara
Come 1998 many Sri Lankan girls will be heart-broken as one lucky girl will open her life's innings with our master blaster Sanath Jayasuriya who is on a tour of duty in India as we break the news.
This humble lad who was a judge for Miss World invited by the 'Big B' Amitab Bachchan was seen very comfortably seated next to pretty Aishwarya Rai, former Miss World in Banglore last year. But Sanath has found that the grass is much greener in Sri Lanka and his partner is very much a daughter of this soil.
---
SLRFU will fund schools tour - Dr. Maiya
The junior Under-19 rugby tour to Taiwan in December will go ahead as planned with the blessings of the Sri Lanka Rugby Football Union (SLRFU),said President Dr. Maiya Gunasekera yesterday.
Already the SLRFU has confirmed that they will release a sum of Rs. 500,000 towards this tour as it has done in the past, thus proving that the rumours spread by some interested parties as baseless, said Dr. Gunasekera.
"Requesting the players picked for this tour to find Rs. 20,000/- is nothing new. In the past too, this has been done in order to meet other expenses. The crest, jerseys, stockings and track suits and tie are being provided free by the SLRFU", Dr. Gunasekera said.
"I have spoken to all the players concerned, and no one has had problems finding this money", Dr. Gunasekera confirmed.
Meanwhile, certain interested parties are questioning the validity of Mr. Y.C. Chang, the Chairman of the Development Committee, writing a strong letter on a SLRFU letterhead, to the schools concerned to raise this money. He is going on this tour as the Chef de Mission.
They also query whether it is:
1. Is it fair for the students who are selected for the tour to collect money to represent the country?
2. During the last Asiad there were eight officials who accompanied the team to Taiwan on SLRFU funds.
3. Five SLRFU officials who went on a seminar to Malaysia were given US $500.00 each by the Union.
4. What will happen if the students are unable to find the funds?
5. What about the sponsorship money from Milo?
---
NZ in backs-to-the-wall fight
PERTH, Saturday (AFP) - An injury-struck New Zealand were staging a desperate backs-to-the-wall fight in a bid to save the second cricket Test against Australia here.
Starting their second innings facing a deficit of 244 runs, the Kiwis skidded to 3-69 in 125 minutes to stumps on the third day of the five-day contest at the WACA Ground.
Together to resume the battle Sunday, when New Zealand will need another 175 runs to make Australia bat again, are Adam Parore, on 42, and skipper Stephen Fleming, yet to score. P New Zealand began their long chase after Australia had batted solidly to take a first innings, lead at one stage 6-287, to a formidable 461.
The second-wicket pair Bryan Young and Parore fought bravely to keep the Australian attack at bay for an hour and a half after the early dismissal of injured opener Blair Pocock for one with only two runs on the board.
But their dogged rearguard action ended tragically when they were involved in a bizarre mid-wicket mixup and Young, on 23, was run out by a pin-point throw from the covers to the non-striker's end by Matthew Elliott.
SCOREBOARD 
New Zealand first innings 217 (C.McMillan 54, C.Cairns 52, S.Warne four for 83)
Australia first innings (overnight 235 for four)
M.Taylor lbw b O'Connor        2
M.Elliott c O'Connor b Cairns 42
G.Blewett c Astle b O'Connor  14
M.Waugh c Parore b Doull      86
S.Waugh b O'Connor            96
I.Healy c Fleming b Cairns    85
R.Ponting c Fleming b Cairns  16
P.Reiffel c Fleming b Cairns  54
S.Warne c O'Connor b Vettori  36
M.Kasprowicz run out           9
S.Cook not out                 3
Extras (nb-7, lb-5, b-6)      18
Total (131.4 overs)          461
Fall of wickets: 1-3, 2-53, 3-71, 4-224, 5-262, 6-287 7-403, 8-449, 9-450.
Bowling:
Doull 21-3-78-1 (nb-4),
O'Connor 31.4-7-109-3
Cairns 28-9-95-4 (nb-1),
Vettori 29-7-84-1,
Allott 22-3-84-0 (nb-2)
New Zealand second innings
B.Pocock c Blewett b Kasprowicz  1
B.Young run out                 23
A.Parore not out                42
D.Vettori c Taylor b Warne       1
S.Fleming not out                0
Extras (nb-2)                    2
Total (for three wickets)       69
Fall of wickets: 1-2 2-53 3-55
Bowling:
Kasprowicz 9-3-23-1,
Reiffel 7-4-10-0 (nb-2),
Cook 5-2-19-0,
Warne 9-2-17-1.
---
WorldTel lawyers offer full co-operation
The Sri Lankan lawyers representing WorldTel Inc. and its President Mr. Mark Mascarenhas, who have figured in the recent bribery allegation involving the Board of Control for Cricket in Sri Lanka (BCCSL) officials has offered its fullest co-operation to the Chairman of the Commission to investigate allegations of bribery and corruption to probe this case.
The lawyers Murugesu and Neelakandan in a letter to the Commission Chairman have stated that certain interested parties are engaged in acts of vilification to poison public opinion through misinformation and wild baseless allegations, while the investigations were proceeding.
The lawyers have expressed concern about adverse publicity given to statements made by interested parties before the investigations commence.
'Our clients have reasons to believe that the source of publication in the media of the purported recordings is not your investigations but some members of the BCCSL', the letter said.
The lawyers pointed out that their clients have been advised not to make any public statements replying malicious and defamatory propaganda carried against them until the Commission records the statements of their clients.
They have also called to expedite the investigations into allegations of bribery and corruption related to the BCCSL.
---
Scrum and Tackle
The CR&FC (the rugby club), who celebrated their 75th anniversary with an international club tournament sponsored by Singer, will end the season in style, with a dance - 'Scrum and Tackle '97' on November 29 at the Hotel Ceylon Inter-Continental.
| HOME PAGE | EDITORIAL/OPINION | NEWS / COMMENT | BUSINESS | PLUS
Please send your comments and suggestions on this web site to
info@suntimes.is.lk or to
webmaster@infolabs.is.lk