9th November 1997
The Great Greek Hero
Disney is hip agian with Hercules, their new animated film
Disney's 35th animated feature was created by the team responsible for The Little Mermaid and Aladdin. Following their directing debut in 1986 with The Great Mouse Detective, Ron Clements and John Musker (affectionately known as Ron'n' John) kicked off Disney's revival as a force in animated features in 1989 with The Little Mermaid and have worked together so long that they can now finish each others sentences.
After the historical Pocahontas and the literary Hunchback of Notre Dame became disappointments at the box-office, Disney is hip again with the story of Hercules.
"Hercules is about the idea of strength, of who you are and what character is. It also deals with the notion of what celebrity is, what pop culture is, what it means to be popular," reflects Ron. "It's also a timeless story filled with lots of passion. We looked at about 30 ideas on the classic tale of the Greek hero. Mythology appealed to us because it hadn't really been tapped into before as an animated feature."
Contemporizing the myth of Hercules, Ron'n' John conceived the demi-god as the Michael Jordan of his day with plenty of puns jokes and anachronisms.
"We based it a little bit on Frank Capra-Preston Sturges screwball comedies like The Lady Eve with a cynical, smart girl and an innocent leading man," continues Ron, who with John began working on Hercules in 1993. "We envisioned Hercules as Jimmy Stewart or Henry Fonda in the body of Arnold Schwarzenegger."
"We spent 9 months working on the script. British artist Gerard Scarfe (Pink Floyd: The Wall) helped us make the movie as visually exciting as possible with his production design. Then, in 1995, we took the key supervisors on a trip to Greece and Turkey to research classic Greek mythology. We all filled notepads with sketches and took photos and video to inspire us during production."
Animation began in late '95 with 906 artists, animators and technicians working both at Disney's Paris and Los Angeles facilities. For the project, Ron'n' John reunited with 8 time Oscar - winning composer Alan Menken, who had previously worked with them on Mermaid and Aladdin. David Zippel, a longtime friend of Menken, wrote the lyrics.
"We really wanted to work with Alan again," insists John. "He brings a lot of enthusiasm to these projects, and he has a gift for writing melodies that are really catchy. You hear them once or twice and they stay with you. Few composers can do that."
Hercules boasts the vocal talents of James Woods as the villainous Hades, Danny DeVito as Hercules's mentor, Phil, and the majestic Charlton Heston as the narrator.
For DeVito doing a voice for the film "was exciting because the animation is so beautiful, the music is great and I got to sing a song in the movie (DeVito had never done any singing before performing One Last Hope) . And I got to do it with a 90-piece orchestra!"
As with Matilda, the children's film DeVito directed and co-starred with wife Rhea Perlman, DeVito did Hercules for his children.
"I've got three kids; Lucy, 13, Gracie, 11, and Jake, 8," explains DeVito, " and I love making movies that the whole family can enjoy."
James Wood, star of Casino and Contact, had just as good a time supplying the voice for Hades, the fast-talking hothead of the underworld.
"Doing it made me feel like a kid again," he laughs. "It reminded me of the first time I was acting and I was so amazed at what I was able to do and that somebody was actually paying you to do it. This is one of the most fun projects I've ever worked on."
As for playing Hercules himself, Tate Donovan even got in shape to provide the voice of the mythical muscleman.
"I'd do push-ups before some of the action sequences," says the 33-year-old actor. "That way I would appear to be out of breath!"
But he didn't go as far as to don a tunic to get into character.
"Usually I just took off all my clothes and did the vocal work naked," he jokes. "That's the pleasure of doing a Disney movie." Getting the role was "a dream come true" for the LA-based actor, who co-starred with Wesley Snipes in Murder at 1600. "I wanted the role so bad and, when I got it, I started jumping up and down and laughing and crying. I knew I was going to be part of something that I could really be proud of. And that's an amazing feeling."
"Hercules is an incredibly eager young guy," says Donovan. "I remember what I was like when I was his age and just started out and it was so easy to get into that frame of mind. Initially, Hercules wants to be a hero for the glamour of it all and has a shallow sense of ambition. But he falls in love and discovers what it means to sacrifice and put others ahead of himself."
And how does his girlfriend, Friends Star Jennifer Aniston, feel about dating a Greek god?
"She's really intimidated by it, " answers Donovan." Actually, she's part Greek, so she's thrilled."
"I met her when she came to this pub where I played in my band. I didn't know who she was - I'd never seen Friends. We got on immediately. We talked really well. At the time I was wary about dating somebody else in the spotlight. I'd been with Sandra (Bullock) for four years and didn't like the attention she got."
Sure enough, spooked by paparazzi, he and Jennifer called things off after only a month: " Literally, our second date there were video cameras everywhere, and I was, 'I' m out of here."
But they were back together three weeks later and now there is no end in sight.
"I definitely want to get married but there's been no proposal yet. But we are thinking about it."
Despite Donovan's energetic performance, the most difficult character to get right on-screen was Hercules.
"He's probably the most difficult character than I've ever had to draw because his muscles and much of his anatomy are visible," reveals Andreas Deja, main animator on Hercules." Usually a character has a shirt or a coat to hide these things but with Hercules you couldn't cheat. You had to know how the knee works and what the muscles in the arm look like when they turn. Live-action reference was helpful up to a point but because the character is so stylized, you end up closing your eyes and trying to figure out how does a Greek god do this?"
Hercules also boasts the first fully computerized character to appear in a traditionally animated Disney feature: the 30-headed mythical beast, Hydra. Choreographing the movement of the heads and integrating the action with the hand-drawn characters proved to be a two year long assignment for a team of 15 artists and technicians. The scene itself lasts just under five minutes.
– Film Review
---

Green is nature's neutral, a foil for the bright blossoms and fruits the plants produce. That's why it is such an adaptable colour in the home, where it combines successfully with every other shade. Forget the maxim 'blue and green should never be seen' -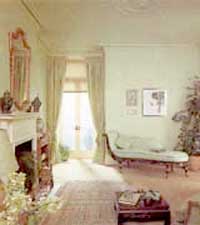 blue is one of the colours which has the most affinity with green (the other is yellow). Blue and green used together create a cool, restful interior while yellow adds warmth and brightness. For contrast use green with red or tones of pink, peach or violet, or choose green on its own, offset by brilliant white for freshness.
Different greens suit different styles of furnishing. Modern settings ask for leaf green and emerald; traditional interiors favour celadon (grey-green), Wedgewood, forest green and olive. Turquoise, where green and blue combine, has a place in both, but lime, a blend of green and yellow, is an acid shade which can be more difficult to use; team it with lemon or sharp pink to be sure of success.
The lively shades of green, such as jade or emerald,work specially well in areas like the kitchen and bathroom. Though officially a cool colour, green has a natural brightness which looks attractive with all shades whether cool or warm. Wherever you decorate with green, you'll increase its impact by adding masses of leafy plants.
Decorating with Green
• Decide whether you want to create a bright effect with vivid greens such as jade or lime, or a more tranquil one, using softer or deeper shades such as celadon or forest green.
• Don't be afraid to use dark or bright green in kitchens or bathrooms to contrast with white fittings or natural timber units.
• Emphasize green by using leafy pot-plants as accessories.
• Wicker, wood and cork add texture and warmth and are green's natural companions.
• Dark colours absorb light, especially when surfaces are textured. If you plan to use deep green textiles, make sure they don't appear black under artificial light.
---
Continue to Mirror Magazine page 3 * Immersed in the splendour of sitar * Alien Accent in action * New School of beauty
Return to Mirror Magazine contents
Please send your comments and suggestions on this web site to
info@suntimes.is.lk or to
webmaster@infolabs.is.lk