9th November 1997
Immersed in the splendour of sitar
After years of appearing on radio and television playing the sitar with sensitivity and technical brilliance, Pradeep is taking centre stage ......
Pradeep Ratnayake is a singularly modest young man. It was many months before he even revealed that he had notched up the highest marks ever recorded by any student for sitar performance at the hallowed Shantiniketan in India where he completed his degree. And he is equally reticent about his many other achievements in a quite exemplary career.
But it seems the time for reticence is past. For after years of appearing on radio and television playing the sitar with sensitivity and technical brilliance, Pradeep is taking centre stage in public concerts that will test his mettle as a performer. His first solo concertin March this year, an open air somewhat unorthodox affair under the night skies in the garden of the German Cultural Institute drew unqualified applause from the gathering of music lovers and others, who by and large, seated on mats in the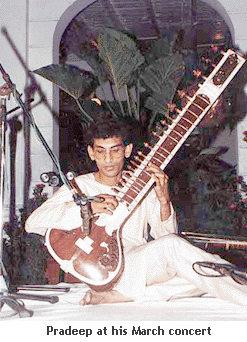 garden, forgot the annoyance of mosquitoes and occasional cramps in the music they heard that night. It seemed the perfect setting for the blend of Indian classical ragas and the fusion sound that Pradeep presented. One critic wrote, 'It was a successful evening of Indian classical music and experimental music which we hope will not be the only one for the year'
Well, that's one wish fulfilled. 'Pradeep in Concert', the sitarist's next offering is here. 'Pradeepanjali' as he calls it, will be on at the Lionel Wendt on November 12 at 6.30 p.m and will also feature a host of accompanying artistes. They are Harsha Makalanda (Piano), Wijeratne Ranatunga and Chandralal Amarakoon (Tabla), Ravibandu Vidyapathi (Pakwaj), Krishna (Ghatam), Lakshman Joseph de Saram (Violin), Lalanath de Silva (Flute), Alston Joachim and Anthony Surendra (Bass Guitar) and Rifaaie Thowfeek (Drums). A heavy weight line-up indeed.
That Pradeep wants to continue the pattern he set in the German Cultural Institute concert goes without saying. He says his aim is to popularise the sitar as both an instrument for both Eastern and Western music. This is not a new concept for him. Through his compositions over the past ten years he has sought to break away from the purely classical format to weave in elements of Western music, modern jazz and even a touch of Arabic techniques. When he passed out from Shantiniketan with a first class distinction, his professors urged him to stay on in India and study, but though he says the atmosphere there was totally conducive, 'I wanted to do something new for my country."
Pradeep's talent was evident very early in life. Growing up in an environment thoroughly musical, his father Bandula Ratnayake, being an accomplished violinist, he says he began playing the Hawaiian guitar first and was then introduced to the sitar. He came under the tutelage of D.A Devage, a lecturer at the Aesthetic Institute. Between his father's stern discipline ('he was very strict') and his guru's dedication, the young Pradeep was soon practising up to six hours a day. Not surprisingly, he gave his first recital at the age of ten when Professor Sarachchandra invited the schoolboy to appear on his Kalpana programme, which was being aired over the SLBC. A spate of performances on radio and TV followed. A few years later, at 13, he had an opportunity that he cherishes even to this day that of playing before Pandit Ravi Shankar. Says Pradeep, "He touched my sitar and blessed me." Ravi Shankar, impressed by the boy's performance had, in fact, insisted that his father send him to India to pursue his musical studies.
That opportunity came some years hence, in 1992, when Pradeep, having given up the idea of following higher studies in his pet subject of mathematics, in favour of music won a scholarship awarded by the Indian Council for Cultural Relations to study for a bachelor of arts degree at Visva Bharati, Shantiniketan in India. These four years during which he specialised in the sitar, doing the tabla as his subsidiary, were of great influence in his life. His guru, Pandit Indranil Bhattacharya, himself a disciple of Ravi Shankar, taught him, he says simply, everything. He also felt privileged to have seen the performing arts in an Indian setting. "You learn so much, so many different techniques." The years in India were productive ones, too. He performed duets at Shantiniketan with his guru, an honour not usually granted to students and composed and performed music for Rabindranath Tagore's play 'Sharp Mochani,' besides performing regularly at the invitation o f the Calcutta Mahabodhi Society.
He now lectures in music at the Sri Jayewardenepura university and also teaches the sitar to some keen students. But the overriding focus these days is the forthcoming concert and as Pradeep admits, most days he is up at four a.m. to begin practice with one or more of his accompanists at five. "That's the best time to catch them, before all their other commitments." But all that practice is necessary, he explains, to achieve that understanding and harmony for the players to achieve the kind of fusion he visualises.
The interview is almost at end, but not before Pradeep brings out his sitar, to demonstrate what he means with all this talk of fusion and East meeting West in magical combination. As sneak previews go, it is enthralling. And I begin to get the picture. So on to the Wendt.
– Renuka Sadanandan
---
Alien Accent in action
Alien Accent (Suresh Husni & DK) will be in concert at the Bishops College Auditorium on November 28, 29 and 30.
Alien Accent (Suresh & Husni with DK) are busy working on an unique repertoire for their show. Among the songs will be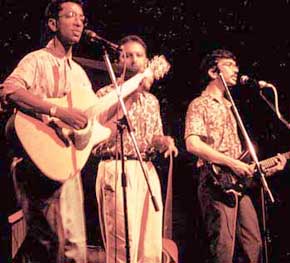 many new original compositions with interesting musical arrangements featuring east-west fusion and the trio's trademark harmonies. The show will also feature cover songs ranging from folk to rock from the likes of Crosby Stills and Nash to Pink Floyd. The covers will not simply be copied but re-ar ranged by the trio especially for the show.
Adding their tremendous talent to the concert will be a host of musicians with both western and eastern backgrounds. The main band features Krishna on Ghatum, Rifai Thawfeek on drums, Ray Gomes on bass, Sudu on Keyboards and Shafi on electric guitar. Guests include Aruna Siriwardene on drums, Dulip Gnanakan on bass, Jehan Kumar on percussion, Ratnam on tabla and Ravibandu on eastern drums.
The trio say that they are fortunate to be able to work with so many talented musicians. They practise from scratch for each concert and therefore often choose different combinations of musicians to back them depending on their availability and the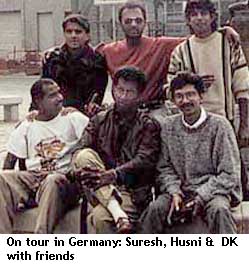 repertoire of songs to be performed. Working with so many musicians over the years has been a learning experience for them.
While preparations for the show go on, there has been a change of plan regarding the release of the album. The release has been postponed. The trio say this has been a difficult decision to make, but a good one, since it would result in a better sounding album when it is eventually completed.
Several factors influenced the decision. The trio explained that while working on the album, they discovered many highly talented musicians especially in the oriental field who could play on their originals but it was difficult to find the time to work with all of them. Also, they found that many arrangements improved while working with live musicians which prompted them to think about doing a totally live studio recording with no programmed tracks. This would be a departure from the original plan of having a combination of programmed and live tracks.
This is not an easy way out, according to the trio. Their intention is to put Sri Lanka on the map by producing an album of international standard. The trio says that since the album is temporarily on hold, they are concentrating totally on doing an exceptional show.
Meanwhile, Producer Jerome De Silva is busy designing the lighting and set for the concert. He plans to use his vast experience and expertise to bring out the different moods of the songs through a sophisticated system of computerised lighting. His spectacular use of lights and sets in Les Miserables dazzled audiences a few months ago. The fully co-ordinated light show will be a first in local musical shows.
The show will be engineered by Oswald Nugera.
Landmarks for Suresh, Husni & DK
* 1990 - The trio's first major concert at the Lionel Wendt was sold out and was very well received.
* 1991 - They recorded "Promised Land" an album of original compositions and followed it up with a two-day show which was sold out. They were interviewed by the BBC World Service on a programme featuring musicians from the East. Excerpts from "Promised Land" were played on this programme.
* In the same year, following a performance with The Thomas Brill Band from Germany at the Colombo Hilton, they were invited to represent Asia in a "One World" concert in Germany which was covered on national television and radio. During this visit, they played with bands from Africa, America, South America, Germany and former East Germany.
* 1992 - The trio won Folk Band of the Year and Folk Singer of the Year (Husni) at the Golden Clef Awards.
* 1993 - "Child" from the album "Promised Land" won the Golden Clef Award for Song of the Year. The Trio also won Folk Band of the Year and Folk Singer of the Year (Husni) awards.
* 1996 - The trio returned to the stage as guest performers at the Eranga and Priyanga Show organised by the Colombo Hilton.
* Their most recent performance was when they appeared in 'Passage to India', a benefit show for Krishna which was sold out.
---
New School of beauty
Ramanie Arsecularatne who has specialized in flora decor, cake making, pottery painting, and costume jewellery making, recently graduated from the Kimarie International School in Singapore as a professional beautician and hair dresser. Here she learned hair dressing, professional make-up and bridal dressing. Last week Ramani opened her own Beauty & Handicraft School at the 1st floor of the Raja jewellers Building at No. 173 1/1, Galle Road, Colombo 04. (Bambalapitya).
Apart from conducting classes at her own Academy in Raja Jewellery Bldg., she conducts classes at the St. Mary's Church Hall, Dehiwela and at Holy Family Convent Hall, Bambalapitya.
---
Continue to Mirror Magazine page 4 * Junior Times
Return to Mirror Magazine contents
Please send your comments and suggestions on this web site to
info@suntimes.is.lk or to
webmaster@infolabs.is.lk