09th November 1997
| | |
| --- | --- |
| | Contents |
---
The prodigal comes back
"Who knows what tomorrow will hold? I have many enemies and a few friends, I hope they are still my friends," says this controversial Anglican priest. Roshan Peiris speaks to Mathew Pieris, who was released last month after more than a decade in prison convicted of double murder.
From 1985 to 1997 he was confined to a prison cell serving a life sentence for murder. The 9' by 10' cell with a 15 foot high roof with only a single high window and iron barred door was kept locked from 5 p.m. to 5 a.m. everyday.
This was the same man who had attended a Buckingham Palace summer party given by His Majesty King George the Sixth. Ordained a Priest by the Arch Bishop of Canterbury no less, Father Mathew Pieris became the centre of a sensational murder trial in the 1980s when he was accused of the double murders of his wife and Russel Ingram, with whose wife Dalreen he was romantically linked. Found guilty, he was sentenced to death with the sentence being commuted to life imprisonment, but was released late last month for good conduct in jail.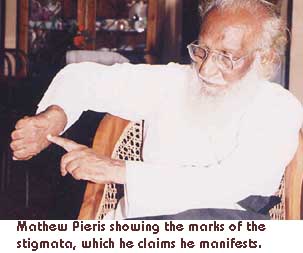 Mathew Pieris, who prefers to be called 'Father' met us at his sister Cissy's suburban home at Moratuwa. For a 79- year-old, this most controversial of Anglican Priests was robust, ramrod erect and spoke with a strong loud voice which thankfully drowned the aggressive barking of a white Pomeranian.
Clad still in robes, he wore a stainless steel chain made while in prison by his co-prisoners, from which hung a cross with a statue of Christ embossed on it. The cross was given to him, he said, by a doting mother and is believed to be of Italian origin.
His white flowing beard like that of a Bibilical prophet has not been cut or trimmed for the last fifty years. He has also not cut his now thinning grey brown hair for about the same time. He made this decision, he says while he lived in an Ashram in India.
Prison memories still fresh, he reminisced of the days behind bars. In prison he was given the diabetic diet of a bun and pol sambol for breakfast, two vegetables, leeks and carrot or cabbage for lunch with fish or soya or lentil and for dinner, bread with the same two vegetables he had for lunch, with two eggs and a slice of papaw.
In all he lived on a daily intake of 16 ozs of white bread, he said.
"I must explain that I controlled my diabetic condition with this Spartan diet. But this did not prevent me being cricket captain of the prison team. Thanks to the prison officials I had a bed to sleep on, though I used the common toilets."
A Commissioner of Prisons said that Mathew Pieris was most helpful in prison, knowing three languages and helping with reports and administrative work.
"I am the sort of person who routinely goes to sleep around midnight and so I was allowed to keep my light burning to enable me to read. I always woke up at four in the morning, did yoga exercises, physical jerks and indulged in yoga methods of breathing and breath control.
"I want the world to know that throughout my traumatic experiences my family was with me, and gave me a glorious party last Sunday with my brothers and sisters present." He is the eldest in a family of six.
He has two daughters and a son in London and it was after they gave evidence in London that the second accused in the case Dalreen Ingram was taken into custody, and was found guilty by the High Court. She was released on appeal.
In prison he attended the only Chapel where first early morning mass was held for the Catholic prisoners.
"As a matter of courtesy I attended the mass followed by the Anglican service the next hour, every Sunday. The Bishop then had given me permission to administer the Chalice i.e. give wine and I also read from the Gospels and sang hymns. Yes I do play the piano. There was an old world piano at home.
"No never, never did I lose faith in God."
Though he was destined to become one of the Anglican priesthood's most controversial members Mathew Pieris says this was not his initial vocation.
"My father was Canon T.C.J. Pieris but I never had any desire to be a priest. I took up motor engineering and did a correspondence course from London and I acquired the British technical qualification of Associate Member of the Institute of Motor Trade. I obtained the MINT later and became a member of the Motor Industry.
After marriage he took up a position as manager of civilian repairs during the war. It was then he faced a serious illness, what was thought to be a brain tumour.
"Lying ill and anguished I had a series of visions where my godmother appeared to me and said that I will be healed by God, and to seek solace in the Ministry working for God. She asked me to go to London via India, and also to exercise the Ministry of exorcism.
"In India I lived for awhile in an ashram. It was there that I decided I would never shave nor cut my hair.
In London he met the Bishop of Lincoln who took him to Lincoln.
"I was well by then and after he spoke to me he gave me a place in a College in Lincoln. I passed as a scholar Lincolai, a kind of Pundit.
"I was ordained by the Arch Bishop of Canterbury and worked at St. Francis of Assissi of Welwyn Garden City. I was a Deacon later and then the priest in charge of Mary Magdeline Hatfield High Fr. Basil Jayewardene invited me to Sri Lanka to be his assistant at St. Paul's, Kynsey Road and later I succeeded him."
Mathew Pieris was known to manifest the stigmata, marks resembling the wounds of the crucified Christ.
I asked him if he experienced this phenomenon in prison.
"Of course I did on special days. Here is the mark you can see at the centre of my right palm. On Good Friday and the like I also bled from the side. It is a special spiritual experience given to me by God."
In the years before his conviction, Mathew Pieris had been a celebrated exorcist.
"Exorcism means we accept that in a given instance any individual is pressured by an external entity in an evil manner.
In Theological language it is described as a "discernate spirit haunting a person. Therefore by claiming clearly the authority that Jesus Christ gave his Apostles, authorizing them to deal with such afflicted individuals, so an ordained priest accepts that he has the continuity of that authority."
"In some instances, dwelling places and lonely spots are affected by such spiritual entities. An exorcist or priest will cleanse such situations. In parlour language it is called poltergeist appearance. It is a ritual authorised by Pope Leo the 13th."
How is it different from bali and thovil?
"Bali and thovil is completely contra to exorcism. These are appeasement ceremonies e.g. usually a cock bird is sacrificed. Exorcism, on the other hand does not in any way appease the evil spirit, but commands it to go away," he said.
"I admit that I have exercised the ministry of exorcism. I used the prescribed rituals authorised as I said by Pope Leo 13 which is the same used by Catholics all over the world."
Asked about reports that his licence to practise as a priest has been withdrawn, he said "Look life is a dream consisting of day dreams and hallucinations. Thank God I never built day dreams. Having now come out I have no hallucinations.
"I saw Bishop Kenneth Fernando and he specified nothing and nothing has been told to me. An ordained priest is ordained for life in the Anglican Church."
However, a statement from the Bishop of Colombo's office said, "Priests remain priests always by virtue of their Ordination. But Mathew Peiris does not hold the licence of the Bishop. He will only be able to participate in Church services and engage in activities that are open to lay members of the Church."
Responding to a question about reports of an impending marriage, he was quite snappish. "That question should never be brought up. Who knows what tomorrow will hold? I have many enemies and a few friends, I hope they are still my friends."
In prison Mathew Pieris says he spent time studying comparative religions Christianity, Buddhism, Hinduism and Islam. "I now have a manuscript to be published as a book called Gautama Buddha and the Creator God. It deals with all four religions."
---
Continue to Plus page 2 * Arts
| HOME PAGE | FRONT PAGE | EDITORIAL/OPINION | NEWS / COMMENT | BUSINESS
Please send your comments and suggestions on this web site to
info@suntimes.is.lk or to
webmaster@infolabs.is.lk