20th June 1997
| | |
| --- | --- |
| A hero's return: Ajuna Ranatunga returns to the pavilion after leading Sri Lanka to victory over India with a masterly century - Pic by Dunstan Wickremaratne | Contents |
---
Arjuna proves that he has a lot of cricket left in him
Captain Marvel
By Marlon Fernandopulle
One of the hallmarks of Arjuna Ranatunga's illustrious 15 year old career at national level is his ability to rise to the occasion and deliver the goods when it matters most.The Sri Lanka captain demonstarated this attribute once again when he compiled a monumental century that he says is his best one day innings in his 215 games.
Arjuna defied aching limbs and recurring cramps in his marathon innings and displayed the grit and courage the skipper is made of.He turned singles to twos,and twos to threes and spiced his career best innings with some flashing cover drives and crisp sweeps much to the delight of the 40,000 capacity crowd that went home not only with a victory but also satisfied that the country is gifted with a captain who at the age of 33 plus has still a lot of cricket left in him.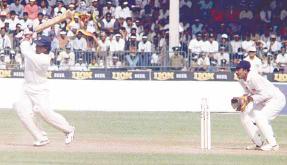 When asked whether it was his best knock in ODI,the captain paused for a moment and said,"Indeed it was especially when you have lost two of your best players before the score had reached double figures
"But were you under pressure when you walked to the middle in the third over? The gutsy skipper replied"I' am never under pressure at any time. My eyes were set on the target of 228 and I was determined to steer the side to it. It was a challenging target after we lost two early wickets.But Marvan supported me very well and later the new boy Lanka De Silva gave me equal support that eventually carried us to victory".
Speaking further on Sri Lanka's new find Lanka De Silva,the captain said," Lanka kept well and later batted very well to put on a century stand with me.Infact we were in two minds, whether to play him or not, in this important game.But later we thought that it will be an acid test for him against India and the lad came out very well".
Commenting on the wicket the captain said,"It was better than the one we played against Pakistan.But we did not get the expected movement in the morning.However we had a set plan for the Indians and everything worked according to it and we were able to restrict India to 227,
Ranatunga's third one day century which carried Sri Lanka to the final came in for high praise from all quarters.Losing captain Sachin Tendulkar said,"Arjuna batted very well.He never gets bogged down.He has the ability to push for singles and twos and get that occasional boundary to keep the scoreboard moving always".
Smarting over his teams fifth defeat to Sri Lanka in the last 6 games Sachin admitted that his side was 30-35 runs short."After I got out in the 9th over I expected the rest of the batsmen to continue in the same vein.But that did not happen,and the Lankan bowlers bowled very well to their field which made run making difficult for our batsmen".
Although the Indian skipper did not admit it was obvious that he missed the services of the experienced Navjot Sidhu.His replacement Noel David failed with the ball while promoting Saba Karim as a pinch hitter also misfired.
On the return to form of Azharuddin,Sachin said,"He badly needed it.It was an excellent innings.Azhar is difficult to dislodge when he gets going .His services will be needed for todays game".Azharuddin silenced his critics and justified his recall with a typically flamboyant innings which was the cornerstone of the Indian innings.
India who have lost 11 of their last 15 ODI meet Pakistan today at the SSC .India- Pakistan games have always provided that extra bit of excitement and todays encounter will be no different as the game will resemble a semi final where the winners will meet Sri Lanka in the final on Saturday.
Pepsi- Asia cup Standings
           P W L P

Sri Lanka  2 2 0 4

Pakistan   2 1 1 2

India      1 0 1 0

Bangladesh 1 0 1 0
---
Sri Lanka beat India and Pakistan for 2 golf trophies
Shyanike loses in close battle
By Annesley Ferreira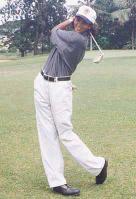 Sri Lanka regained the Parlakemedi Trophy defeating India. Sri Lanka also retained the Zia-Ul-Haq Trophy downing Pakistan in the 106th Sri Lanka Open Amateur Golf Championships at the Royal Colombo Golf Course at Borella.
The Sri Lankan team led by Rusi Captain, and comprising two caddies Tissa Chandradasa and Aruna Rohana, played excellent golf to rattle the strong Indian team with Pakistan taking the third spot.
The Lankan trio aggregated 214 points with Rusi Captain - 76, Tissa Chandradasa - 68, Aruna Rohana - 70 while India aggregated 217 through Digvijay Singh - 69, A. Jaitha - 72, A. Dube - 76 and Pakistan aggregated 228 - through Zeeshan Ali - 75, Z. Hayat - 76, T. Mehmood - 77.
Meanwhile Vandana Agarawal who was trailing Sri Lanka's Shayanike de Silva in the morning, overtook her at the 33rd hole to win at 4/3.
This was Agarawal's third attempt at the title which had eluded her earlier.
Shayanike was also a member of the Sri Lankan team which bagged the International Team event together with Thuhashini Selvaratnam and Suwaneetha Selvaratnam with a score of 320 to India's 326 comprising Agrawal, Ninita Lal Qureshi and S.Ramprasad.
In the Ladies Handicap category, Anouk Chanmugam won the Pin Fernando Trophy with Neesha Nirmalingham as runnerup while Yvonne Abhayaratne won the senior gross with 171 with Suni Nirmalingham winning the seniors nett with 149.
The other Trophy winners are:
Victoria Cup - Gross - Tissa Chandradasa 68, D. Singh (India) - 69
Illangakoon Cup - D. Singh - India - 67, Tissa Chandradasa - 68
Pin Fernando Trophy - Best Gross - Tissa Chandradasa - 72, Rusi Captain - 73
SLGU Trophy - Best Nett - Tissa Chandradasa - 72, Rusi Captain - 73
Zia-Ul-Haq Trophy - Sri Lanka - Rusi Captain 73, Tissa Chandradasa - 72, Aruna Rohana - 75, Pakistan - T. Mehmood - 79, V. Ahmed - 77, Z. Hayat - 81.
Dudley Senanayake Trophy - Sri Lanka - M.J. Chutti Mansoor - 144, P.H. Gunasekera - 141, M. Linsey - 140. Total 425, India - D. Singh - 146, N.K. Piyaratne - 137, A.O. Gunawardena - 147, Total 430.
---
Old Trinitians pull out
Old Trinitians Sports Club will not be participating in the second round of the Carlsberg Trophy Inter-Club A Division rugby championships, a senior member of the Sri Lanka rugby Football Union told the Sunday Times yesterday.
The reason for their pull out from the second round is ue to financial difficulties, this official said.
They had requested for funds from the Sri Lanka Rugby Football Union and the sponsors too, namely Ceylon Brewery, to continue playing in the second round, but both have turned down the request, the Sunday Times learns.
The Sri Lanka Rugby Football Union is also placed in a bad situation since they will have to decide on the A division groupings the Sunday Times was told.
TWI, the television company responsible for obtaining the rights to televise the current Asia Cup has rather surprisingly overlooked Pakistan when selecting their panel of expert commentators.
The commentary panel comprises two Indians and one each from Sri Lanka, Australia and the West Indies. Pakistan, the former world champions have renowned commentators like Ifthikar Ahamed, Chisty Mujahid, Zaheer Abbas and Moshin Khan to name a few. But why this cold shoulder treatment is something that baffles cricket enthusiasts?
Has the television company insulted Pakistan by giving them step-motherly treatment? Surely Pakistan, who have been playing exciting cricket, thrilling senses of both spectators and television audiences does not deserve this!
Bruce Yardley?
The latest on the Bruce Yardley issue is that according to a senior member of the Board of Control for Cricket he may not come back due to misunderstandings with a few senior cricketers.
His style of addressing certain issues connected with senior cricketers on the West Indies and Independence Cup in India was not taken lightly.
They say Whatmore was a different kettle of fish regarding these issues.
---
CR nudge Havies 20-19
By Bernie Wijesekera
In a battle of attrition the CR and FC scored a nail-biting 20 points (two goals and two penalties) to 19 (two goals and a try) win over Havelocks SC in the first final of the Carlsberg sponsored Under 24 rugby tournament organised by the Western Province RFU at Longden Place last evening.
At the interval, the red shirts led 10-0.
It was one of the best games seen to date in the ongoing rugby season. Both teams played exciting rugby where no quarter was asked or given . The game itself between the two traditional rivals in the local rugby scene produced high standard of rugby.The CR&FC dominated through their, strong and heavy pack to be in control beat in the long throws where Anslem de Silva and Duminda De Silva towered over their counterparts. The CR even had a good measure in the set pieces where they were able to win much good ball.
Despite winning much possession, the CR was never able to have their own way in the loose, where the gritty Havies back division tackled them to a standstill. It was a match between the CR 'eight' and the sleek Havies threequarter line where skipper Yuganthara Karunaratne, who scored two natty tries under the posts.
The CR opened scoring in the second minute of play when Nalanda schoolboy Milinda Jayasinghe (Player of the Tournament) who had an excellent game, at the base put over a 34-metre kick to give the red shirts the lead. The Havies, could have equalised in the 11th minute, but Amila Ratnayake fluffed a simple kick. The Havelocks despite giving much weightage to their opponents still made gaping holes in the CR defence through Karunaratne and Topou Sukanaivalu, the nippy pencil-slim Fijiian centre. The CR scored their first try through centre Ajantha Cooray, off a scrum close to the Havies line. Milinda Jayasinghe again arrowed the kick with precision to add the extra points. At the interval CR led 10-0.
After the interval the Havies scored a spectacular try initiated in the CR defence, which could be tagged as the showpiece of the entire game.
Havies winning the ball off a loose maul, fly-half Faiz saw the ball in motion when he side stepped the entire defence for a 40 yard run and then slipped the ball for Yugaantha Karunaratne to plant it under the posts. Topou Sukanaivalu added the extra points (10-7). CR scored again through a 35 metre penaltry put over by Milinda Jayasinghe to lead 13-7. CR increased the lead further when Tariq Munna came in place of injured Kulatunga. Munna sent a high kick (up and under) to the in-goal area for Jiffry Saheed to touch it. Jayasinghe added the extra points to lead 20-7. Another try by Yugantha Karunaratne converted by Topou Sukanaivalu reduced the lead to 14-20. Minutes before the long whistle the Havies scored another superb try through winger Murad Farouk, who darted over the corner flag.Topou Sukanaivalu made a valiant bid to give the Park Club the lead and the match but just fell short.
For CR, brothers Savantha and Prabash de Saram, Duminda de Silva, Siriwardena and Gabriel played their hearts out.Referee: Shamrath Fernando.
---
7th edition of World Cup cricket to have 42 matches
The seventh edition of World Cricket Cup will have 42 games and will be played to a new format which will see the eventual champions playing against the top eight countries before making it to the final at Lords.
The new format which was drawn up by the ICC will ensure that the champions in the 1999 World Cup will play against the best cricketing nations.
In last year's World Cup Sri Lanka emerged champions, but did not play against South Africa, Pakistan and New Zealand who were drawn in the other group. This setback will be eliminated at the next World Cup.
The twelve teams made up of the nine test playing nations and the three qualifiers from the ICC trophy have been drawn to two groups.
Group A: Sri Lanka, India, South Africa, England , Zimbabwe, Kenya.
Group B: Australia, West Indies, Pakistan, New Zealand, Bangaldesh, Scotland.
Each team in the two groups will play each of the teams in its group once, after which the top three teams in the two groups will qualify to the next round. This preliminary round will see 30 games in all .
The next stage will be the Super League stage where the top three teams from Group A will play the top three teams of Group B, to determine the final Super League positions.
Nine games will be played in the Super League stage. Points obtained in the preliminary round (between games played among the co-qualifiers) will be added on to the Super League stage.
The top four teams from the Super League will then qualify for the semi final stage, which will be followed by a one match final.
By the time the winners of the 1999 Cricket World Cup pick up the trophy on the balcony at Lords a total of 42 matches will have been watched live by an estimated 400,000 people; with a worldwide Television audience approaching two billion viewers. - MF
---
Sunny Sports
Messrs R.S. Hartley & Co. Ltd who are the sole agents for Sunny Sports Equipment in Sri Lanka will launch this sport goods store at the Holiday Inn on July 23 at 6.30 p.m
India's 'Little Master' Sunil Gavaskar will be there in person to meet the guests.
---
"Aravinda, the best bat in the world"
By Marlon Fernandopulle
Former Pakistan cricket captain and CBFS Co-ordinator Asif Iqbal ranks Sri Lanka's master batsmen Aravinda de Silva as the best batsman in the world today.
A veteran of 59 Tests and Captain of Pakistan's World Cup team in 1975 and 1979. Asif paid a glowing tribute to the Sri Lankan vice-captain in an exclusive interview with 'The Sunday Times'.
"Look at his performance in Tests and One-dayers in the recent past. His consistency since the Wills World Cup and the fluency with which he accumulates his runs is exceptional. To me, he is currently the best in the world" said Iqbal, who is in Colombo to watch the Asia Cup as a member of the Technical Committee.
Asif, who was born in Hyderabad, India migrated to Pakistan and later captained Pakistan. Incidentally the former Pakistan Captain stepped into the limelight when he represented India's south zone against a touring Pakistan team.
Excerpts From the Interview
Q. As the co-ordinator of CBFS, how do you view the organising of the Asia Cup and the overall facilities in Sri Lanka?
A. I think a lot of things have changed and facilities improved tremendously since Sri Lanka staged the Asia Cup last. The organising have been excellent, a lot of money has come in Television has come and even the media facilities have seen great changes.
Q. Pakistan are minus a few key players due to county commitments. Do the rest of the players (especially the seniors) feel let down due to this?
A. Specially so, because Pakistan has not won the Asia Cup. But unfortunately what happened was the county contracts were signed before the Asia Cup was finalised. But now the Pakistan Cricket Board is negotiating with the players to get them to sign contracts in future to prevent this happening.
Q. What is your opinoin of Shahid Afridi opening in limited over cricket?
A. There is no need for Afridi to open the innings when you have two gifted players in the calibre of Saeed Anwar and Aamir Sohail opening. Afridi could open whenever Pakistan has to chase a total in excess of 275-280.
Q. If you were to pick the best batsmen in the world, who would be your choice?
A. To me, Aravinda de Silva is number one. I am saying this not because I'm in Sri Lanka. I have said it in Sharjah, India and Pakistan. Aravinda is class. His consistency and fluent stroke play in the recent past have proved that. He is on top of my list. Next comes Saeed Anwar. Both of them are the most exciting batsmen in world cricket. Then comes the Waughs, Brian Lara and Sachin Tendulkar.
Q. Talking of bowlers, who are those ranked among the best today?
A. Wasim Akram is on top of my list. He has got a variety of deliveries, pace and swing that makes him the most dangerous. Saqlain Mustaq, Mushtaq Mohamed, Shane Warne, Curtly Ambrose and Alan Donald are the other bowlers who fall into the top catergory.
Q. Any new developments in Sharjah cricket?
A. Yes, we are putting up lights, and the quadrangular tournament in December featuring India, Pakistan, West Indies and England will be day-night games with coloured clothing, seen for the first time in Sharjah.
Q. Are there any other cricket venues coming up in the desert land?
A. Dubai and Abu Dhabi are in the process of constructing new stadiums for cricket. We hope that it will be completed soon.
Q. You had an illustrious Test career, playing 59 Tests between 1964-1981. What would be your most memorable moments?
A. Quite a few come to mind. Playing for my country, then captaining Pakistan and of course my world record which still stands - a 9th wicket stand of 190 against England at The Oval in which I scored my first Test century.
---
Saeed Anwar and his 'one-day' record
By Bandula Jaysekara
To us India and Pakistan are not arch rivals. They are our friends and neighbours. It is good to see Inder Kumar Gujral extending his hand to Nawaz Sheriff and establishing a hot line. However the Best Ambassadors for the two countries are the cricketers of the two nations. On the eve of the Sri Lanka-Pakistan Test Series, Wasim Akram said: "I want to play in India before I retire',' that's the spirit. Sri Lanka will remember with gratitude the solidarity match played before the World Cup. It was an Indo-Lanka-Pak match and showed the world the spirit of Asia.
Pakistan play India on our soil and let us cheer both teams because they are our friends and neighbours and let the game of cricket and brotherhood win the day. ''The Sunday Times" met Saeed Anwar who broke the record held by Viv Richards for the highest individual score in one-day cricket in a match played against India.
Saeed Anwar, Vice Captain of Pakistan, first played cricket in September 6th 1968. He was educated at Kalishoma Walika School, Kent College and graduated in computer science from the NID University in Karachi. Anwar (29) works for the Agricultural Development Bank of Pakistan and has three sisters and a younger brother. He married a lady doctor, who has only a thin interest in cricket. He enjoys listening to Western music, classical and jazz.
Saeed started cricket when he was 18 years and made his first class debut in 1986/87 and since 1990/91 appeared in 21 test matches and since 1988/89 in 123 one-day internationals scoring 12 centuries and fifteen fifties in one-dayers and 12 fifties and 4 centuries in Tests His most memorabal moments of cricket are surprisingly of a Test match and a one-day game. His first Test match, was when he was branded as only a one-day player, like Sanath Jayasuriya when he scored 170 against New Zealand ''I cannot forget that innings as I proved all my critics wrong'' said Anwar. Millions of fans witnessed the other memorable moment, the world record of 194 in India recently.
Anwar shared his thoughts of his big innings in Bharath. ''Afridi got out much earlier than we expected and I decided to stick there and give Pakistan a good start. The heat was too much and I had no plans to score a hundred. All I wanted to was to stay at the crease because in Bangalore I played a bad shot and the team collapsed thereafter. I said to myself, I am not going to make that mistake and I will play till the end and I did it. I was very delighted and sad at the same time as only 4 overs remained and I had only 6 runs more for my 200 and become the first player to score a double century in one-day cricket.
All rounder Anwar a slow left arm bowler concentrating more in his batting and fielding, plans to make many runs for his country. Commenting about his missing warriors, he said that their contracts are old and Pakistan had no plans to play cricket during summer and that it is a matter entirely up to the board and the players to decide. However Saeed has rejected an offer to play county cricket. ''Imran Khan was a very good cricketer and I don't know what his future in politics will be'' said Saeed who prefers to stick only to his cricket and give his best and when he retires it will be ''strictly no cricket'' for him.
Anwar loves the charming people of Lanka and he is keen to see Sri Lanka make its mark in Test cricket. A great cricketing nation must be good in both one-day and Test cricket''.
---
Correction
The Chief Executive of the Board of Control for cricket states that the Lankan team for the Malaysian Super 8's listed in the media release had certain errors due to an oversight. The correct position should read as follows:
Upul Chandana (Captain), Hamantha Wickremaratne (Vice Captain), Gayan Wijekoon, Indika de Saram, Saman Jayantha, Hemantha Boteju, Predeep Hewage, Bandula Ranjith, Sanjeewa de Silva.
---
312 teams battle for schools soccer title
Three hundred and twelve teams from the schools will be in the fray in 8th Milo National Schools Football Championships conducted by the Sri Lanka Football Association which will kick-off on July 28.
Nine new teams, namely, Rajakeeya MV Trincomalee, Zahira MV Trincomalee, Dickoya MV, Siddartha MV Balapitiya, Sripata MV Watugedera, Madampe MV Ambalangoda, P. de. S. Kularatne MV Ambalangoda, Sri Abayaratne MV Ambalangoda and Soranatota MV Badulla.
The breakdown of respective schools participating are:
Under 18 division 1 - 16
Under 18 division 2 - 20
Under 18 division 3 - 28
Under 16 division 1 - 16
Under 16 division 2 - 47
Under 16 division 3 - 25
Under 14 - 84
Under 12 - 75
The first 8 teams in the age groups of under 18 and 16 in each division will qualify to play in the final round.
All teams playing in the final round will receive Rs. 5000/- each, while those playing in the final round of the under 16 age group will receive Rs. 3000/- each.
This year's tournament sees an increase of 60 teams from which it commenced in 1990 with 252 teams.
The champions of last year in the age groups and divisions are:
Under 18 - division 1 - Zahira Colombo.
Under 18 - division 2 - St. Peter's.
Under 18 - division 3 - D.S. Senanayake.
Under 16 - division 1 - Hameed Al Hussaniya.
Under 16 - division 2 - Maliyadeva Kurunegala.
Under 16 - division 3 - A.E. Gunasinghe MV Colombo.
Under 14 - Zahira Colombo.
Under 12 - Zahira Puttalam.
The respective age groups and their groupings are:
Under 18 division 1
Group A: Zahira, St. Benedict's, St. Joseph's, Maris Stella, Zahira Gampola, St. Peter's, Ananda MV Chilaw and Hameed Al Hussaniya.
Group B: De Mazenod, Hindu College, Al Hilal MV Negombo, St. Joseph's Trinco, Wesley, St. Anthony's Wattala, Joseph Vaz Wennappuwa, Badulla Central.
Under 18 division 2
Group A: St. Sylvester's, St. Thomas Matale, Maliyadeva, Galagedera Central, St. John's Bosco MV Hatton, Wickramabahu MMV Gampola, Sri Pada MV Hatton, St. Andrew's MV Gampola, St. Thomas Bandarawela, Dickoya Tamil MV.
Group B: D.S. Senanayake, Veluwana MV, Sri Jayawardenapura MV, Prince of Wales, S. Thomas' Mount Lavinia, Al-Fahriya MV Panadura, Isipatana, Lumbini MV, Science College Mount Lavinia, Royal.
Under 18 division 3
Group A: Sri Devananda MV, Al Humaizara MMV Beruwala, Muslim MV Beruwala, All Saints MV Kalutara, Richmond, St. Aloysius, Zahira Dharga Town, Al Falah MV Kochikada.
Group B: St. Mary's Kegalle, Maliyadeva Model School, Kegalu MV, St. Mary's Chilaw, D.S. Senanayake MV Mirigama, St. Joseph's Anuradhapura, Anuradhapura Central, Walisinghe Harischandra MV Anuradhapura, Vavuniya Tamil MMV, Nalanda MMV Minuwangoda.
Group C: Mutur MMV, Sri Koneswara Hindu College Kinniya MMV, St. Francis Xavier MV, Ors Hill Vivekananda MV, Hindu Batticaloa, St. Michaels Batticaloa and Vipulananda MV Batticaloa.
Under 16 division I
Group A: Zahira College, Colombo, St. Benedict's College, Colombo, St. Joseph's College, Colombo, Hameed Al-Hussainie, Colombo, Zahira College, Gampola, Ananda MV Chilaw, Maris Stella College, Negombo, Kingswood College, Kandy.
Group B: De Mazenod College, Kandana, Hindu College, Colombo, Al-Hilal MV Negombo, Wesley College, Colombo, St. Anthony's MMV, Wattala, Joseph Vaz MMV Wennappuwa, Badulla Central College, Maliyadeva College, Kurunegala.
Under 16 division II
Group A: Lakdasa MV Kurunegala, St. Anne's College, Kurunegala, Maliyadeva Model School, Kurunegala, Walisinghe Harischandra MV Anuradhapura, St. Joseph's College, Anuradhapura, Niwaththaka Chetiya MV Anuradhapura, Anuradhapura Central College, Vavuniya Tamil MMV.
Group B: Vidyartha College, Kandy, St. Andrew's MV Gampola, Wickramabahu MMV Gampola, St. Sylvester's College, Kandy, Nugawela Central College, Kandy, Madeena Central College, Madawela, St. Mary's MV Kegalle, A.E. Gunasinghe MV Colombo, Galagedera MMV Galagedera.
---
Waidyatilaka tops list
P.H.D.Waidyatilaka Vice President of the A.A.A. of Sri Lanka and Chairman Technical Officials Committee has brought honour to Sri Lanka by coming first in the final written examination obtaining full marks at the Technical Officials education and certification system (TOECS) Level -11 course conducted by the International Amateur Athletic Federation in Singapore recently.
The TOECS Level - 11 course was held for the first time in Asia and this was the second ever Level - 11 course to be held in the whole world. The first was held in Europe.
40 Technical Officials from 20 countries in Asia participated in the seminar.
Sri Lanka had three participants P.H.D.Waidyatilaka, A.T. Nugegoda and K.L.F.Wijedasa.
All three have been successful at the examination and are recognised by the IAAF as Area Technical Officials for Asia and will be called upon to perform duties at international competitions organized by the Asian A.A.A.
At the farewell dinner one examiner has commented "Waidya, how come that you always come first in exams. I understand you had come first in the Level -1 lecturers course held in Jakarta too".
This was the first indication that Waidyatilaka had come first in the examination. Subsequently the Chief Guest Mr. Bjorn Wangernmann too warmly congratulated Waidyatilaka and expressed his deep satisfaction at gaining full marks at the written examination.
Incidentally Waidyatilaka is the only IAAF qualified Level-1 lecturer in Sri Lanka having passed the Level -1 lecturers examination in 1995 in Jakarta with flying colours as indicated by the senior examiner.
Waidyatilaka had held discussions with the IAAF officials while in Singapore regarding the conducting of a Level -1 course in Sri Lanka and is awaiting course material for 30 participants from IAAF to commence the first course.
He also had discussions with Mr. Solomons of the IAAF Technical Committee and Mr.Wangernmann Director Development IAAF with a view to obtaining exemption from IAAF Level -1 for our senior Technical Officials.
| HOME PAGE | EDITORIAL/OPINION | NEWS / COMMENT | BUSINESS | PLUS
Please send your comments and suggestions on this web site to
info@suntimes.is.lk or to
webmaster@infolabs.is.lk