20th June 1997
Who wants to mess around with my age, asks Afridi
By Arshad M .Hadjirin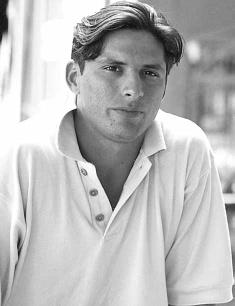 Shahid Khan Afridi, shot into international fame over-night after the sparkling record breaking hundred runs he made in just thirty seven balls. This century became the talking point among cricket fans last year, Sri Lankans more than others because it was Lankan star Sanath Jayasuriya's record that Afridi had eclipsed and as if to rub salt into the wound, it had been against the Lankans that this knock was made. But no sooner he became famous, a sea of controversy engulfed the young man, as questions were raised over his age (he was said to be sixteen at the time). Prominent news agencies quoted doctors reports which said that he was a nineteen year old and certainly not sixteen.
"I don't give a damn about anybody, who would want to mess around with my age; I am a Patani," said Afridi, showing off his muscled forearm, reacting strongly to any suggestion that he was older. Patanis are a very strong tribe in Pakistan I can't imagine why people wouldn't believe my age. In Pakistan, he said it was never considered an issue.
We caught up with Afridi in the lobby of the Taj Samudra hotel just after he had had a hearty Indian meal. The Pakistan Cricket team are in Sri Lanka to participate in the Asia Cup Tournament and it is obvious they are hot favourites with the fans. Kids thronged Afridi for autographs, and he smilingly obliged, while others wanted to pose for pictures with him. Clad in jeans and T-shirt he stood out in the crowd, at a little below six feet. Then he was ready for an informal chat, on his personal life and his swash-buckling style of batting.
Born in Peshawar, on March 1, 1980, Afridi comes from an ordinary family. During his younger days the family moved to Karachi and settled there for education and better prospects. "My father is a businessman, and my brother Tariq Afridi, 24 is also a cricketer," he said and added that he no longer plays due to a serious elbow injury.
Afridi claims to have the lifestyle of a typical teen, going out to films with friends enjoying Hindi and English films, and listening to music ( nothing special). "Some of the best films I have seen are Steven Segal's 'Under Seige', and Sharuk Khan's 'Dharr' and 'Dilwale Dulhania Le Jayenge'; and my favourite actor is Sharuk Khan, he said. Afridi admitted that being a dashing young cricketer has earned him a large female fan following, "but I don't have a girl friend as such," he said.
"I watch the video of my record breaking hundred. I've never seen anything like that before, and that's my most memorable day," he said taking childish pleasure in it.
"My hobbies are somewhat restricted, but I swim a lot and play table tennis as well," he said. "I like to have a good meal and the Pakistani Chicken Buriyani is my favourite, so is the Toyota Corolla when it comes to my favourite vehicle," he said. He likes wearing jeans (and shirts) and Shalwars when praying. His favourite holiday spot is the beaches of West Indies.
Unlike other established cricketers, Afridi has no complaints about his beloved game. "I like to play more and more cricket and also establish myself as a test player. Sachin Tendulkar, Brian Lara, Mark Waugh, and 'great Saeed Anwar' are the people I admire,"he said. Apart from his cricketing heroes, Afridi admires the late Pakistan leader Zia-ul-Haq.
And what prompted his explosive style ? Did anybody ask you to copy, maybe Sanath's style ?, "My hero was always Imran Khan, and I was never trying to copy anybody else. In fact I have the talent to hit every possible delivery, and that's been my style," Afridi responded
Chatting in a very carefree manner, and always in the company of another teenage teammate Hassan Raza, Afridi seemed to reflect the qualities of a schoolboy. "I am in my second year at school (Pakistani equivalent to A/L's). There is just not sufficient time to commit myself to studies," adding that "however I am trying to improve my English. Cricket is my life and my wife. He was like a youngster joking about his future.
But he is absolutely serious about his cricket, "I do not come from a cricketing background So. I practise a lot every day, and it is my own perseverence which has got me on to the driving seat," he said about his present position in the team. "I started playing cricket at the age of nine and ever since I represented my school, I concentrated more. It is not that I came straight out of the blue," he said infuriated about comments that his famous hundred was just a flash in the pan.
"I have represented the national side at the under fifteen, seventeen and nineteen age limits. Then I became the vice captain of the under nineteen side. Presently I represent Total Energy - a domestic club," he said.
"However it was when I was representing Pakistan in the West Indies with the under nineteen side, that I was called in to the national side as replacement for an injury struck Pakistan squad at Kenya. I was chiefly called to look after the bowling department, but the selectors found my capabilities as a batsman and promoted me early in the order.
Most commentators generally call Afridi's innings as very useful and match-winning, but they've also been likened to 'baseball clubbing'. No wonder too, because ever since he made that magical hundred where he broke Master Blaster Sanath Jayasuriya's record, Afridi has not changed his style of batting and according to him he would continue in the same fashion.
"It is very dangerous hitting, and I have been advised by most of my seniors and coaches to concentrate more in staying for longer periods in the crease. So what I want to do is stay in the crease and play a longer innings."
Reutrn to Sports Contents Page
| HOME PAGE | EDITORIAL/OPINION | NEWS / COMMENT | BUSINESS | PLUS
Please send your comments and suggestions on this web site to
info@suntimes.is.lk or to
webmaster@infolabs.is.lk