25th May 1997
| HOME PAGE | EDITORIAL/OPINION | NEWS / COMMENT | BUSINESS | PLUS
Contents
---
Powerboat clashes to start on May 25 in Hungary
The opening round of the 1997 U.I.M. World Formula One Powerboat Championship will start on May 25 at Duriaiyvaros, Hungary. The John Player Gold Leaf team is top seed, all set to race for the 1997 championship title.
Powerboat Racing is Reviving up... Formula One Powerboat racing is one of the most spectacular motor sports in the world. Powerboat racing has been around in some form since 1902, although the Formula One championship in its current form was only introduced in 1980.
The inshore circuit allows spectators to view virtually all of the action, specially the incredible acceleration of the boats and the skills of the drivers.
The boats: Formula One Powerboats have very few controls. The steering wheel is similar to a car and there are two very important controls; a throttle to regulate speed and a trim system to regulate the lift of the boat. There are no brakes.
Formula One Powerboats are tunnel-hulled racing catamarans constructed from plywood and composites, Kevlar and carbon in the case of the John Player Gold Leaf boats.
This finely balanced craft must be sturdy enough to withstand rough water conditions and speeds of 225 km/h.
The boats are approximately six metres (19 feet) long. When rigged for racing they weigh about 390 kgs (860 lbs), excluding driver.
The engines: Formula One Powerboats are restricted to an engine capacity of two litres, still the mercury V-6 EFI outboard motors are very powerful. Formula One Powerboats are capable of 300 horsepower and 10,000 rpm to reach 100 km/h (60 mph) in less than two seconds, and 169m km/h (100 mph) in just over four seconds.
The engines run on aviation fuel and at only some 200 lbs. which gives the boat an impressive power-to-weight ratio.
Top speeds of 225 km/h (140 mph) are common, and drivers experience 4 Gs of force in 360-degree turns taken at those speeds.
The drivers: A Formula One Power boat driver must have a "Super Licence" granted by the U.I.M. This licence is only awarded after a driver has served a racing apprenticeship, has put in a lot of time and effort in other classes in national and international competitions before moving up in Formula One.
The sponsors: John Player Gold Leaf is a leading sponsor of this high adrenaline fraternity - the world of Powerboat Racing.
Safety: Since 1985, Formula One Powerboats have been outfitted with safety cells to protect the driver in case of accident. This special capsule is constructed of composite materials, much the same as those used in Formula One automobiles. The Osprey Rescue team is present at every race. This comprises two drop fronted inflatables manned by six paramedics and divers, as well as a medical doctor, and extensive medical and recovery kits.
The circuits: A majority of the World Championship circuits are located near the centre of a major city, attracting anywhere from 20,000 to 500,000 spectators on any given weekend. The length of exact straight between turn buoys never exceeds 850 metres. Laps are between 1500 and 2500 metres long. As in Formula One car racing red and green start lights are used, with a warm-up lap prior to each race. All starts are "dead engine", with boats lined up side-by-side on the starting pontoon.
The sights and sounds of a massed start, with boats exploding to speeds of 160 km/h (100 mph) in four seconds, are an unforgettable experience for racing spectators. (AF)
---
Chess for the blind
The recently established National Chess Association of the Visually Impaired (NCAVI) will make their initial foray into competitive chess, when they take on the young chess wizards from St. Joseph's College, Colombo 10, at the school premises at 3 p.m. on Friday, May 30.
Whilst the recent series of games between world champion Gary Kasparov and the IBM Computer "Deep Blue" was unique in itself; the forthcoming contest between blind players representing the NCAVI and the sighted players from St. Joseph's College would also be unique for chess in Sri Lanka as it is the first ever time that such a contest is taking place.
The NCAVI team will be led by its President, E.A. Sumanapala and will also include Tony Alvis (both totally blind) and R.A. Sunil.
---
Wennappuwa, Kandy, Mawanella gain wins
Wennappuwa, Kandy and Mawanella scored wins over Negombo, Kegalle and Matale respectively in their Singer Super League football encounter played during the weekend.
Wennappuwa beat Negombo in a penalty tie-breaker by 4 goals to 2 after their match ended in a 1 all draw at the Sir Albert Peiris Stadium in Wennappuwa and Kandy beat Kegalle by 3 goals to 1 in two second round matches.
In a first round match, Mawanella beat Matale by a solitary goal to nil.
In the rescheduled matches for this weekend due to rain, on Saturday May 24th, Nugegoda will host the schools at Mirihana and City Football League will take on Wattala at the City League grounds, Slave Island. Both matches will kick-off at 4. p.m.
Meanwhile on Sunday, May 25, Trincomalee will battle Ampara at their home-grounds at the McHeyzer Stadium.
---
Squash c'ships on June 9 to June 14
The postponed Stork Protech (UK) Trans Asia Hotel Squash Championships will be held from June 9 to June 14 at the Trans Asia Hotel Courts.
Entries for the championships, conducted in collaboration with the Sri Lanka Squash Federation, will close on June 7 at 5 p.m. at the Trans Asia Sports Centre.
Events will be held for ladies and men open, boys and girls under 13,15,17 and 19 and men and ladies intermediates over 35 and masters over 45. (AF)
---
Army favoured for Layton Cup
The Layton Cup boxing meet which will serve as the first trial meet for the Kathmandu SAF Games this year, conducted by the Amateur Boxing Association will be held on June 4, 5 and 6 at the Sugathadasa Indoor Stadium. Boxing will commence each day at 5.30 p.m.
The Layton Cup meet started in 1942 during the British rule in Sri Lanka, when top-ranking boxers, particularly in the three Armed Forces fought for major honours with the Cup being awarded to the Most Scientific Boxer. Former National 'best boxer' with international fame, Lt. Laxman Ratnasooriya has taken over the training of the Army side.
Army boxers who have been dominating all boxing meets in the past decade are no doubt certain to dominate this year too.
Army hopes to enter two teams which will be the cream of their boxers drawn from various regiments. Their stalwarts are Sumith Prasanna, D.P.R. Dayananda, E,D,S. Paturana, A.G.N. Premachandra, Lt. Bandara and L.J. Perera.
Air Force will also be strengthened with the inclusion of some youngsters just out of school which will include Madras SAF Games silver medalist Anuruddha Ratnayake, 1995 Clifford Cup best boxer Nihal Abeyratne and A. B. Weeraparakrama.
Peter Burleigh, Ambassador for the United States of America in Sri Lanka will be the chief guest at the finals on Saturday, June 6th. The preliminary weigh-in and medical check-up and the draw for the bouts will commence at 8 a.m. on June 4th at the Police Sports Club Pavilion at Bambalapitiya. Entries will close on June 3rd with the Secretary ABA, Major Mahinda Hettiarachchi, No 36, Lake Road, Boralesgamuwa. (AF).
---
Two rugby pools picked
The Sri Lanka Rugby Football Union (SLRFU) selection committee has picked on two pools over-21 and under-21 as development squads and will start training at the end of this month.
The over-21 pool will be coached by Daya Jayasundera and Brig. J.P.A. Jayawardena while the under-21 pool will be coached by Tony Amith.
Those picked to the over-21 pool are:
Props - W. T. Thillakaratne (Police), M.K. Hassan (Petersons), A. Burah (CH), A. Siriwardena (CR), Karunaratne (Army). Hookers - T. Rajapakse (Army), Thusitha Peiris (Havelocks), A. Sabri (Old Trinitians). Locks - Muthukumara (CH), Roshan Perera (Army), Chandrasiri (Air Force). No. 8 - W. Leelaratne (Police), Nalin Wijegunawardena (Havelocks). Flankers - Manoj Weerasinghe (CR), Jayathilaka (Army), Motha (Air Force), Rajapaksa (Air Force), T. Jayah (Petersons). Scrum halfs - Leonard de Silva (Havelocks), Mahesh Kumar (CH), Anura (Petersons) & Senaratne (Police). Fly-halfs - Janaka (Old Trinitians), Ajith Pieris (Army). Centres - Dilano Rodriguesz (Havelocks), Costa (CH), Nayshad, Jayatilleka (Army). Wingers - Pradeep Sivakanth Mario Tissarachchi (Havelocks), Weerasinghe (Air Force), Kodituwakku (Kandy). Full backs - Nanayakkara (CR), Collin Dinesh (Petersons).
The under 21 pool
Props - Hewawasam (Kandy), Anthony (Old Trinitians), R. de Silva (St. Peter's). Hookers - R. Weerasekera (Kandy), Malith de Silva (Kandy), Viraj Hewage (Isipatana). Locks - Basnayake (Kandy), Jayasuriya (Army), Samy Akbar (CH), Hapugoda, Samarasekera (CR). No 8 - Sanjiva Abeygunawardena (Havelocks), Navaz (Isipatana). Flankers - Anselm de Silva (CR), Bogo-ue-watta (Kandy), Welegedera (Police). Scrum halfs - Boharan (Kandy), H. Fernando (Havelocks), Milina Jayasinghe (Nalanda), Fly-halfs - Rushdi (Havelocks), N. Ibrahim (Kingswood), Sakith Mallikarachchi (Isipatana). Centres - A. Cooray (CR), Preethi Viraj (Police), K. Williams (Havelocks), Ruwan Suranga (Petersons), Hettiarachchi (Kandy). Wings - Mustak (Zahira), Joseph (St. Peter's), Kumara (Isipatana), Weerasinghe (S. Thomas'), Gonaduwa (Royal). Full backs - N. Damith, Tideman (CR), S. Dharmaratne (Havelocks), Nuwan Fernando (Trinity). (AF)
---
Bombay's Shivaji Park heroes
By Bandula Jayasekera
Bombay was once considered to be the nursery of Indian cricket and the most popular and famous ground is the Shivaji Park where junior and senior cricketers honed their skills.
Among the many tournaments, the one with tradition has been the Harris Shield which is celebrating its centenary this year.
The Harris Shield Tournament named after Lord George Harris, Governor of Bombay Presidency is the school's premier tournament in the City. Past greats like Vijay Merchant, Sunil Gavaskar, Ashok Mankad, Eknath Solkar and the present day cricketers - Sachin Tendulkar, Vinod Kambli, Sanjay Manjrekar, Pravin Amre and Wasim Jaffer began their cricketing careers in this setting.
The present Indian captain Sachin Tendulkar and his team mate and buddy Vinod Kambli boasts of a 664 run partnership for the third wicket for their 'alma mater' Shardarshram High School against St. Xavier's in the Harris Shield match played at the Shivaji Park.
Now-a-days most cab drivers in Bombay identify Shivaji Park as Tendulkar's ground. He is the hero of Shivaji Park and I am sure young Tendulkar will lead India for many more years.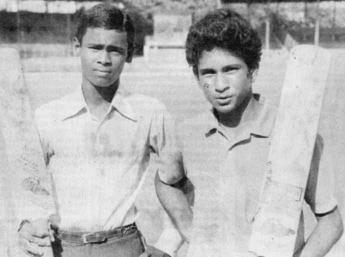 Guess who? Bombay's present day heroes. Young Sachin Tendulkar and Vinod Kambli during their school days are photographed at Shivaji Park.

---
Decision not to referee at Ananda matches stands
- Ana Saranapala.
By Annesley Ferreira
"Facts have been misrepresented in the media regarding the non-availability of a referee for the S.Thomas' vs Ananda Milo Inter-School rugby clash at Maitland Crescent on Friday", said Ana Saranapala, President of the Rugby Referees Union to The Sunday Times.
"Though both teams were present at the venue, the appointed referee S.W.Chang failed to turn up. According to Mr. Saranapala the Referees Union had taken a decision not to officiate at any matches involving Ananda and Lumbini MV.
Later on it had been decided to referee at matches involving Lumbini after the Deputy Director General of Sports of the Ministry of Education Mr. Sunil Jayaweera spelled out the Disciplinary Committee's decision. No referee was abused or threatened in the match where Lumbini was involved.
But in Ananda's case, the Referees Union decision not to 'blow' at matches where Ananda is playing, stands, said Mr. Saranapala. "The referee's report on the match has been handed over to the Disciplinary Committee of the Sri Lanka Schools Rugby Football Association. Until they arrive at a decision the referees will not officiate at any Ananda rugby games", emphasised Mr. Saranapala.
Referee Mr. Dilroy Fernando was allegedly spat at by the Master-In-Charge and was insulted by some players on the bench. Later the referee was abused in the car park of the Sugathadasa Stadium too, after he was pushed around by a group of unruly spectators, The Sunday Times learns.
Regarding the issue raised by the Principal of Ananda, as to how Mr. Roshan Deen officiated in their match against Kingswood, Mr. Saranapala said that this decision was taken at short notice and hence the appointed referee could not be contacted to inform him of the Referee Union decision.
On the St. Sylvester's vs S.Thomas' match at the Trinity Stadium in Pallekale, where the match was called off due to unruly crowd behaviour, The Sunday Times learns that a senior official had approached a police officer in uniform and had asked him to bring about law and order when clashes broke out. The officer had replied to the effect that the same type of treatment is meted out to outstation schools whilst playing in Colombo and it is about time that Colombo schools got a taste of their own medicine.
On inquiry it was learnt that this officer is the father of a player from a Kandy school.
Following is the text of the letter sent by Mr. Ana Saranapala to Mr. G.L.D.W.G.Gunawardena, President of the Sri Lanka Schools Rugby Football Association regarding Ananda College, Maradana.
Enclosed herewith are experts of the letter addressed to Mr. Dilroy Fernando who officiated as a referee in the Ananda vs Royal rugger match at the Sugathadasa Stadium on May 9. The letter is self explanatory.
Considering the contents in this letter, our society has decided not to provide referees for matches where Ananda College is playing (at all levels) until we receive from you a suitable explanation and the required punishment is meted out to those involved in this incident.
However we will provide a referee for the Ananda vs Kingswood match to be played on May 16 as sufficient notice has not been given by us to the Schools Section. Thereafter we will definitely not officiate as stated.
Further we are of the opinion that the decision taken by you and the Western province Council to lift the ban on on the two Lumbini rugger players does not help the game of rugby to be played in the true spirit of sportmanship but have created a dangerous precedent that players in the future will resort to such dirty behaviour and get away knowing that the authorities are lenient.
---
in brief
Moore Shield Hockey
The 42nd Moore Shield All Island Inter Club knock-out hockey tournament conducted by the Sri Lanka Hockey Federation which was postponed, has been rescheduled to start on May 26th.
Park SC Matale and the University of Peradeniya have withdrawn from the tourney even though having entered earlier.
All matches will be played at the Astro Turf at Reid Avenue.
The opening match fixed for Monday May 26, will be played between S. Thomas' College, Mount Lavinia and Air Force, bully off at 4.30 p. m.
The semi-finals will be played on June 7th with the final fixed for May 8 at 4.30 p.m.
The teams taking part are,
Top half - CR&FC, S. Thomas', Air Force, Police, Army, NCC, Malwatta.
Bottom half - Old Thomians Matale, Colts, Wennappuwa, Old Zahirians, CH&FC, Old Anandians (AF)
Gampaha TT C' ship
The inaugural TT championships, conducted by the Gampaha District Table Tennis Association and sponsored by Hatton National Bank, will be held on June 7 and 8th at the Youth Development Centre at Visakha Road, Gampaha.
The events to be held are men's and women's singles and doubles, mixed doubles, girls and boys under 9,11,13,15,17 and 19 singles only and veterans men's and women's singles.
Entries will close with Nimal Muhratane the Treasurer of the Gampaha District TT Association at 10 a.m. on Friday May 30th at the Youth Development Centre, No. 62, Visakha Road, Gampaha.
The draw will be held on Monday June 2nd. (AF)
Junior Netball
The Junior National Netball Championships, conducted by the Netball Federation of Sri Lanka and sponsored by the Hatton National Bank, will be held on June 14 and 15th Saturday and Sunday at Polonnaruwa.
All Associations affiliated to the Netball Federation could enter one team comprising players under 21 years of age as at June 5th 1997 and over 18 years of age as at January 1st 1997.
Accommodation would be provided if requested.
Entries will close on June 5th with the Assistant Tournament Secretary, Mrs Hyacinth Wijesinghe No 417/3 Balagama Road, Kelanimulla, Mulleriyawa New Town, Angoda. (AF)
---
Outstation schools join under 15 Horlicks Trophy cricket
The Inter-schools Horlicks Trophy under 15, division 1,2 and 3 tournament conducted by the Sri Lanka Schools Cricket Association has already got underway.
All first round matches are to be completed by June 15.
Many new teams especially from the outstations have joined the fray.
The groupings are:
Division Three
Group A: 1. S. Thomas' (Prep) 2. Isipathana "C" 3. President's, Rajagiriya "B" 4. D.S. Senanayake "C" 5. St. John's, Nugegeda "B" 6. St. Mathew's, Dematagoda
Group B: 1. Arethusa, Col. 06 2. President's, Maharagama "A" 3. Hindu College, Col. 04 4. Dudley Senanayake, Col. 05 5. Mahanama "C"
Group C: 1. Asoka Vidyalaya "B" 2. Joseph Kumara, Col. 14 3. Henry Olcott "A" 4. St. John's, Dematagoda 5. Veluwana "B"
Group D: 1. St. Thomas', Kotte 2. President's, Maharagama "A" 3. President's, Maharagama "B" 4. Sir Baron Jayatilake, Col. 10 5. S.D.S. Jayasinghe "B"
Group E : 1. Ananda "C" 2. Royal "C" 3. Sri Jayawardenapura MV "B" 4. Piliyandala MMV "B" 5. Lalith Athulathmudali MV
Group F: 1. Herman Greiner, Piliyandala 2. Prince of Wales "C" 3. Mahanama "B" 4. S.D.S. Jayasinghe "A" 5. C.W.W. Kannangara MV, Col. 08
Group G: 1. St. John's, Bosco, Hanwella 2. Sri Piyaratane MMV "B' 3. Sri Palee, Horana 4. Vidyaratne, Horana 5. Taxila MMV, Horana
Group H: 1. St. Anthony's Wattala "B" 2. St. Peter's, Col "C" 3. Gurukula MV "B" 4. St. Benedict's "B" 5. Sri Dharmaloka MV, Kelaniya "A"
Group I: 1. St. Mary's, Matugama 2. C.W.W. Kannangara, Matugama "A" 3. Tissa MMV, Kalutara "A" 4. Sri Medhankara, Horana 5. Ananada Sastralaya, Matugama
Group J: 1. C.W.W. Kannangara, Matugama "B" 2. Tissa MMV, Kalutara "B" 3. Kalutara MMV "B" 4. Sri Sumangala, Panadura "B"
Group V: 1. Kularatne MV, Ambalangoda 2. Siddartha MV, Balapitiya 3. Yatagala MV, Uragasmanhandiya 4. Hogalle MV, Kosgoda 5. Rajapakse MV, Ahungalla
Group X: 1. St. Joseph, Anuradhapura 2. Vidyadharshi, Nochchiyagama 3. Anuradhapura MMV 4. Nivaththakachetiya MV, Anuradhapura
Group Y: 1. Rajarata MV, Hingurakgoda 2. Girithalegama MV, Girithale 3. Minneriya MMV, Hingurakgoda 4. Thopawewa MV, Polonaruwa
Group Z: 1. St. Thomas', Guruthalawa"A" 2. St. Thomas', Bandarawela "B" 3. Malwaththawela MMV, Wellawaya 4. Kataragama MMV 5. Badulla MMV 6. Dharmadutha MV, Badulla
Group AB: 1. Gankanda MMV, Pelmadulla 2. Balangoda MMV 3. St. Thomas', Bandarawela "A" 4. St. Thomas', Gurutalawa "B" 5. St. Aloysius, Ratnapura 6. Seevali MMV, Ratnapura
Group AC: 1. Jai-mul Azhar MMV, Udathalawinna 2. St. Thomas', Matale,"B" 3. Nugagola MMV, Matale 4. Minipura Vijaya MV 5. Azhar Central, Akurana
Group AD: 1. Madeena MMV, Hadawela 2. Vidyartha"B" 3. Sri Rahula, Katugastota 4. Kadugannawa MMV
Group AE: 1. Peradeniya 2. Zahira, Gampola 3. Wickramabahu MMV, Gampola 4. Ampitiya College, Kandy
Group AF: 1. Zahira, Kalmunai 2. D.S. Senanayake, Ampara 3. Gamini MV, Ampara 4. D.S. Senanayake, Ampara 5. Kavantissa MV, Ampara
Group K: 1. Sri Chandrsekara MV 2. Mahanama MV Panadura 3. St. John's, Panadura "B" 4. Aluthgama MV "B"
Group L: 1. Udugampola National School 2. Bandaranayake Gampaha"A" 3. Sri Dharmaloka MMV "B" Kelaniya 4. Bandaranayake Veyangoda "B" 5. Galahitiyawa MMV
Group M: 1. Bandaranayake Veyanagoda "A" 2. Japalawatte MMV 3. Kelani MV 4. Bandaranayake, Gampaha "B" 5. Biyagama Vidyalaya
Group N: 1. St. Francis MV, Dalugama 2. Karunaratne Buddhist Ragama 3. Basilika MV, Ragama "B" 4. Christ King, Ja Ela 5. De Mazenod "B", Kandana
Group P: 1. St. Peter's, Negombo 2. Harischandra, Negombo "B" 3. Raddoluwa MV, Kotugoda 4. Al-Hilal MV, Negombo
Group Q: 1. St. Xavier's, Marawila 2. Maris Stella "B: 3. Sandalanka MMV 4. Joseph Vaz "B" 5. Loyola College, Kochchikade
Group R: 1. St. Mary's Chilaw 2. St. Andrew's, Puttalam 3. Zahira Puttalam 4. Dhammissara MMV, Naththandiya
Group S: 1. Maliyadeva "B" 2. Maliyadeva Model School 3. Kuliyapitiya MMV 4. Sri Sumangala Wariyapola 5. Kingswood "B"
Group T: 1. Rohana MV, Ahangama 2. Sariputta MV, Matara 3. St. Servatius "B", Matara 4. Rahula "B", Matara
Group U: 1. Meepawela Amarasuriya MV 2. Sri Sumangala MMV, Hikkaduwa 3. All Saints', Galle 4. Kandegoda MV, Ambalangoda.
---
Five soccer matches today
Five matches in the Singer Super League Football championships conducted by the Football Federation of Sri Lanka will be played today.
Ratnapura will take on Navy at Ratnapura, playgrounds will host Galle at the Sugathadasa Stadium, Nationalised Services will encounter Matara at the City League Grounds, Slave Island, Mawanella will battle Nawalapitiya at Mawanella and Trincomalee will entertain Ampara at the McHeyzer Stadium, Trincomalee.
In the matches played last week, Navy beat Police 3-1 in a penalty shoot-out at Bambalapitiya, Ratnapura beat Balangoda by 7 goals to 2 at the Balangoda Urban Council Grounds.
Playgrounds beat Beruwala by 5 goals to 4 in a penalty shoot-out, Galle beat Army by 4 goals to 1 in a penalty shoot-out at Galle and Matara beat Hambantota by 5 goals to 1 at the Uyanwatte Stadium, Matara.(AF)
Continue to sports contents page
Please send your comments and suggestions on this web site to
info@suntimes.is.lk or to
webmaster@infolabs.is.lk