25th May1997
| HOME PAGE | EDITORIAL/OPINION | NEWS / COMMENT | BUSINESS | PLUS
Contents
---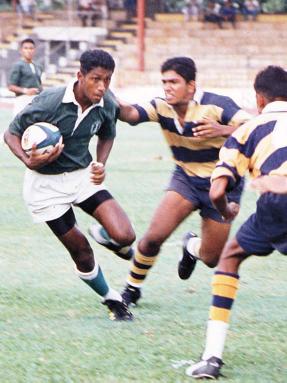 Isipatana fly-half Sajith Mallikarachchi weaves through. Sajith turned in a fine performance to score two tries and helped Isipatana to beat Royal 30-6. Pic by Kumara Dayawansa Nanneththi.

---
It's Lanka: with all guns blazing
Chandrigah, India (Sunday). With all guns blazing, world champions Sri Lanka smashed the high riding Pakistan by 118 runs to score a resounding victory in the first of the three finals for the Independence Cup as a crowd of more than 40,000 lustily cheered the winners at the Mohali Stadium here early this morning.
Facing the awesome Sri Lankan total of 339, Pakistan lost their match winning hitters Saeed Anwer and Saeed Afridi cheaply and never got their act together with none of the batsmen, except veteran wicket keeper Moin Khan getting past the 40 mark. In the absence of strike bowler Chaminda Vaas, number two paceman Sanjeeva de Silva turned in a match winning performance by dismissing dangermen Anver and Afridi and also getting the scalp of Mohammed Hussain, who was sent in at number three, in a desperate bid to reach what was the highly improbable if not impossible target. "It was a great victory", an elated skipper Arjuna Ranatunga said after the much but acknowledged that Pakistan were a tough side and Tuesday's second final would certainly be no cake walk for Sri Lanka. The Man of the Match award went to Master Blaster Sanath Jayasuriya for his fascinating 96, while Aravinda de Silva and captain Arjuna Ranatunga ran in a close second for the award.
After Anwer and Afridi were sent back to the pavilion, the ever dependable Ejaz Ahmed, captain Rameez Raja and veteran Salim Malik offered resistance for some time but the odds were too heavy while Sri Lanka's bowling and fielding were excellent in addition to Ranatunga's brilliant strategic moves to deal with every batsman.
Finally, Pakistan conceded defeat at 221 for 8 in 43.5 overs with last man Abdul Razzak and the injured Inzamam-Ul-Haq, being declared as absent on the scoreboard.
Earlier world champions Sri Lanka hammered a mammoth 339 for four in 50 overs against Pakistan in the opening match of the best-of-three finals of the Pepsi Independent Cup..
Sanath Jayasuriya laid the foundation for the run hunt with a blazing 96 off 67 balls, sharing a 148-run opening stand in 20 overs with Marvan Atapattu (53).
The experienced duo of Aravinda De Silva and skipper Arjuna Ranatunga built on the hurricane start by adding 153 for the third wicket off just 128 deliveries.
De Silva, who made 33, 0 and 9 in the league matches, hit form with a superb run-a-ball 90, while left-handed Ranatunga smashed 80 off 70 balls.
Both batsmen were stumped off Saqlain Mushtaq in the last over to leave the Sri Lankans just 10 short of equalling their highest score against Pakistan — 349-9 at Singapore last year.
Adding to Pakistan's misery was a finger injury to Inzamam-ul Haq while fielding which may prevent the burly strokeplayer from batting later in the match.
Jayasuriya smashed 12 boundaries and a six after leading a charmed life at the crease.
He was caught off an Abdul Razzaq no ball in the fourth over, played on to Saqlain Mushtaq when on 54 only to see the ball fail to dislodge the bails and four runs later was dropped at point by Razzaq off Shahid Afridi.
Jayasuriya, who completed 3,000 one-day runs from 129 matches when on 17, finally fell in the 20th over when he holed out to long-off in trying to reach his fifth one-day century with a six.
Atapattu, who wisely rotated the strike for the rampaging Jayasuriya, was trapped leg-before by left-arm spinner Mohammad Hussain soon after reaching his first half-century in the tournament.
Sri Lanka went into the match without leading seamer Chaminda Vaas, who was ruled out with a back injury and replaced by tall medium-pacer Dulip Liyanage.
Pakistan were also forced to make one change from the side that defeated hosts India on Wednesday, bringing in Razzaq for the injured Azhar Mahmood.
The Sunday Times Scoreboard
SRI LANKA
Sanath Jayasuriya c Sub b Hussain          96
(Big hit. Caught at long on. 
1 six, 12x 4, 67 balls)
Marvan Atapattu lbw b Hussain              53
(Going for a sweep. 4 x 5, 72 balls)
Aravinda de Silva st Khan b Mushtaq        90
(Down the wicket, 1 x 6, 10 x 4, 90 balls)
Arjuna Ranatunga st Khan b Mushtaq         80
(Stepping out, 1 x 6, 8 x 4, 72 balls)
Romesh Kaluwitharna not out                 1
(1 ball)
Dulip Liyanage not out                      1
(2 balls)
Extras:                                    18
Total (for 4 wkts in 50 overs)            339
Fall of Wickets: 1 (Jayasuriya) - 148; 2 (Atapattu) - 184.
Bowling: Aaqib Javeed 9-0-64-0; Abdul Razzack 5-0-41-0; Saqlain Mushtaq 10-0-72-2; 
Shahid Afridi 10-0-63-0; M.Hussain 10-0-56-2; Salim Malik 6-0-35-0.
PAKISTAN
Saeed Anwer c Liyanage b De Silva                    14
(Going for a square cut, caught at 3rd man)
Saeed Afridi c Atapattu b De Silva                   18
(Trying to loft, caught at mid off, 3 x 4, 10 balls)
Mohammed Hussainb De Silva                            8
(Going for a straight drive. Yorked. 10 balls)
Rameez Raja run out                                  42
(Going for a short single, 54 balls)
Ejaz Ahmed c Sub b Dharmasena                        23
(Trying to hit over the top, caught at mid on)
Salim Malik b A. De Silva                            29
(Playing forward, bowled between bat and pad)
Moin Khan not out                                    57
(Off 61 balls)
Saqlain Mushtaq c Atapattu b A.de Silva              18
(Trying to loft, caught at mid on, 53 balls)
Aaqib Javed lbw b Dharmasena                          5
(Shuffling across)
Abdul Razak  absent
Inzamam Ul Haq absent
Extras                                               10
Total (For 8 wkts in 43.5 overs)                    224
Fall of Wickets: 1 (Afridi) - 30; 2. (Hussain) - 41; 3. (Anwer) - 49;
 4 (Ahmed) - 86; 5 (Raja) - 141; 6 (Malik) - 143; 7 (Mushtaq) - 212; 8 (Javed) - 224.
Bowling: Dulip Liyanage 6-0-40-0; Sanjeeva de Silva 7-40-0-3; 
Kumara Dharmasena 6.5-0-33-2; Aravinda de Silva 10-1-39-2; Muttiah Muralitharn 7-0-48-0;
 Sanath Jayasuriya 7-0-23-0.
Sri Lanka Run rate: 10 overs - 74 runs; 15 overs - 109 runs; 20 overs - 148 runs; 25 overs - 170 runs; 30 overs - 201 runs; 35 overs - 248 runs; 40 overs - 264 runs; 45 overs - 293 runs.
Pakistan Run Rate: 10 overs - 58 runs; 15 overs - 86 runs; 20 overs - 120 runs; 25 overs - 144 runs; 30 overs - 155 runs; 35 overs - 173 runs; 40 overs - 212 runs.
Man of the Match - Sanath Jayasuriya
---
Atherton (113) secures one-day series for England
LONDON, Saturday (Reuter) - Captain Mike Atherton led from the front today with an unbeaten 113 as England clinched the one-day international series against Australia at The Oval.
England, who took the opening encounter at Headingley on Thursday by six wickets, won by a similar margin today after being set 250 to win from their 50 overs.
The third and final match is at Lord's on Sunday.
Surrey captain Adam Hollioake, man-of-the-match in Leeds, hit the winning runs again, striking a four to reach his second unbeaten 50 of the series.
After Australia had been asked to bat on a fine, sunny day, Michael Bevan ensured a competitive total with 108 not out in a total of 249 for six.
Bevan was ably assisted by Australia's reserve wicketkeeper Adam Gilchrist, who scored 53 in a fifth wicket partnership of 113.
Apart from the two left-handers, Australia's running between wickets ranged between the careless and the culpable, with four wickets falling to needless run-outs.
Alec Stewart (40) set the early pace for England, using his feet beautifully against Shane Warne and playing the shot of the day when he moved down the track to drive paceman Michael Kasprowicz for four.
Atherton, whose place in England's one-day side has been questioned, answered the critics with a nicely balanced innings.
He was cautious at the start, careful in the middle and flourished in the latter stages, reaching his second international one-day century from 124 balls with nine fours.
Hollioake improvised intelligently at the end, scoring 53 not out with consecutive boundaries as England won with 10 balls to spare.
---
Isipatana thrash Royal 30-6
By Marlon Fernandopulle
Isipatana retained the Milroy Memorial Trophy with a smashing 30 points (one goal four tries and a penalty) to 06 (two penalties) victory over Royal at the Sugathadasa Stadium yesterday.
Although the scoreline will not indicate,Isipatana dominated proceedings for a major part of the game and had the Royalists running around in circles with their innovative brand of rugby that has always been the hallmark of the school.
Royal were no match for their opponents yesterday as they finally met their 'Waterloo' after chalking up five victories this season. However the Royalists defended their territory with some robust tackling that helped them get away conceding only 05 tries.
Isipatana opened scoring in the second minute when full back Charith Kodagoda formed the overlap and put the finishing touches to a three quarter move. Kodagoda failed with the conversion and Isipatana led 5-0. In the 21st minute Isipatana increased their lead further when center Shenasad Ousman sliced through the Royal defence to touch down after a second phase move. Kodagoda failed to add the extra points but put over a penalty soon after for Patana to go into lemons 13 -3. Earlier Gonaduwa converted a easy 15 meter penalty to open Royal's tally.
After the turn-around Patana ran riot as they scored thrice in the first 15 minutes.Their three quarters dazzled as they kept running from one end of the field to another as they rattled the Royalists. Fly half Sajith Mallikarachchi scored twice while winger Hamesh Gunaratne scored once.
Royal stepped up their attack during the latter part of the second half and pinned Isipatana in their own territory but were unable to breach the strong Patana defence. Royal only managed another penalty by Gonaduwa as Isipatana maintained their unbeaten run this season with their fifth successive victory. Referee:Sanjeeva Saranapala.
Royal won the 2nd XV game 3-0.
Trinity win 39-8
Trinity, after their staggering defeat at the hands of Isipatana in Colombo, came back into form to defeat Zahira by 39 points (3 goals, 3 tries and a penalty) to 8 (1 try and a penalty) at Pallekale yesterday. The winners led 17-nil at half time.
For the Lions Suren Hulangamuwa, Medura Medagamage, Megara Megakumbura, Prasanna Jayawardena, Mahesh Ekanayake and Dilan Denzil scored a try each with Nuwan Fernando goaling three tries and putting over a penalty.
For Zahira, Riyaz Mohammed scored a try and Riyaz Ahamed put over the penalty.
In the Under 17 game Trinity beat Zahira 15-nil.
Referee Orville Fernando.
Petes win 8-7
At long last St. Peter's tasted the sweetness of victory when they beat Lumbini by 8 points (1 try, 1 penalty) to 7 (a goal) at Bambalapitiya yesterday. Lumbini led 7-5 at the breather. Kamil Gunasekera scored the try for St. Peter's and Irshad Hashimdeen put over the penalty. For Lumbini Dinuk Chamara scored the try which was goaled by Shan Pradeep.
DS scrape through
By Shane Seneviratne
D.S.Senanayake pulled off a hard fought 13 points (1 goal, 2 penalties) to 5 (1 try) win over Dharmaraja in their Milo Tropy Inter-School league rugby championship match at Nittawela yesterday. The Colombo lads led 6-5 at 'lemons'.
D.S.Senanayake opened scoring with a penalty kicked correctly by Dhammika Niroshan while the Rajans snatched a short lived lead with a try by flanker Vijan Gallage.
Dhammika Niroshan put DS back in the lead with another penalty which lead they enjoyed until half time.
Flanker Asoka Perera put the issue beyond doubt for DS with a try which was goaled by Dhammika Niroshan.
Referee Mr. Ranga Seneviratne.
In the Under 17 game Dharmaraja beat D.S.Senanayake 13-nil
---
Schoolgirl Kern still the leader
Shannon Kern the 15-year-old schoolgirl continues to be the leader after the 5th round of the Hilton Grand Prix Ladies Golf Championships worked off at the RCGC. Close on her heels is veteran champion Yvonne Abhayaratne who is only a few points behind.
The respective standings are: Shannon Kern 449 points, Yvonne Abhayaratne 436 points, Niloo Jayatilleka 399 points, Heather Lourensz 329 points and Suwaneetha Selvaratnam 322 points.
Niloo Jayatilleka with a nett 73 won the Silver Division of the Ladies Golf Union extra medal replayed with Anouk Chanmugam with a nett 75 second. The Bronze Division was won by I. O. Kim with a nett 75 on back 9 and W.S. Rhee finished as runner-up with a nett 75. (AF)
---
Foreign rugby talent lifts local standards
By Gerald De Saram
The infusion of foreign talent into local rugby over the last ten years has without a doubt lifted the standard of the game here. It has done this by forcing our local players to lift their game to match the standard of their foreign counterparts on the field and during selections. It has also exposed local rugby to the real life opposition they face when they tour overseas.
The decision to permit this same infusion of quality into the forces sides, though long overdue, is most welcome. This will not only expand the principle of raising standards but it will also make these sides more competitive against their hitherto privileged cousins from the independent clubs, thus adding value to the game for rugby followers. This is by far the most progressive and sensible approach to solving the problem of making the forces sides more competitive. There were attempts over the last few years to play "Dog in the manger" by some sides over the issue of recruiting foreign players. Thankfully, better sense has prevailed and we see an effort to build on something good.
An example of this renaissance in Forces Rugby was witnessed by the small but happy band of Air Force supporters who braved the rain on Friday the 16th to witness their team overcome the CH&FC at the latter's home ground.
CH&FC versus Air Force: This game which was won by the Air Force got off to a slow start in wet, though comfortable conditions. Both sides took some time to size up their opponents and settle down to a steady pattern of play. Once they did so, the relative strengths and weaknesses of the two teams became clear. For the home side their main strength lay in their experienced backs while their forwards, though being heavier and stronger than their opposing counterparts, were always going to be disadvantaged for mobility. The Air Force had lighter but highly mobile forwards capable of winning plenty of second phase possession but their backs always looked vulnerable. Unfortunately CH failed to capitalise on this weakness and instead seemed content to play some unimaginative, negative rugby. They were reluctant to create opportunities waiting instead for their opponents to make mistakes. In fact their first score came off a converted penalty conceded by the Air Force when they lost control due to over enthusiastic rucking.
One felt the CH strategy should have been to try to slow the game down with their heavier pack and also to attack the Air Force centres with their big break - away forwards off the set pieces. This would have created gaps in the defence and given their strong backs good opportunities to run in some tries. This they only came close to doing at the start of the second half, presumably after getting a talk to by coach S.W. Chang, but for some reason they did not persist with this ploy. The CH backs were also hampered by some ambitious passing, given the wet ball.
Air Force on the other hand did play to a plan and also to their strengths. They concentrated on taking quick penalties and working quick ball around the the base of set pieces, displaying excellent rucking and close support skills as they did so. This strategy succeeded in keeping their opponents unsettled. They nevertheless threw away good scoring chances after working hard to set them up by letting the pace go beyond them. They will do well to slow down sometimes and gather themselves before continuing their attacks.
The Air Force forwards are a dangerous lot in the loose and seem to have perfected the art of moving quickly upfield in close support of each other. They are a very attractive side when they do this and will always be a handful against any side. Furthermore, they are well drilled and stick to their strategy during the game which is a good sign. They however need to play a more controlled game in their backs and will need also to work on their halves combination which looked a bit suspect.
CH on the other hand really had only themselves to blame for their loss. They never looked like they had a game plan and sadly, for a side with so many experienced players, seemed unable to adapt. They ought to look at ways of harnessing their strengths which are surely there if they look for them. At the final reckoning Air Force were worthy winners with the difference between the two sides being the levels of commitment and discipline.
Please send your comments and suggestions on this web site to
info@suntimes.is.lk or to
webmaster@infolabs.is.lk