Skilful weaving of the professional and personal
View(s):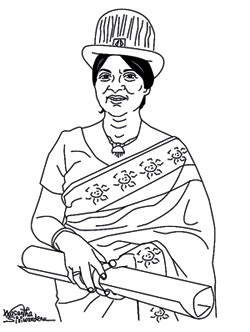 The author of this book Padmani Mendis and I share a cherished friendship of many decades. That friendship goes back to a classroom from the primary grades in the school we both attended. It became less important to both of us in the in between years of youth and diverse career paths. We connected again and have shared both the joys and sorrows of our lives, in the enriching experience of a close and meaningful personal relationship.
I knew Padmani was writing a book that might include some part of her professional career in her chosen field of community-based rehabilitation of persons with disabilities. I was amazed that she could put pen to paper in some of the most difficult years of our lives with a COVID pandemic, a man-made economic disaster that has brought bankruptcy, and political conflict. The book has just emerged in a virtual mode of publication, that will give a wider readership access to it on the internet.
I am a lover of biography and autobiography. I read Padmani's book – her "magnum opus" on the life experience of a successful professional,  and her journey in the career path she had chosen. This was to me "history" in the familiar language we use, but also a "her story" of special  value,  conforming to the best in that genre. The book also has pen and ink illustrations done with skill and artistry, which capture some aspect and context in each chapter.
Many distinguished and not so distinguished Sri Lankans have written autobiographies. These books offer fascinating glimpses into the times in which they lived. They can be a rich source of history. Such books are also a way in which to discover a legacy and the impact of a life. It is in that sense a path to intergenerational connectivity, for a family, a community, and people. Padmini's book is, I think, one that satisfies all those important features of an autobiography.
It is not easy to write a biography and avoid boring personal details best left to the author's personal memory. It is a challenge to adopt just that right balance and connectivity between one's private world, and the context in which one lives. Padmani achieves that balance with sensitivity and finesse, a quiet sense of humour, and a pen that writes with skill, recording trivial moments, deep emotions and insightful  reflections. She is able to capture the joy of living, and the blessings of having rich personal and professional experiences that impacted her life and her work.  This autobiography also introduces the reader to a forgotten era of the early years of post-independence Sri Lanka.
The book moves easily from that era to her work in  contemporary Sri Lanka, and a world of professional connectivity with  a diverse range of international agencies.
We live in times where "branding" or self-glorification is seen as "marketable " and dominates the world of communication and publication. So the connectivity between life experience, knowledge and wisdom may not be perceived as marketable. When autobiographies are written, that ethos even encourages myth and legend about ancestry and birth. But here is Padmani, a great granddaughter of   an authentic legend of philanthropy Charles Henry de Soysa giving us a modest, amusing and sometimes self-deprecating account of her family history. This is a family that experienced the reality of  loss of wealth, experienced financial loss and deprivation and learned to overcome. The family adjusted to new realities without bitterness and went on with their lives. The path to solutions   did not come through corruption and exploitation of others, but a lived experience of commitment to abiding family  values of generosity, compassion, modesty and a deep sense of service. The book does not articulate the impact of those values on Padmani's life. But the pages of the book indicate how those values were a strong influence in both her personal life and her professional work, that brought with it national and international recognition, and success.
Padmani set herself high standards of excellence in following her chosen career path, moving from nursing into a new and unfamiliar field of physiotherapy. Deeply personal human values regarding professional responsibility and service, rather than a desire to pursue and fulfil a personal agenda of success helped her shape an extraordinary career in the area of community-based rehabilitation and disability. The book records professional recognition and honours that were never sought, almost incidentally, in the course of her story  of  interesting  work in this area. Those chapters are never boring but are informative and yet retain the interest of the reader as they skilfully combine thoughtful  professional insights with very personal lived  experiences in many countries and all the regions of the world.
The record of Padmani's success and achievement  as a professional, seems an affirmation to another generation that a career path of commitment and social responsibility is not, as the cynics would have it,  an exercise in futility. Apart from offering insights that are useful to professionals in this area, Padmani's book offers a world view and life experience that merits sharing in the grossly competitive world that children and youth have to cope with every day. Padmani records in this book, memories of an extraordinary life that was spiritually and ethically meaningful for herself and her colleagues. These experiences were a lived reality in a country that experienced  decades of armed conflict and natural disaster, and yet provided space for professionals to achieve success and also contribute nationally, regionally and internationally.
Our educational institutions provide students with reading materials on leadership and the lives of "famous" politicians who shortly afterwards become infamous. Here is a book that could very  easily be included in a reading list for secondary school students and create interest and even inspire. This is also very much a "Her story" book about a woman's lived experience in her family and profession  that can provide interesting and stimulating opportunities for discussion  in courses on gender studies in universities that wish to explore different approaches to feminism and gender equality.
I do hope the book receives the recognition it deserves  not just in a wider readership in the Internet, but in our own country and educational institutions.
 (The reviewer is an Emeritus Professor of Law) University of Colombo  
Book Facts
Memories that Linger: My Journey in the World of DisabilityBy Padmani Mendis

Reviewed by Professor Savitri Goonesekere
Searching for an ideal partner? Find your soul mate on Hitad.lk, Sri Lanka's favourite marriage proposals page. With Hitad.lk matrimonial advertisements you have access to thousands of ads from potential suitors who are looking for someone just like you.