APPRECIATIONS
View(s):

A Jaffna man – an eminent surgeon with a European reputation

The 180th birth anniversary of Dr. W. G. Rockwood fell on March 13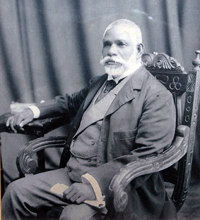 March 13, 2023 marked the 180th birth anniversary of Dr. William Gabriel Rockwood, MLC, MD, MRCP, MRCS. Born on March 13, 1843 in Alaveddy, a small agricultural town in Jaffna, he was the second of four children born to Elisha and Jane Backup. He died on March 27, 1909 at the 'Emms', Horton Place, Colombo 7.
His father, Elisha Sinnatambi was one of six children born to a Saivite Hindu, Perumalpillai who migrated from Karaikal, South India to Sri Lanka and married Vairavi, a landowner's daughter of Alaveddy. He was baptised 'Elisha Rockwood' in 1831 in Tellipallai and was given US $ 200 to complete his education at the Batticotta Seminary, known today as the Jaffna College, Vaddukoddai, by the American Congregational Movement. Elisha taught mathematics at the same school, later joining the Customs Department as a Sub-Collector.
William Rockwood married Salome Muthamma Muttucumaru, daughter of Adam Cathiravel Muttucumaru on November 1, 1871.
Early life
He had his early education at the Vembadi Boys' School and later at Central College, Jaffna. In 1855, aged 12, he joined Central College, Batticaloa.
In 1862 a maternal uncle, E. R. Chelliah Pillai told him to come to Madras University for a "good education". In January 1866, aged 23, he passed the Calcutta University Matriculation Examination in Madras and applied for the arts course.His father prevailed on him to follow medicine which he did with much reluctance but his disinclination soon disappeared as he took to anatomy. In July 1866, he joined the Madras Medical College and received the scholarship of Rs.20 allocated for those who pass the London matriculation examination.
'On his obtaining the degree of Doctor of Medicine from the University of Madras, a member of the Board of Examiners paid him the following rare compliment, "I have lately had, on behalf of the Madras University to examine a man of the name of Rockwood from Ceylon, for the Degree of Doctor of Medicine, and certainly was quite unprepared to meet a candidate for medical honours of this country so remarkably proficient. I fully believe that in any English or Scotch University he would have carried the highest honours" ' – (Jaffna Catholic Guardian April 03, 1909).
Serving in Puttalam he skilfully handled an outbreak of cholera and was sent to Jaffna in 1868 to control a cholera outbreak there. He was subsequently transferred to Hambantota (June 1875) and later to Gampola (1878). It was while in Gampola that a vacancy for the post of Surgeon in the Medical Department of the General Hospital in Colombo arose.
In 1878 aged 35 years, he held the post of Principal Surgeon at the General Hospital Colombo. He was the sole surgeon of the hospital and also lecturer in Clinical Systematic and Operative Surgery in the Ceylon Medical College. What leisure he could snatch was given up to the demands of a large and growing practice.
He travelled to London in 1884 and was admitted as a Member of the Royal College of Surgeons (MRCS) and Member of the Royal College of Physicians (MRCP).
He retired from the Medical Department after 31 years on March 13, 1898 at the age of 55 and was immediately appointed Consultant Surgeon to the General Hospital in Colombo.
It is said of his authority on handling tropical diseases that there was an instance when an Englishman was asked to consult him while on his way to Australia from England. Thinking that Dr Rockwood was an Englishman, he made an appointment to see him at the Galle Face Hotel when the ship docked in Colombo.
Informed that Dr. Rockwood had arrived, the man came to the lobby and was pacing up and down impatiently when the management of the hotel who were well acquainted with Dr. Rockwood drew his attention to the coloured man in the room. Seeing that Dr. Rockwood was not English he had returned to his room. A year later the patient was back, his pride in his pocket, to consult Dr. Rockwood.
Dr. Rockwood was ambidextrous – he could operate with either hand. He also promoted the choice of opium in the treatment of certain ailments.
Dr. Rockwood was also physician to the Governor of Ceylon Sir West Ridgeway.
Politics
The Governor appointed Dr. Rockwood to the Legislative Council representing the Tamil community for a period of five years from March 14, 1898 to March 12, 1903. He succeeded Mudaliyar Ponnambalam Coomaraswamy, the eldest brother of Sir Ponnambalam Ramanathan, the first Tamil representative in the Legislative Council. Governor Ridgeway in a private letter to Dr. Rockwood wrote: 'The Tamil community could think of no one who has earned the esteem and the admiration not of one community or of two, but of every community, of all men, of all races, as Dr. Rockwood'.
Dr. Rockwood was presented to the King of England, Edward VII at St. James' Palace on June 01, 1902 while a Member of the Legislative Council, to which he was appointed for a second term on July 09, 1903. Due to continuing failing health, in1906, he laid off from all public activity.
He was a member of the commission appointed by the Governor to oversee the planning and construction of the Colombo-Chilaw railway line from Negombo, later extended to Puttalam. While serving on the commission, he also suggested the construction of a railway line to Jaffna.
Philanthropy
After his death, Mrs. Rockwood donated Rs.20,000 for the construction of a 38 X 26 feet 'Waiting Hall' for patients who come to the General Hospital now known as the National Hospital, Colombo for treatment. The foundation stone was laid in 1909.
On April 16, 1912,'The Rockwood Hall' was opened by Governor Sir Henry Edward McCallum (1907-1913). The plaque in Sinhala, Tamil and English read: 'The Rockwood Memorial Hall erected to the memory of Dr. William Gabriel Rockwood MD, MRCS, MRCP, Chief Surgeon of this hospital 1878 to 1898, Consulting Surgeon from 1898 until his death. Tamil Representative to Legislative Council from 1898 – 1905'.
His character can be judged by his teaching. Once he rebuked a somewhat light-minded student and the latter, now occupying a responsible position, remembers his words. 'Never make differences in your patients. Every time a surgeon has a life depending upon his knife, it takes a fortnight off his own life, and the sense of responsibility is perhaps the greater when the man is a pauper than when he is a great and wealthy patient. The surgeon dare not take risks with the great man, for the world is watching him; but he fears still more to do so with the pauper, for then it is God who watches'.
The Rockwood Surgery Medal is awarded to the student who shows the greatest aptitude for surgery by the Medical Faculty of the University of Colombo, Peradeniya and Jaffna in his memory.
Great grandson William
Sukumar Rockwood
---
 Thank you for your guiding light
Punyakante Wijenaike
I was saddened to read of Punyakante Wijenaike's demise recently.
She was one of our most prolific writers, and succeeded in gaining a degree of international recognition.
Starting at the relatively young age of 28, she published several novels and collections of short stories and poetry.
Always modest and unassuming, with an impish sense of humour and beguiling smile, she was one of the pioneers of English writing in Sri Lanka. The best known of her novels are 'The Waiting Earth' portraying village life, 'The Amulet' (winner of the Gratiaen Prize) and 'Giraya' which achieved instant fame as a TV drama.
I got to know her around 2000, when a newly awakened interest in writing led me to join the "Wadiya Writers Group" and subsequently "The English Writers Co-operative". At the writers group, she along with Pauline Hensman, Christine Wilson, Sita Kulatunge (all, alas no more) were, for want of a better word, supervisors, guiding us novices down the literary path.
In the last few years we bade farewell to Anne Ranasinghe and Jean Arasanayagam, and now Punyakante. Their guiding light continues to shine as brightly as ever.
My sympathies to her daughters. My only acquaintance with them was via the family photographs which caught my eye, when Punyakante used to entertain us to tea.
 Premini Amerasinghe
---
A don in forensic medicine, he will be warmly remembered by students and colleagues
 Dr. L. B. L. De Alwis
The untimely death on February 21 of Dr. Lucian Bernard Lalantha de Alwis, retired Chief Consultant Judicial Medical Officer of Colombo was sad and shocking. He was the eldest son of Lucian de Alwis, former magistrate and senior Attorney-at-Law and of Mrs. Monica de Alwis, a scion of the Chevalier C. L. W. Perera family in Kurunegala.
Lalantha was the head of a charismatic family. He was a well known medical legal doctor while his wife Dr. Nirmala was an experienced medical officer. His sons Angelo and Praneeth are also doctors and his only daughter Melanie is an attorney-at-law.
He was a unique personality, an eminent professional, devout Catholic and a patriotic citizen.
After the demise of his parents Lalantha was not only father figure to his family but also to his ten siblings. He constantly looked into their well-being, ready with assistance and relief providing support and healthcare to them.  He had a convivial personality and was happy company at weddings, get-togethers and other functions. He was sincere and amiable and took pride in the attainments and successes of the extended family.
The hallmark of his professional career was his prowess and competence in the forensic field.
Lalantha was a respected Don in Forensic Medicine in the Medical Faculties of many universities including Colombo. His dissertations, lectures, analyses and references can be found in the books he authored. He will be warmly remembered by his many students.
May he be rewarded with heavenly blessings in the blissful presence of God.
Ronnie
---
Searching for an ideal partner? Find your soul mate on Hitad.lk, Sri Lanka's favourite marriage proposals page. With Hitad.lk matrimonial advertisements you have access to thousands of ads from potential suitors who are looking for someone just like you.