'Yaaluwoda Yaaluida' in cinema
View(s):
Sri Lanka's first fashion movie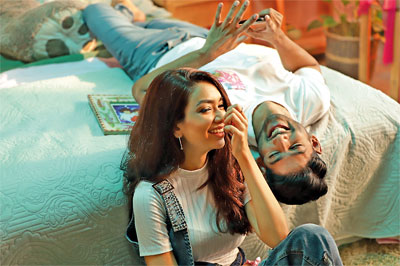 The official red-carpet premiere of 'Yaaluwoda Yaaluida', Sri Lanka's first fashion movie written and directed by Dilshara Jayamanna and produced by Rasitha Jinasena, was screened recently at the Colombo City Centre Scope Cinemas. The movie, a Netflix flavoured Sinhala romantic comedy for the TikTok age, was released in cinemas islandwide on March 3.
Starring newcomers Shereen Willis as 'Steffi' and Eraj Gunewardane as 'Mithun' in the two lead roles, 'Yaaluwoda Yaaluida' aims to create a cultural shift in Sri Lankan cinema by exploring several themes that appeal to today's young audiences such as the ups and downs of falling in love, the difficult bridge between friendship and love, today's world of high-end fashion, and the almost inevitable impact of social media on young lives. An ensemble of some of Sri Lanka's most loved actors and actresses including Saranga Disasekara, Yureni Noshika, Dinakshie Priyasad, Danu Innasithamby, Mass Ramli, Romaine Willis, Sarah Illyas and many others, combine to elevate the performances of the young duo on their big screen debut.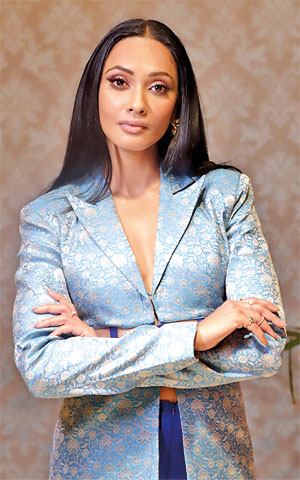 The inspiration behind the movie is Director Dilshara Jayamanna's desire to shine the spotlight on a significant cultural shift in the way today's young Sri Lankans approach, see and feel part of pop culture be it fashion, music, career choices, and even their attitudes towards the international community. Jayamanna and his creative team have been able to perfectly capture the essence of this cultural shift and bring it to life on the big screen for audiences of all ages to enjoy and appreciate. Aligning to today's world that increasingly understands and appreciates the immense impact of strong females on every aspect of modern society; the movie changes the game by putting the female as the lead and building the storyline around her dynamic screen presence and performance.
The back-story of the movie is bound to inspire today's younger generation, notably the female audiences. Lead actress Shereen was discovered on TikTok by Executive Producer Harshini Kithulagoda and provided a platform to reveal her acting prowess which she does so with tremendous success.  The movie also lands a couple of firsts in Sri Lanka's film industry. The song 'Tharunai' by DJ Mass and Romaine Willis is the first EDM (Electronic Dance Music) track in a Sinhala movie, while the movie is also the first Sinhala movie to have an Anime sequence, created by young designer Sejini Ratnayake.
Produced by veteran producer Rasitha Jinasena, the studio behind 'Yaaluwoda Yaaluida' is Starfish Neuro, a bold new Sri Lankan content studio making premium content for cinemas and online audiences. Other key members of the production team include Rangana S. Bandara and Hasitha Warnasuriya (Directors of Photography),Kavinda Mudalige (Editor), Jude Gayantha (Costumes), and Nuwan Sanuranke (Production Design). The movie has an outstanding soundtrack with music by Nishan Daniel and songs performed by Dinesh Gamage, DJ Mass, and Romaine Willis.
Searching for that next furry family member but couldn't find one in your area? Hitad.lk has the solution with our extensive listings of dogs for sale in Sri Lanka!