Francophonie 2023 – Performance by 'Les Monsieur Monsieur'
View(s):

The Embassy of Switzerland to Sri Lanka and the Maldives together with the International Organisation of la Francophonie will be hosting a theatrical performance of French and Swiss songs across three key cities in Sri Lanka with the view of celebrating Francophonie 2023, the annual celebration of the French language and Francophonie cultures with "Les Monsieur Monsieur", the famed duo Laurent BRUNETTI and Mario PACCHIOLI from the French-speaking Switzerland.

The inaugural performance will be held at the 'Garden Nuga', Sri Lanka Foundation Institute (SLFI), on Friday 24th March from 07.00pm onwards, followed by a performance in Jaffna on Sunday, 26th March at 07.00pm, and the final event at the University of Peradeniya, Kandy, on Tuesday, 28th March at 06.00pm. All these events are free and open to everyone on a first come first served basis.

The tour is comprised of original and popular songs, also referring to the great works of the French and the Swiss composers, creating and bringing back memories through their unique theatrical interpretation. The language barrier disappears, and the audience is propelled by the words, emotion and energy of the artistes. The duo will also conduct master classes at selected University venues and for its students.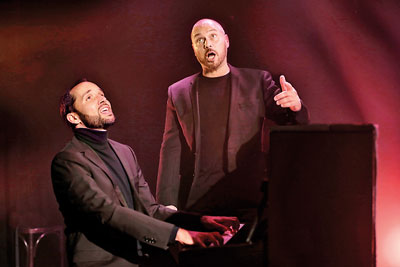 Searching for that next furry family member but couldn't find one in your area? Hitad.lk has the solution with our extensive listings of dogs for sale in Sri Lanka!