Saving Yala before it's too late
By Kumudini Hettiarachchi
A 2017 Action Plan is being re-visited to restore Sri Lanka's premier National Park to its former self and glory, says environmental activist Dr. Sumith Pilapitiya
View(s):
A much-visited National Park (NP) in Sri Lanka is losing its charisma and charm due to bad human behaviour.
All hope though is not lost yet and major changes are what environmental activist Dr. Sumith Pilapitiya is pushing for, with the strong proviso that action is needed "right now" before it is too late.
"A few remedial measures can easily restore the Yala NP in the south of the country to its former self and glory," says this former Director General of the Department of Wildlife Conservation (DWC) and elephant researcher.
He also looks beyond the premier Yala NP to all 28 NPs dotting the country which could easily rake in the much-needed dollars not just to overcome the current economic crisis but also be a future cash-spinner.
The remedial measures have been brought to the fore from a 2017 Action Plan, which was doomed to fail then because only "bits and pieces" were implemented, says forthright Dr. Pilapitiya.
This Action Plan is now being re-visited on the instructions of President Ranil Wickremesinghe, as 'Re-awakening Yala Program' with a revised implementation timeline from January 1, 2023 to December 31, 2028. Covering nearly 130,000 hectares of a mix of forest, scrub jungle, grassland, tanks and lagoons, Yala is divided into five blocks. Visitors have access to Blocks 1 and 2.
Dr. Pilapitiya stresses that the very first action mandatorily required is to ensure the independence of the DWC, the guardians of the Yala NP, to manage it without political interference from those in positions of leadership of any hue.
The second action, he proposes, is not only the registration of all safari jeep drivers but also training them on how to operate within the NP, with clear 'dos' and 'don'ts'.
Speaking with experience, he says that such a training conducted by a team including him in 2018-19 under the aegis of the Federation of Environmental Organizations (FEO) for Minneriya's safari jeep drivers had thrown up the shocking disclosure that nobody had told them about NP etiquette. These drivers should also be armed with information on animal behaviour to give visitors a comprehensive quality experience within an NP.
The third action includes training DWC staff on how to manage the logistics within the Yala NP with one-way tracks etc., when there are a large number of visitors, according to Dr. Pilapitiya who is not in agreement with placing sudden restrictions on the number of vehicles entering the park.
"Such restrictions would have a drastic impact on the livelihood of the jeep drivers which could result in these drivers who are familiar with Yala, resorting to illegal means such as poaching to eke out a living, since there are no other economic opportunities in the area. Then the overcrowding issue may be solved, creating though a conservation issue. If fewer visitors are allowed into the park, there would also be gloom and doom for the hotel industry in the area," he says.
The 'Re-awakening Yala Program' also recommends the appointment of an independent three-member committee to monitor its implementation.
The full implementation of the Action Plan, meanwhile, is to address: indiscipline and bad behaviour of safari vehicle operators and visitors; ensure adherence to speed limits through speed barriers; and introduce a gradual (phased) approach to limiting the number of vehicles in Yala NP's Block 1.
What ails the Yala NP?
"Indiscipline and misbehaviour of safari jeeps carrying visitors to Yala are the crux of the problem," underscores Dr. Pilapitiya, creating images of mobile contact on seeing an iconic creature such as the leopard or bear, creating a massive influx of screeching vehicles to that point.
He says that from the information coming back through tour operators, many foreigners are now bent on bypassing Yala due to vehicular overcrowding, misbehaviour and bad reputation.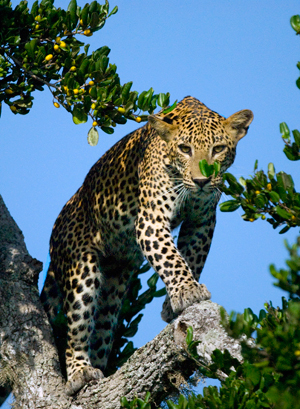 A recent incident under the spotlight was around 32 vehicles entering Yala in a convoy and making a mockery of all NP rules by racing around, with some visitors even getting off the vehicles. The matter is now in court.
The visitor data should make the authorities sit up and take note whether Sri Lanka is slowly and surely strangling its golden goose. In 2008-2009 as the war was drawing to a close, the Yala NP had around 48,500 visitors per year, with the numbers jumping to 650,000 visitors in 2018.
"The increase in visitors was a massive 1,000%," points out Dr. Pilapitiya, who also looks at the downside of the DWC "not being geared" to handle the situation. Park rules are that each jeep should carry a tracker but how could the DWC provide such numbers for about 600 vehicles entering Yala when its full staff cadre across the country is 1,500.
He says that this was why the DWC decided to allow safari jeeps which have experienced drivers familiar with Yala, to enter without a tracker and sent trackers only in private vehicles. The result was indiscipline within Yala.
Back in 2017, then Prime Minister Wickremesinghe had appointed a committee chaired by Dr. Pilapitiya and representing all stakeholders such as the DWC, hoteliers, tour operators and Yala enthusiasts to look into this issue. The outcome was the 'Action Plan for Improving the Overall Wildlife Tourism Experience in Yala National Park (Block 1)'.
"However, with only bits and pieces of the Action Plan being implemented, how could there be an improvement," asks Dr. Pilapitiya, citing someone attempting to bake a cake with 20% of the required ingredients, leading to a baking fiasco.
Moving beyond the Yala NP, he says that Sri Lanka needs to come up with a powerful Wildlife Tourism Strategy for its 28 NPs.
Sticking to his guns that Sri Lanka has the potential to become the 2nd most desirable world destination for wildlife enthusiasts outside Africa, he asks: "Where else can you see the world's largest marine mammal, the blue whale, in the morning and the world's largest terrestrial mammal, the elephant, in the afternoon, all on the same day?"
The former DWC DG's vision is clear – let us identify a few NPs and develop them as high-end destinations for high-spending visitors, where what matters is quality and not quantity; another set of NPs not too pricey for a larger number of middle-level spenders; and other NPs for mass-scale visiting at a lower price.
Dr. Pilapitiya's thinking has been reinforced by a 2018 study on 'Elephant viewing tourism in Sri Lanka' by a German graduate student. The study had covered Minneriya, Kaudulla and Uda Walawe where a large number of wild elephants roam, the Pinnawala Elephant Orphanage with around 80 elephants and a private organization with about five elephants.
The findings were an eye-opener – the tourists who had participated in the study had stated that they learnt something about elephants from the organisation which had the least number of elephants.
| | |
| --- | --- |
| Talk by Dr. Pilapitiya | |
| The monthly lecture of the Wildlife and Nature Protection Society (WNPS), 'Saving Yala from total destruction: What will be there to be seen?' will be delivered by Dr. Sumith Pilapitiya at 6 p.m. on March 16, at the Jasmine Hall, BMICH, Colombo. | |
Searching for an ideal partner? Find your soul mate on Hitad.lk, Sri Lanka's favourite marriage proposals page. With Hitad.lk matrimonial advertisements you have access to thousands of ads from potential suitors who are looking for someone just like you.