Appreciations
View(s):

A 'Helen of Troy' with a powerful intellect and sharp mind

Sarojini Kadurugamuwa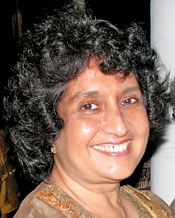 Sarojini is no more. She left us on February 10, as she wished, a mere six weeks after she lost her husband, Kaduru, whom she cared for with single-minded devotion, since he was diagnosed with a terminal illness over a decade ago. We, who mourn her loss, are left with the fragrant memory of a beautiful life well-lived, in selfless service to those she loved.
Sarojini was beautiful. Her face, like the legendary Helen of Troy, could launch a thousand ships. She coupled that face with a powerful intellect and a sharp and incisive mind. Yet, she was incapable of arrogance. Sarojini accepted her physical and intellectual attributes with the same humility, generosity of spirit and self-deprecating humour with which she lived her life. She reached out to all, even to the rare few who may have wished her ill.
Sarojini's father, T. B. Subasinghe, a man of unquestionable integrity, was a gentleman politician of a by-gone era who lived by his principles. Sarojini was very close to her only sibling, her beautiful, talented, older sister, Swinee. Theirs was a home in which they imbibed sound values and a love of Sri Lankan history and culture from both parents. Having grown up in an intellectual political environment, Sarojini was always interested in politics and government. She enjoyed discussion and debate on the same. She provided interesting insights and clear, unbiased opinions. An avid reader and deep thinker, she would despair over the wrongs she saw taking place in our own Sri Lanka and in the world we live in. Yet, she never judged harshly. She always sought to try and understand the other point of view, searching for reasons why individuals, groups, societies, governments and leaders acted the way they did, to the detriment of their own people and humanity at large.
I had met Sarojini socially in our formative years, through mutual friends, both of us having studied at two leading girls' schools in Colombo. However, it was only after I joined the Central Bank in 1983 that I got to know her well. We worked especially closely when she was Director, Legal Department and I was Director, Bank Supervision Department, almost 25 years ago. Having an entirely mathematical academic background, I had to learn from scratch to interpret the law, especially as applicable to the banking and financial system. I could not have asked for a better mentor.
Throughout my professional career, I have read, listened, questioned and concluded that many in the legal profession hide their limited understanding of other subjects and their inability to interpret the law in the context of those subjects, by resorting to confounding legal language which no non-lawyer can be expected to understand easily! Sarojini was different. She could dissect and analyse the facts about any subject and interpret the relevant law within that context. She would convey the same in simple non-legal jargon, for the layperson to be able to understand. She never made the listener feel inadequate, however junior or senior the officer she was working with. Those facets of her personality made her loved and respected by her superiors, peers and subordinates, within the Central Bank and in the legal and financial professions.
She was also a very wise and mature friend, whose advice I valued greatly. She taught me to recognise and accept the shades of grey in my naïve black and white world view. When I went into battle in the Central Bank, usually with my superiors, including the Governor, on what I considered a matter of principle, she would gently get me to back off, making me realise that one needed to prioritise one's battles, choosing the really important ones and letting the insignificant ones go, rather than fight them all.
On rare occasions in retirement when she would put pen to paper, her articles were excellent reads. I tried to get her to write more, but she replied "Thanks for all your encouragement. But you really wouldn't want me to write – I do it only when things get unbearable!" I would get her to review my own presentations and articles prior to finalisation. She was very encouraging of my efforts to try and raise public awareness on socio-economic issues and always found the time to provide constructive criticism, however busy she was.
Sarojini also took a great interest in Sri Lanka's performing arts, both dance and drama, and in our country's history and archaeology. These interests she shared with Kaduru. As a schoolgirl, she had trained under the legendary Vajira, and went on to perform with the Chitrasena Dance Company until 1985. Later, she and Kaduru supported the establishment of the Chitrasena Foundation and continued to support their work throughout their lives. She also supported Kaduru's efforts, with Dr. Roland de Silva, former Commissioner of Archaeology, Mr. Kanageesvaran, President's Counsel, and others, to establish the National Trust of Sri Lanka. She and Kaduru loved to visit their "Watte" in Ingiriya, to indulge in another mutual interest, agriculture and landscaping. She followed Sinhala theatre avidly. Our co-Central Banker, the immensely talented Asoka Handagama, launched a new production at the Lionel Wendt Theatre on 31st January this year. With many of us in the audience, Sarojini was a notable absentee.
Sarojini and Kaduru were a couple who loved their close-knit families. They found great joy in their only daughter Anuradhi, her husband, Chamilal, and their two sons. From all I have heard, Sarojini and Kaduru were the pivot and organisers of most extended family get-togethers. Through her many varied interests and her love of people, Sarojini had a wide circle of family and friends. She remained close to all, never neglecting one individual or group for another.
I was one of such a group of five Central Bankers who retired within a few years of each other. In retirement, we would meet regularly for lunch, to reminisce, exchange a bit of gossip, laugh, discuss a new book, film or play, and analyse the country's and the world's problems over our meal. As Kaduru got weaker, we were no longer able to meet regularly.
When Kaduru passed away at end-2022, I optimistically hoped that we, her friends and family, could help Sarojini build a life without Kaduru, around her many interests. No one knew that she had kept her own seriously deteriorating health condition hidden from all, in her single-minded determination to nurse Kaduru to the end. By then, it was too late. Sarojini was disillusioned with a country and a world increasingly controlled by lust for power, position and wealth, rather than concern for people and the environment. With Kaduru gone, she was ready to move beyond this world. I believe that all who knew and loved her, including Anuradhi, Chamilal and Swinee, respected her decision. And so, she drifted away from us, gently and peacefully.
I have lost my friend and one of the most multi-faceted, unpretentious and humane individuals it was my privilege to have known. We, who knew her, are all the poorer for it. I will miss her radiant smile, her wisdom and her infectious laugh, but I remain forever grateful for many precious memories of her.
Anila Dias Bandaranaike
---
 The epitome of the woman behind a successful man
Sunethra Wijegoonewardena
Sunethra's death was so sudden that when we heard the news, we were all left in deep shock and disbelief. Our hearts are heavy with so much grief. We met up several times in December 2022 during our visit to Sri Lanka and she was in perfect health.
I write this tribute with tears in my eyes. Our friendship with Sue, as she was affectionately known, goes back to mid-1979. Preethi and my husband Hemal had been good friends since schooldays. We still remember vividly the day Preethi visited us with Sue. He was excited and happy to introduce his fiancée to us. She was a picture of innocence and sweetness, and remained that sweet person to the end, simple, kind and loving. She was the perfect wife to Preethi. They were made for each other. If marriages are made in Heaven, then this was one.
Sue gave her unstinted support to Preethi as he went from strength to strength in his medical profession. Preethi held many prestigious positions and recently was awarded the International President's Medal in London  – a distinguished award in recognition of his services. Because of their love for people Preethi and Sue were able to work together to promote healthcare for the less fortunate. Sue was the epitome of the woman behind a successful man.
She was a loving and doting mother to Indi and Venya, and was proud of their achievements. 2022 was special to her as she celebrated Venya's wedding and the birth of her grandson in Perth.
Born to a privileged family she was the only daughter of Dr George and Nanda Weeratunge. Kindness and compassion came naturally to her. She would instil these values in Indi and Venya. Sue would take them to the homes for the disabled and orphaned children and on their birthdays would provide meals to these homes. It was no surprise that Venya donated the cash gifts she received at the wedding to charities like 'Gam Meda', children's homes and the Cancer Hospital.
Sue's garden was her pride and joy. She had the luxury of indulging in her penchant for a variety of exotic orchids, ferns and cacti. She would potter around her garden and tend to her plants with loving care. A rare pink cactus from her garden adorns my kitchen window. Thank you, Sue. I remember you every minute.
Sue and Preethi loved to entertain and Sue was the perfect hostess at their many parties and would want everything to be to perfection. When anyone visited from overseas she would have a spread of the most delectable and mouth-watering dishes prepared at home. She would go that extra mile to include "authentic Sri Lankan village food" in the menu. This was Sue. She would always try to please people and their tastebuds.
Sue is going to be dearly missed by everyone who knew her.
"Those we love don't go away. They walk beside us everyday unseen, unheard but always near, still loved, still missed and very dear".
Our prayers and thoughts are with Preethi, Indi & Alexandra and Venya & Joss at this sad time.
Swarnamalie Perera
---
A liberal nationalist and scholar who served his motherland
 Sri Charles de Silva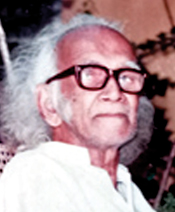 February 28, 2023 marked the 120th birth anniversary of Pandita Kulapati Sahitya Vagishvaracharya Vidyavachaspati Sri Charles de Silva,  distinguished teacher, outstanding scholar, eminent linguist and renowned author. Sri Charles was a liberal nationalist and humanist who dedicated his entire life to the service of his motherland.
His life and career were greatly influenced by scholars and leaders including Mahathma Gandhi, Harindranath Chattopadhyaya and Rabindranath Tagore.
Sri Charles was fluent in more than 15 languages and an expert in Sinhala, Tamil, English, Sanskrit, Latin and Pali. He was a polyglot with an extraordinary ability to speak and write in several languages including, Gujarati, Marathi, Hindi, Bengali, Greek, Dutch, Portuguese, Russian and German. A talented artist with a first-class Teacher's Certificate in Art, he illustrated a majority of his children's books himself.
Charles de Silva Wijayaratna was born at his parents' home in Elliott Road, Galle on February 28, 1903,  the eldest of the five children of Don Hendrick de Silva Wijayaratna and Caroline de Silva.  He had his education at Mahinda College, Galle. He completed the Senior Cambridge Examination in December 1920, the London Matriculation Examination in 1921 and succeeded in Intermediate Arts from the University of London in 1933.
He started out as an Assistant Teacher at his school, Mahinda College Galle in January 1922. He regarded teaching as 'the noblest of all professions', as 'a means of learning' and as 'a means of service'.
In December 1925, he travelled to Madras, India to participate in the 50th anniversary celebration of the Theosophical Society as the secretary of the Theosophical Society's Galle branch.
In 1928, he worked as an Editorial Assistant to the Sinhala Etymological Dictionary under Sir Don Baron Jayatilaka.
He returned to teaching in 1929 and served in a number of schools including Dharmashoka College, Ambalangoda, Sri Sumangala Vidyalaya, Panadura, S. Thomas' College, Mount Lavinia, Mahinda College, Galle, St Joseph's College, Maradana and Trinity College, Kandy. After 41 years of service, he retired in April 1963.
His services were utilised by the Sinhala Faculty of the University of Sri Lanka, Peradeniya Campus and he served for two years as a Visiting Lecturer, teaching and training the academic staff. In 1965, he was appointed as an Honorary Advisory Editor of the 'Sinhala Encyclopaedia' and retired in 1976.
Sri Charles served as an elected member of the Academic Council of the Arts Faculty of the Peradeniya University from 1971 to 1974.
He made his debut as a writer in 1929 with 'Aryawamsa- Sangha- Netr-Charitam', a 300 line Sanskrit poem. He has written over 60 works of which 39 have been published.
These include annotated English editions of Sinhala classics such as Subhasita, Guttila Kavyaya and Vidura Jataka.Annotated Sinhala classics he produced were Vidura Jataka, Sanga-Raja-Vata, Moratota Vata, Dunuvila Hatana, Sri-Lak-Kandyim Pota and Parakumba Sirit Vivaranaya. His anthologies include Umanda Kiyavanaya, Tohu-Mini-Mala, Stotra Mani Mala and Viraha Kav-Kalamba.
His contributions to children's literature include Handaya, Lokka, Ukunai Ikiniyi, Kaevum Kaema, Tun-Valas-Katava, Maendi Manamaliya, Rakusu Raevla, Salada, Denetiya, Gini Pettiya, Komaliya, Maendi Asaruwa, Kotu Kitayiya, Nariyayi Havayi, Itiyopiya Janakata (Stories) Pivisuma, Neraluwa, Helavaga, Vata-Pita, Rasa-Vita and Mahaushadhaya (Drama).
His translations of several well-known works, include Dak Gharaya (from Bengali into Sinhala), Vivekananda-Desanavaliya (from English into Sinhala) and Siri Giya, a translation (from Tamil poem Tiru-k-Kural into Sinhala verse).
He was a founding member of the 'Hela Havula' initiated in 1941 together with Munidasa Kumaratunga, Jayantha Weerasekara, Raphiel Tennekoon and Amarasiri Gunawardena.
He was a fellow of the Theosophical Society and Universal Brotherhood and a member of the Ramakrishna Mission, Society of Authors of London, the League of Dramatists of England, the Royal Asiatic Society, Linguistic Society of India and Order of the Star in the East.
In recognition of Sri Charles de Silva's outstanding contribution to Sinhala Literature the Asgiriya Chapter of the Siam Maha Nikaya conferred on him three honorary titles Sahitya-Vagishvaracharya (1956), Vidyavachaspati (1968) and Pandita Kulapti.
He received a State Award from the Sri Lanka Sahitya Mandalaya for the best translation of the year 1965 for the translation of Tiru-k-kural into Sinhala verse, Siri Giya. He was also awarded a Gold Medal in 1969 by the Tiru-V-Ilangai-Sangam (Sri Lanka Sangam) of Trincomalee for the exceptional service rendered towards the formation of Tamil-Sinhala friendship by his translation of Tiru-k-kural into Sinhala verse.
He was awarded State Honours in 1984 for over 50 years of service to Sinhala literature and also received a State Award in 1987. He marriedOvadaseeli Manuwickrama (1924-1990), a kind-hearted, English trained teacher in 1949. Educated at Holy Family Convent, Colombo she possessed an extensive knowledge of English, Latin and Pali. They had five children, three daughters and two sons.
Sri Charles de Silva was an honest and genuine individual who cared for the wellbeing of others. His kind and humble qualities made him accessible to everyone.
He died on September 11, 1987, after a brief illness. He was 84.
Hiranthi de Silva Wijayaratna
---
 Though she is gone, she has taken up residence in our hearts
Dora Rajapakse
How do we say goodbe to our dearest friend and neighbour who left us in the sunset of her life?
Dora was a loving mother to Sam, a thankful mother-in-law to Charmalie, a caring and protective grandmother to Shalini and Shanaka, a devoted sister, a loving aunt and genuine friend to us all.
The days before she passed Sam gave us an opportunity to see Dora. Her eyes were weighed down by the effects of morphine, yet she recognised our voices as we comforted her and said our goodbyes.
In our quiet time, we relive our memories where we think of our friendship with Dora. She made us laugh through our tears, helped us in times of stress, wisely, sternly and practically when we sought her counsel.
Some people have many roles in life and Dora was one of them. She was a woman of true grit who lived life on her own terms.
We remember with nostalgia our holidays in Sri Lanka, India and Bangkok in the late eighties and nineties. She would search and search all the toyshops for the latest Barbies  for her grand daughter who had a collection of dolls at that time.
I see the years at Park Street like a silent movie. Dora sitting in her favourite chair  shaking her feet in slow rhythmic movements. I think of the siri siri bags filled with clothes, materials, towels from Salu Sala – how she would make the sales lady Nalini who was by then her friend, pull down rolls of material to choose her Avurudu gifts. How she could not resist stopping at Mark D – a handbag shop she had discovered whilst travelling to Moratuwa.
I think of the weekday evening conversations  at our home where Dora, Hillary and I would chat  sometimes joined by friends. Her stories were interesting and funny and she had her famous phrases which I would remind her of much to her amusement. Those were happy times and we can only relive the memories.
Though she is gone, she has taken up residence in our hearts.
Rest in peace Dora. We can never forget you.
Charmaine Candappa
---
Searching for an ideal partner? Find your soul mate on Hitad.lk, Sri Lanka's favourite marriage proposals page. With Hitad.lk matrimonial advertisements you have access to thousands of ads from potential suitors who are looking for someone just like you.