Risks, uncertainties and economic consequences of the current political turmoil
View(s):

The economic consequences of the current political unrest could be a serious setback to an economic recovery. The expected improvements in the external finances could be adversely affected by the ongoing strikes, protests, social unrest and repression.

General strike

The strikes and protests that began on Wednesday (March 1) was a one-day token strike action. If the issues are not settled, a general strike of many unions is expected from March 8 onwards.

Setback

Such a general strike could be a serious setback to production of goods and services. This is especially so owing to port workers, bankers and workers in key sectors being involved. Professionals too are in the forefront of the protests and strikes. Furthermore, political protests and marches are expected to take place simultaneously. Disruption to the production of goods and services could be immense, if work stoppages are prolonged.
Uncertain
The course, duration, consequences and final outcomes of these protests, strikes, political unrest and social upheavals are uncertain. However, their economic consequences could be serious drawbacks to an economic recovery.
Production
The production of goods and services would be adversely affected, especially if private sector employees in export industries and those engaged in essential public services such as the ports, electricity and water supply go on strike. Prolonged strikes in ports could affect the country's export earnings.
Exports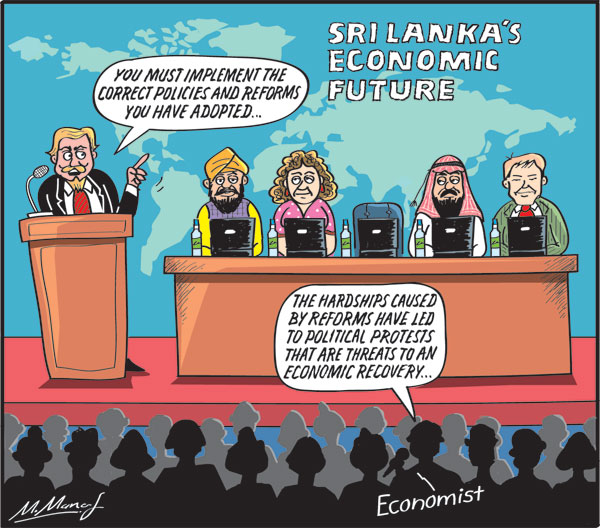 These developments could result in a significant reduction in export earnings. The declining trend in merchandise exports since last October could accentuate. Merchandise exports that fell by 11.3 per-cent to US$ 978 million in January this year, compared to January last year, could dip further. This would widen the trade deficit, reduce the country's foreign earnings and be a setback to the country's foreign finances. One can only hope the work stoppages are of a short duration and exports will not be jeopardised.
Tourism
The most vulnerable foreign exchange earner is tourism. From time to time, external shocks have been setbacks to tourism. Three decades of civil war and island-wide insecurity was tourism's darkest period. The Easter Sunday terrorist attacks in 2019 and COVID-19 were recent severe setbacks to tourism. Will the political unrest once again reverse the increasing flow of tourists?
Earnings from tourists
Tourist earnings are estimated to have been US$ 162 million in January this year compared to US$ 127 in January last year.  Indications are that last month, there was a further increase of tourists and Sri Lankans from abroad. Therefore, the tourism industry expects a further boost this year with at least US$ 2.5 billion in earnings, perhaps even more.
At risk
However, this expectation is now at risk. If the political upheaval continues and become more violent, the country could be deemed an unsafe travel destination. This would be a serious blow to tourism and the country's external finances.
International Monetary Fund (IMF)
For many months the Government held out on the prospect of obtaining an IMF credit facility of US$ 2.9 billion that would enable the country "to get out of jail' for the 17th time. Although there were many voices of dissent on obtaining the IMF facility mainly due to the conditions attached, and also due to ideological reasons, economists and other practical minded people were of the view that the extent of debt, and the dire state of the economy, left us with no other alternative than to cling on to the IMF lifeline and reform the economy. In common parlance, we had consumed more than we had earned and we have to mend our ways.
The delay in obtaining the IMF facility has been more than an irritant. Meanwhile the implementation of the conditions have worsened the plight of people. The 66 percent increase in the electricity tariff, fuel price increases, the skyrocketing of consumer prices and the increased income taxes have heightened popular discontent, and the IMF still remains unable to disburse funds. Although there has been some relief such as no petrol shortages or power cuts, on balance, people feel their condition is worse off.
No word
At the time of writing, there was no word of the IMF releasing the first tranche of the Extended Fund Facility (EFF) of US$ 2.9 billion. The pertinent question is whether, and when, the first tranche of the EFF will relieve people from their dire living conditions.
Concluding reflections
The course of events in the coming days are critical for the economy. Will strikes and political unrest obstruct an economic recovery?
We are a strange sort of people who do not unite at a time of national crisis to resolve it. Instead we unite to oppose the Government and aggravate the crisis.
We also have a Government that is not politically sensitive or capable of discussing contentious issues to arrive at a solution that ensures the revival of the economy, and we have an Opposition seeking to exploit the crisis to gain power.
Therefore, the final outcome of these protests, strikes, political unrest and social upheavals are uncertain, but their consequences could endanger an economic recovery.
Buying or selling electronics has never been easier with the help of Hitad.lk! We, at Hitad.lk, hear your needs and endeavour to provide you with the perfect listings of electronics; because we have listings for nearly anything! Search for your favourite electronic items for sale on Hitad.lk today!