Jagath and Visakesa win awards at IFF Rotterdam
View(s):

Two Sri Lankan filmmakers were awarded at the recently concluded Rotterdam Film Festival in the Netherlands.

Debutant Jagath Manuwarna's 'Whispering Mountain'  won the NETPAC Award given to the Best Asian Feature film while Visakesa Chandrasekaram's 'Munnel', a story about an ex-Tamil Tiger militant returns home in this delicate, impactful portrait of post-war consciousness won the Special Jury Award in the Tiger competition, IFFR's trade mark competition celebrates the innovative and adventurous spirit of up-and-coming filmmakers from all over the world.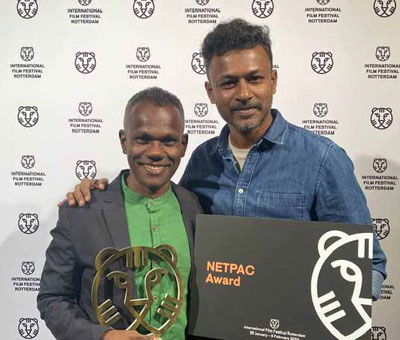 The NETPAC Award (Network for the Promotion of Asian Cinema) is awarded to the best Asian feature film by a jury from the Network for the Promotion of Asian Cinema and in 2014 Sri Lanka's Jayakody Prasanna won the award for his film '28'.
In Jagath's film, the young people of Sri Lanka are committing suicide in droves. The government blames a supernatural virus that must be cleansed by ancient ritual.
Selecting 'Whispering Mountain' as the winner, the NETPAC jury comprised of Roger Garcia, Bradley Lieuw and Italo Spinelli stated,"the jury gives its award this year to a film that looks at the troubled past of a nation from the point of view of the near future. Combining artistic ambition with commercial convention, this first work from a country whose film industry is emerging as one of the most promising in Asia, we recognise the force of Whispering Mountains, the feature directorial debut by Jagath Manuwarna of Sri Lanka."
Selecting Visakesa's film the 'Tiger' Competition Jury comprising of Sabrina Baracetti, Lav Diaz, Anisia Uzeyman, Christine Vachon and Alonso Díaz de la Vega stated 'a great simple story about a young man caught between revolution and authoritarianism'.
The competition was founded in 1995 with the aim of discovering, raising the profile of and rewarding up-and-coming international film talent. The Tiger Award is accompanied by a €40,000 cash prize, to be shared between the director and producer of the winning film.
Competing with 16 entries along with 'Munnel', 'New Strains' directed by Artemis Shaw and Prashanth Kamalakanthan was awarded the other Special Jury Award. Endless Borders by Iranian filmmaker Abbas Amini took the VPRO Big Screen Award 2023.
Searching for that next furry family member but couldn't find one in your area? Hitad.lk has the solution with our extensive listings of dogs for sale in Sri Lanka!