BC choir tours Jaffna ahead of the College's 150th anniversary
View(s):

The Choir of Bishop's College embarked on a four day tour of the Jaffna Peninsula from February 10-13, 2023 to commence 'Toward 150' the College's 150th anniversary commemoration celebrations. They were accompanied by the Principal and Vice Principal together with the choir Director and Teachers in charge. The school will celebrate its 150th anniversary in 2025.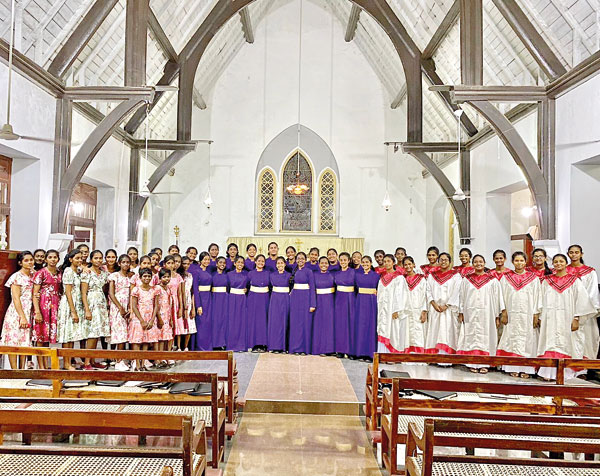 The main objective of their tour was to create a link between the Choir of the Ranie Mather Asirwatham (RMA) Memorial Hostel and the College Choir. The 17 girls who reside in the hostel are trained under the guidance of Mrs. Vasuki Rajasingham, a past pupil of Chundikuli Girls' College and Jaffna College, a passionate teacher and counselor who loves to teach children to sing.
The Choir was able to spend two whole days with the RMA Choristers: traveling to Point Pedro, the Keeramali hot springs, the Jaffna fort, Dambakolapatuna and the Jaffna market.
Amidst the fellowship, the two choirs also came together to sing a programme of choral music at three historical sites: St. John's College, Chundikuli, St Mary's Cathedral, and St. Thomas' Cathedral, Vaddukkodai. The choirs were also joined by the Choirs of Chundikuli Girls' College and the Choir of Jaffna College. The Bishop's College Choir directed by Mr. Denham Pereira, sang a selection of their favourite anthems & hymns such as 'Here, I am Lord', 'panis angelicus', 'For the beauty of the Earth ', 'Praise my soul the King of Heaven'  and the School Hymn.
A tree planting ceremony took place at the Ranie Mather Asirwatham Memorial Hostel graced by the Principal of Bishop's College, Mrs Chemali Goonetileke Herath to mark this memorable occasion.
This was indeed a very special journey for the Choir, that opened them up to new experiences in life and singing, that was thoroughly enjoyed by all and a fitting start to the 'Toward 150' activities. College's 150th anniversary
Searching for that next furry family member but couldn't find one in your area? Hitad.lk has the solution with our extensive listings of dogs for sale in Sri Lanka!