Making music in Denmark and Ibiza
Sri-Lankan born Anne-Rani tells Shannon Salgadoe of her career as a popular singer and TV host
View(s):
The '90s saw the global rise of contemporary R&B along with the forming of popular male groups like Boyz II Men, Backstreet Boys, and All-4-One, as well as female groups like Destiny's Child and TLC. The rest of the world dove into the trend, with many groups getting their start in the music industry. Achieving quite a bit of success in Denmark was the all-girl group JUICE which counted Sri Lankan-born Anne Rani as one of its members.
The singer who has also worked with Andy Taylor from Duran Duran and is singing on his latest single – Wolf to a Man has also collaborated with Indian artist Karsh Kale in Malika Jam which won the Indian Bollywood award for Best Fusion album of the year in 2011 (Anne features on the first single). She's also done studio vocals for Kathy Sledge from Sister Sledge and Chic.
Anne Rani was born in Sri Lanka and adopted by a Danish couple at the age of eight months from an orphanage in Panadura. Growing up in Denmark, she had a keen interest in music, and at the age of six years, she began piano lessons and later singing lessons.
At the age of 19, a friend sent in her demo tape to a record company and she was asked to audition for a project that was in the works – a girl group. This was the beginning of JUICE, an R&B group which would go on to become the number-one-selling R&B group in Denmark in the mid-'90s.  "That was very surreal. My life suddenly changed very very quickly. We spent two years recording and rehearsing our first album and the single came out and it went to No. 1. It was so overwhelming and all of a sudden I went from being nobody – nobody had known about me and all of a sudden, everyone knew the band JUICE so that was an amazing experience," says Anne.
The group spent the next few years touring and performing on some of the biggest stages in Europe like the Globe in Sweden which holds close to 20,000 people, and the Wembley Arena in the UK which is a career highpoint for almost all musical artists and likewise, she considers performing at the Wembley Arena one of the highlights of her career.  "I couldn't even believe it, that was an overwhelming moment to stand there on such a huge stage, and experience that because that had been in my childhood dreams," she reminisces. The group also toured Asian countries like Japan, Malaysia and the Philippines.
"Musically, I would say Prince was my inspiration, but Madonna represented female empowerment and she represented something very strong in women," she says.  Other influences include Missy Elliot, Brandy, Mariah Carey and Whitney Houston.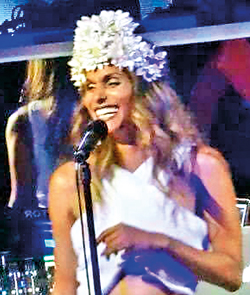 After the group decided to amicably part ways and focus on individual projects in 2000, Anne became a TV show host for a music channel, splitting her time between Copenhagen and Ibiza. Releasing her own music, her first single reached No. 4 on Asian Network BBC Radio 1, and she now performs in some of the biggest clubs in Ibiza.  She has also made her debut as a minor character in a popular Danish TV series, Klovn and has many acting projects in the works.
In Ibiza, she's immersed in the electronic music scene which she always had a passion for. "I think because I consider myself a singer, musician and songwriter,  I'm open to all genres and music. I'm open to music, I'm open to art, open to creativity. I think the best way to go about working with music is to be open to anything."
Anne is also very keen to explore her roots, and when she visited Sri Lanka last year went to see the children's home from which she was adopted. "That was a touching experience and I feel very blessed.  I also feel very proud to come from such a beautiful place and I want to know so much more and come back and visit more. I would love to see much more.
Searching for an ideal partner? Find your soul mate on Hitad.lk, Sri Lanka's favourite marriage proposals page. With Hitad.lk matrimonial advertisements you have access to thousands of ads from potential suitors who are looking for someone just like you.