A very local design vibe
By Anoushka Jayasuriya
View(s):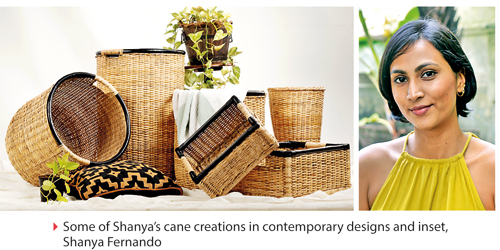 "Just be bold and do it. You have to take chances, it's not easy," says Shanya Fernando who founded her homeware brand Isla along with her interior design practice, Studio Isla in August 2021.
An interior architect by profession, Shanya made the decision to launch her own brand and studio a year after the outbreak of the COVID-19 pandemic. "It was really challenging because people were losing their jobs but I decided to take a leap and just trust myself."
"When you're an entrepreneur you have to do everything by yourself," she says. "I'm figuring everything out myself from the business side to the marketing side to everything else. You have to wear all those hats to understand the process behind running a business."
She chose 'Isla', meaning island in Spanish, she explains, as she wanted her business to resonate with her home country by utilizing local raw materials available and working with local craftspeople to make her products.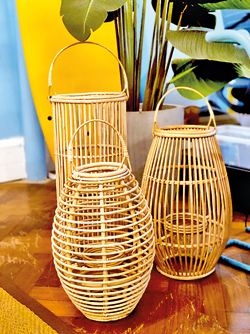 Completing her Bachelor's in Interior Architecture with the University of Limkokwing in 2016 Shanya worked for five years at different design firms before deciding to open her own. Isla's products are primarily made using two key materials, cane and rattan. The idea first came to her when she realised the gap in the market for designer cane furniture in contemporary designs. Cane products are sustainable but require skilled workers to produce. Working with craftsmen from places like Moratuwa and Weweldeniya, she explains that the challenge at the time was the travel restrictions imposed under Covid  which kept workers away. With the economic crisis raw material prices have increased considerably, she notes.
As an entrepreneur during this unprecedented time being selected for AccelerateHER bootcamp, an initiative by Hatch and the US Department of State was a great help, she says. The initiative is a three-day programme whereby women led small businesses are supported through guidance programmes curated to strengthen their vision.
Balancing design with her part time work as a model, Shanya has been involved in designing both commercial and residential spaces including mall outlets, restaurants and bars, hotels, offices and apartments. She favours light, and natural, earthy elements and is inspired by designers such as British interior and furniture designer, Ilse Crawford, Belgian designer Laurence Leenaert, Geoffrey Bawa and Minnette de Silva.
See Isla and Studio Isla on Instagram @isla_lk and Facebook.
Searching for an ideal partner? Find your soul mate on Hitad.lk, Sri Lanka's favourite marriage proposals page. With Hitad.lk matrimonial advertisements you have access to thousands of ads from potential suitors who are looking for someone just like you.