Farewell to the poetess of the silver screen
Trail-blazing film director Sumitra Peries died on Thursday. Here Yomal Senerath-Yapa looks back at her colourful and eventful life
View(s):
With the passing of Sumitra Peries, we lose a filmmaker who despite her aristocratic origins and liberal upbringing, captured the poetry of everyday lives and fabric of the ordinary people of her land –  the wending river, feudal upcountry village – with a haunting awareness and beautiful sensitivity.
Sumitra's films, rather like Punyakante Wijenaike's books (to draw an analogy) – dealt with a milieu that was often not her own. The daughter of Proctor Henry Gunawardena (of Boralugoda fame) she was portraying in a subtler way, more of the less well-off, or indeed the rural poor, in her oeuvre.
Apart from her family filled with Marxist political legends like Philip and Robert, Sumitra was sister to the maverick Gamini Gunawardena, and grew up in pretty much the same kind of milieu as her husband –  the legendary film director Lester James Peries, whose own father was a Scottish-qualified medical man, both more at ease with English.
Born on March 24, 1935, in Payagala, St. Mary's Avissawella, was school for Sumitra before she entered Visakha Vidyalaya after which she boarded a P & O liner to join Gamini with his bohemian friends cruising the Mediterranean in a yacht.
A vision in Saint-Tropez that seared itself into her mind was a chance sighting of the  sultry French actress Brigitte Bardot and director Roger Vadim making 'And God Created Woman'.
Lester and Sumitra were, undoubtedly, the most intellectual cinematic couple Lanka ever knew. Their fated meeting in France is often retold of how in a dowdy quarter in Paris he picked her up with the eternal line "what's a girl like you doing in a place like this?" And from then on he set the tune and she admiringly danced along.
She was to tell The Sunday Times in 2018, "I am what I am because of him" and you just have to look at the films to see their symbiosis as artists.
It was Lester who steered her towards England and the London School of Film Technique where this sensitive if ebullient girl was more comfortable than in the raffish Mediterranean with artists of colourful sexualities.
In LSFT she came to know Lindsay Anderson, also a friend of Lester's. After this she was to spend some time in London, doing subtitling for a firm with her knowledge of French.
Back in Colombo in response to the call of home, her first move was to be a crew member on Lester's Sandesaya made in 1960.
From then on she edited films and after marrying Lester in 1964, she did Gehenu Lamayi in 1978, a story based on Karunasena Jayalath's novel just as Lester did Golu Hadawatha.
You see the close brotherhood between her filmography and Lester's –  they follow the same bend, but Sumitra was her own woman and artiste, with a more feminine view. She has been accused of not being 'feminist' enough (or being anti-women) as her womenfolk tend to succumb to their miseries but stayed true to her convictions. Her body of work consisted of ten films – Gehenu Lamayi, Ganga Addara, Yahalu Yeheli, Maaya, Sagara Jalaya Madi Handuwa Oba Handa, Loku Duwa, Duwata Mawaka Misa , Sakman Maluwa and Vaishnavee.
Sumitra's emphasis was on quality and her erudition and eloquence earned her the position of the country's Ambassador Extraordinary and Plenipotentiary for France and Spain from 1995 to 1999 and later to the United Nations.
At the time of her passing Sumitra, 88, was the oldest film director in the country. In her last years, she lived in Mirihana, having left the house in Dickman's Road where she spent most of her married life with Lester who passed away in 2018 at the age of 99.
Recognition for Sumitra's abilities and contribution came from many quarters. A book on Sumitra was released in 2011 by Vilasnee Tampoe Hautin titled 'Sumitra Peries : Sri Lankan Filmmaker, Poetess of Sinhala Cinema'.
The titles and accolades were many. To mention a few, Sumitra was honoured with the Kala Keerti title in 2005, the Order of the Rising Sun, Gold and Silver Rays by the Government of Japan in 2021 and received an Honorary Doctorate from the University of Kelaniya for her outstanding contribution to local cinema.
Friends in the world of cinema who had shared her journey were bereft at her loss:
Nadeeka Gunesekera
"I don't know where to start and what to say: she was not just a director to me; she was a family friend. She was a darling, well-mannered person. I've never heard anything bad about her from anyone. I acted in Yahalu Yeheli in 1982 and we never lost that bond.
"Last October was my daughter's birthday and even though she was not well she made a point to greet her. I have beautiful memories of her…
"We used to plan to drop into their place for 5-10 minutes but that never happened –  we always ended up staying for hours enjoying the company."
Swarna Mallawarachchi
"I worked with Ms. Peries for three films- Yahalu Yeheli, Maya and Sagara Jalaya Madi Handuwa Oba Handa.
"We had a very long friendship and we used to talk at least once a week. I remember visiting two major film festivals with the Perieses – the Calcutta International Film Festival and very first SAARC Film Festival.
"She had a very colourful life and I am going to miss a friend with whom I can talk for hours."
Sangeetha Weeraratne
"I first acted under Ms. Peries in the teledrama Golu Hadawatha. Her passing is a big loss –  she was called the Akira Kurosawa of Sri Lanka and knew the art and craft of the cinema thoroughly.
"It is sad that the new generation has not been able to work under her. May she attain the bliss of Nirvana."
Yashodha Wimaladharma
"I had a close relationship with her almost all my career. Both my parents (Mr and Mrs Ravilal Wimaladharma) knew Mr and Mrs Peries. In 1995 I acted in Duwata Mawaka Misa.
"It was very nice to work with a female director; she was the only person qualified at her job.
"Both of their whole lives was films. For Duwata Mawaka Misa I won the best supporting actress and I was also in her last film Vaishnavee.
"I was close to her personally and professionally.
"An era has passed with her passing; she was the last of a kind."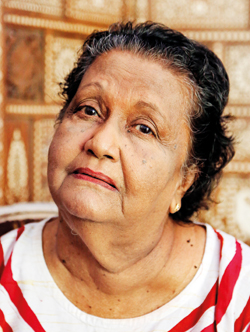 Thumindu Dodantenna   
"Ms. Peries invited me to act in her film Vaishnavee (2018). Though she was in her eighties then we felt we were dealing with a young directress –  she was so energetic and it was such fun.
"With her husband she represented a long rich chapter of our cinema. I have no words to appreciate her contribution.
"She was such a sensitive woman and a mother to me; in fact she signed as witness to my wedding. Her passing is a great loss."
Searching for an ideal partner? Find your soul mate on Hitad.lk, Sri Lanka's favourite marriage proposals page. With Hitad.lk matrimonial advertisements you have access to thousands of ads from potential suitors who are looking for someone just like you.