Famed Ceylon Tea losing global market share
By Sunimalee Dias
View(s):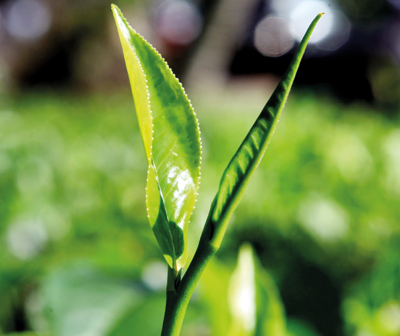 Ceylon Tea is facing its worst crisis as the industry has to deal with costly fertiliser inputs and delayed distribution of glyphosate that has pushed Sri Lanka to the edge leading to a loss of market share and its position as the world's largest exporter of orthodox black teas.
Asia Siyaka Commodities Managing Director Anil Cooke said that export volumes have dropped by around 90 million kg compared to quantities shipped over the past years. This has then resulted in a loss in revenue of about US$400-500 million.
Sri Lanka kept losing its markets due to a drop in volumes that resulted in some of the other competing nations becoming the preferred choice.
Sri Lanka produces the unique orthodox black teas with export volumes totaling around 330 million kg in previous years. Kenya produces around 400 million kg of black tea to the world market. Assam's CTC black tea contributes to India's total exports that amount to 240 million kg of tea.
Sri Lanka's orthodox teas are challenged by India and Vietnam which are both producing orthodox teas similar to Sri Lanka in small quantities. "We have created the perfect entry point for these two countries," Mr. Cooke said. Kenya too has started to experiment orthodox teas on their estates. Given this situation the price in dollar terms has risen as well, it was pointed out resulting in some of the loyal buyers of Ceylon Tea shifting to other more inexpensive teas.
In the meantime the volumes to Japan have dropped by about 40-45 per cent and this has impacted on the high growns as they are the dominant buyer of the Dimbula, Uva and Nuwara Eliya teas. "Their impact on the auction is two to three times the actual purchase," Mr. Cooke said.
In addition to home grown issues that caused a drop in volumes, Sri Lanka was challenged with the global shipping crisis and the availability of containers; skyrocketing freight costs that is expected to ease out this year; in addition to the availability and ability to access packing material. Moreover, the availability of hard currency was another concern. The one good thing was that the auctions went ahead, it was noted.
Spokesperson for the Planters Association Hayleys Plantations Managing Director Dr. Roshan Rajadurai expressed concern that the estates still continue to face problems with the high cost of fertiliser as a result of which the leaves are turning yellow.
In addition, he noted that though the ban on glyphosate has been lifted it is yet to reach the estates amidst the drain on the plantations from high costs of energy, transport as a result of which the unit cost of tea has also risen.
Tea factories are facing a crisis since the cost of production has risen due to the low crop resulting in most factories running under capacity, Factory Owners Association Chairman Lionel Herath told the Business Times.
Despite the struggles faced by the factories they continue to sustain themselves but the situation could be aggravated should the electricity tariff be increased further and if the smallholder is not provided fertiliser at a reduced rate, production volumes will continue to be low, he said.
Last year production dropped between 17-20 per cent that saw a revenue loss of about $179 million during this period, he said.
The industry expects a recovery this year with production volumes targeted at 300 million kg by the end of the year for which government intervention is required to provide fertiliser at an affordable price. Else this expected increase cannot be achieved, Mr. Herath explained.
Costs have reached sky high proportions with a bag of fertiliser increasing from the previous Rs.5000 to Rs.15-20, 000 and further the high interest cost has also impacted on the factories, he noted.
Due to the inability to purchase fertiliser at high prices, January too will see a drop in volumes compared to the previous year, Mr. Herath said.
Hitad.lk has you covered with quality used or brand new cars for sale that are budget friendly yet reliable! Now is the time to sell your old ride for something more attractive to today's modern automotive market demands. Browse through our selection of affordable options now on Hitad.lk before deciding on what will work best for you!