"Talk the talk & walk the walk"
View(s):
Budget 2023 delivered on November 14 by the President Ranil Wickremesinghe is "one of the best" that I have seen for decades in Sri Lanka. Well, anyone or someone would find something there to disagree with. I can also provide a list of budgetary proposals from the establishment of the "Department of Cinnamon" to dozens of commissions and committees plus many areas of compromises on things that would have been otherwise added to the budget.
In spite of all that, it is a medium-term "reformist budget" addressing the fundamental issues of the country at source. If Sri Lanka had implemented such a reformist budget about 10 – 12 years ago – I mean, after ending the 30-year long war – we would have avoided the economic mess that we have plunged into today!
"Missed the bus"
I would like to recall my newspaper write-up in 2010 under the title "Don't miss the bus this time". The conclusion of the war in 2009 which was followed by a massive Presidential Election victory in 2010, opened such an opportunity for the government to undertake bold reforms and correct policy anomalies in order to put the economy on right track. Alas! The country missed the bus, although it was warned in advance! Then, we were on an unstoppable downward path until the economy collapsed into an unprecedented crisis in 2022.
Why I admire Budget 2023 is because it has made an attempt to bring about some of the right things by deviating from the unrealistic and popular budget proposals, which have dominated many of our past budgets presented by the governments. The focus of the budget has been on a three-dimensional economic progress as the export economy, green economy and digital economy.
While presenting the budget, President Wickremesinghe, recalled his past experience as the Minister of Industry in 1991, when the Minister of Industry of Vietnam came to Sri Lanka to study Sri Lanka's open economy and industrialisation strategy. By this time, Vietnam had just brought about its trade liberalisation under the so-called "Doi Moi" reforms initiated in 1986.
As the President said, in 1995 Sri Lanka's foreign reserves were US$2.1 billion whereas Vietnam's reserves were $1.3 billion; today, Sri Lanka has $3.1 billion while Vietnam has $109.4 billion. How did Vietnam pile up such a huge stock of foreign reserves? While both countries were exporting similar amounts at that time, today Vietnam exports $335 billion worth of commodities, compared to $12 billion from Sri Lanka.
100 years of Independence
Sri Lanka's dismal export performance has been the primary cause of Sri Lanka's economic downturn and the current crisis. That's why the budget has rightly focused on building an "export economy". And export growth is needed even to get out of the current crisis as well as to ensure the long-term growth path of the economy.
The budget expects to achieve 7 – 8 per cent annual GDP growth rate and to become a rich country by 2048, when we celebrate 100 years of Independence. We have 25 years to go; the timing is correct because a country needs to maintain a higher rate of growth at around 7 – 8 per cent per annum and to sustain it for over two decades in order to join the group of "high-income" countries in the world.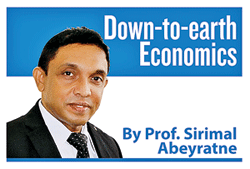 This cannot be done with domestic production protected by import controls and catering to domestic market. If this is the case, now is the right time to show that economic progress can be achieved by protecting the market with import controls; we actually now live in such an economy with import controls.
The success depends on export growth and trade openness. The budget envisaged an increase in the country's exports plus imports as a percentage of GDP – a measure of trade openness – to 100 per cent from its current level of 39 per cent. As of now, Malaysia's trade openness ratio is 144 per cent, Thailand's 106 per cent, Vietnam's 184 per cent and, Singapore's 217 per cent. While this ratio should be large for smaller countries, Sri Lanka's small number shows nothing other than the country's poor trade performance.
Beyond the budgetary framework
The budget envisaged to add $3 billion more to Sri Lanka's exports every year, and to attract over $3 billion foreign direct investment (FDI) every year. Last year 2021, Sri Lanka has attracted $0.6 billion FDI, compared to $45 billion by India, $99 billion by Singapore, $16 billion by Vietnam and, $11 billion by Thailand.
FDI plays a major role in the export growth of a country. The global FDI flows amounting to $1.5 trillion per year confirms that there is no shortage of global capital for investment, which can bridge the shortage of savings for investment in developing countries. Much more than that, FDI comes as a package with global management practices, modern advanced technology, and world market access; they also produce the benefits of spillover effects in the FDI-recipient countries.
The most important question now is how would Budget 2023 attract FDI, accelerate exports and, thereby increase GDP growth. An annual budget which has to deal with government revenue and expenditure for the coming 12 months cannot achieve these medium-term policy goals.
Export policy measures
However, the budget has also been explicit about several policy measures for export growth and FDI attraction. They include an institutional change, economic zones, and free trade area (FTA) agreements.
The institutional change is the proposed new Agency for Trade and Development replacing the Export Development Board (EDB), Board of Investment (BOI), Export Credit Insurance Corporation (ECIC) and, National Enterprise Development Authority (NEDA). In fact, it would be even better if the two subject areas of trade and industrialisation come under a single Ministry.
An establishment of New Economic Zones in designated areas to attract FDI is a "short cut" to establish business-friendly regulatory mechanisms in demarcated business enclaves. Although it is not clear what these economic zones would be, the most advanced zone type is the Special Economic Zone (SEZ) established in the Port City. Ideally, it is better to narrow down the regulatory discrepancies between the SEZs and the local economy in order to make the entire island a business-friendly investment centre.
Sri Lanka is in the process of advancing its entry into FTAs with selected countries and regional blocs in Asia. The most important export-driver is unilateral policy reforms which would also make the pathway to FTAs. Accordingly, when Sri Lanka, as a country that has abandoned trade policy reforms for over 25 years, attempts to enter FTAs with countries that have adopted such reforms continuously, it would be a painful and costly exercise. It would be more practical to resume Sri Lanka's unilateral policy reforms than to limit the country's opening merely through FTAs.
Bypass operation
The annual budget which shapes the government's revenue-expenditure outlays is expected to play a facilitating role by achieving economic stability. This means that the country has a massive medium-term task ahead, not within, but outside the boundaries of an annual budget.
In addition to the above direct measures, the country's inefficient land administration systems, outdated and rigid labour laws and the delaying commercial dispute settlement practice, all have played their part in blocking investment growth in the country.
By the way, investors would like to ensure the long-term political and policy stability and consistency, if they decide to bring their money and invest here. In a country where "overnight" policy changes are frequent and politics play an influential role at every election undermining economic matters, it is difficult to anticipate FDI flows compared to our neighbouring countries. A bypass strategy of setting up SEZs with demarcated business-friendly environments is expected to make the potential investors free from risks and uncertainties.
(The writer is a Professor of Economics at the University of Colombo and can be reached at sirimal@econ.cmb.ac.lk and follow on Twitter @SirimalAshoka).
Hitad.lk has you covered with quality used or brand new cars for sale that are budget friendly yet reliable! Now is the time to sell your old ride for something more attractive to today's modern automotive market demands. Browse through our selection of affordable options now on Hitad.lk before deciding on what will work best for you!