'Take 4th dose of vaccine against COVID-19 without delay'
View(s):
Vaccine & Infectious Diseases Forum assures there are no safety and efficacy
issues in extending shelf life of Pfizer batch in SL
By Kumudini Hettiarachchi

Take the 4th dose of the COVID-19 vaccine without delay, is the urgent plea from senior health experts this week, particularly to those at risk.
As the spread of COVID-19 increases rapidly due to the Omicron sub-variants BA.4 and BA.5, the Vaccine and Infectious Diseases Forum of Sri Lanka headed by Dr. Geethani Galagoda has urged all eligible adults especially the elderly (those over 60 years of age) to take the 4th dose.
She reiterates that the Forum is "satisfied" that there are no safety and efficacy issues in extending the shelf life of the current batch of Pfizer vaccines available in Sri Lanka.
"The expiry date of the current batch of Pfizer vaccines has been extended for three months. As these are new vaccines, expiry dates may be revised with increasing knowledge on the stability of the vaccine. The vaccine manufacturer along with the European Medicines Agency (EMA – the regulatory agency of the European Union) and the World Health Organization (WHO), has made changes regarding the shelf-life of vaccines, based on new evidence," says Dr. Galagoda on behalf of the forum, explaining that the expiry date on the shelf life of these vaccines has been extended from nine to 12 months (from end-July to end-October).
Pointing out that in Sri Lanka, a number of deaths have also been reported due to BA.4 and BA.5 mainly among people over 60 years and those with co-morbidities such as cancer, she says that many adults have taken the original two doses of a COVID-19 vaccine and a booster.
"However, the booster was administered at least six months previously. As immune responses wane with time, boosting the immune response would improve immunity. The second booster (4th) dose with the Pfizer vaccine is offered to people over 20 years, specifically to those over 60 years and also patients with co-morbidities. While a booster dose of vaccine may not prevent infection, it will most probably boost T cell immunity against the sub-variants, which will reduce the occurrence of severe disease and death," adds Dr. Galagoda.
All Medical Officer of Health (MOH) offices are administering the vaccine, it is learnt.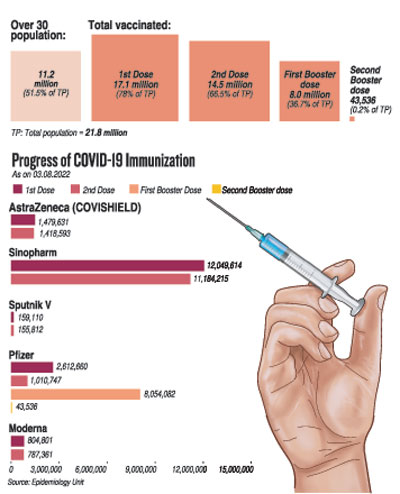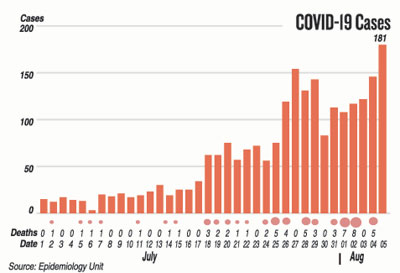 Urgent need to give the shots to those who are not vaccinated or have missed out

If you are still unvaccinated against COVID-19 or have only taken one or two doses, take your shots immediately, stressed former Chief Epidemiologist, Dr. Nihal Abeysinghe.

Looking at the death toll from the most recent spread of Omicron sub-variants BA.4 and BA. 5, he spoke of the need for people to get those earlier doses promptly.

He underscored that even though the vaccines may not prevent infection, what they do is prevent severe disease and death. If people have not taken even the first three doses, they put others too in danger, particularly the very young and the elderly.

"Healthcare workers should seek out those who have fallen through the vaccination system due to various reasons or misconceptions/myths and persuade them to take their vaccines," Dr. Abeysinghe added.

 'Time right to boost immunity'

An in-depth look at immunity is given by Consultant Immunologist, Dr. Rajiva de Silva, of the Medical Research Institute (MRI), Colombo.

The four main vaccines of AstraZeneca (AZ); Sinopharm; Pfizer and Moderna, were administered in Sri Lanka originally, with a small group being given Sputnik V, he says, going back to early 2021 (last year).

Dr. de Silva is very specific – vaccines may not prevent a person from getting infected by the COVID-19 virus, whether it is the original Wuhan virus or subsequent variants and sub-variants. But they do ward off severe disease.

Stressing that boosters 'boost immunity' (antibody and cell mediated response) that is already present, he says that after the first booster (sometimes people in Sri Lanka call it the 3rd dose), the second booster (4th dose) should be taken around six months later. So the time is right for people to take the booster now, especially those over-60 and those with co-morbidities.

He explains that the same happens if people get a natural infection.

Next he focuses on 'antibodies', 'memory B cells' and the 'cell-mediated immune response by T cells'.

A person's response when an antigen (either the virus or the vaccine) enters the body:

· 'Memory B cells' get activated if a person has got the vaccine or a prior COVID-19 infection. These transform themselves to either 'plasma cells' or produce more memory cells. These 'plasma cells' produce great quantities of 'antibodies'. The 'antibodies' block the virus from entering the cells of the respiratory tract.

· 'Memory T cells' will also get activated and some of the 'sub-sets' of these cells (cytotoxic T cells) will kill virus-infected cells. Even if there are no effective 'antibodies', the 'T cells' can kill the virus.

"Antibody responses diminish over time and they may relatively be less effective against Omicron's sub-variant BA.4 and BA.5. However, T cell responses are relatively well preserved, a study on Omicron's sub-variant BA.1 conducted in the United States of America (USA) and published in the high-impact medical journal 'Cell' has shown," he says, adding that this is while a sub-set of study participants had shown a reduction in the T cell response.

He explains that this is why it is likely that although vaccinated or previously infected persons, may still develop COVID-19 due to BA.4 or BA.5. But the severity would be reduced due to the presence of the T cell response.

While conceding that there is not much information on BA.4 and BA.5, Dr. de Silva says that these sub-variants are more transmissible than the original Omicron sub-variant BA.1. The main reason for an increase in infections recently is because BA.4 and BA.5 partially evade antibody responses evoked by previous COVID-19 infections and vaccination.

Meanwhile, citing a recent study on the 3rd and 4th doses conducted by the US Centres for Disease Control (CDC), Dr. de Silva adds that vaccine effectiveness against hospitalization for BA.2 at 120 days (around four months) after three doses, in those over-50 years of age, was 55%. The effectiveness rose to 80%, seven days after the 4th dose. This is why after four to five months, there is a need to boost immunity.
The best way to say that you found the home of your dreams is by finding it on Hitad.lk. We have listings for apartments for sale or rent in Sri Lanka, no matter what locale you're looking for! Whether you live in Colombo, Galle, Kandy, Matara, Jaffna and more - we've got them all!