Litro customers laugh; Laugf customers in quandary
View(s):

By Chrishanthi Christopher

Bringing a sigh of relief to millions of Sri Lankans, the months-old cooking gas crisis has come to a somewhat of a happy end, with Litro consumers now being able to get their gas cylinders delivered to their doorsteps, while its rival Laugf's customers complain of a shortage.

However, sceptical Litro consumers kept wondering whether their happiness will be short-lived.

Market leader Litro, however, assures that the shortage of gas will not recur and that it is taking every action to ensure a steady flow of supplies.

In the past 20 days or so, the company has released 33,000Mt of cooking gas to the market, eliminating the queues seen outside dealer outlets since Litro limited imports in March 2022. Litro chairman Muditha Peiris said supplies were being obtained through a US$ 90 million deal with Oman Trading. The agreement for the supply of 100,000Mt of LP gas is expected to meet customer demand till October.

The deal was made possible through a $70 million loan granted by the World Bank and a US$20 million Treasury loan, which Litro is expected to settle in five months.

Litro Gas had been a profit-making venture contributing Rs. 11 billion to the Treasury during the Yahapalanya government. In 2019, the company had a record annual profit of Rs. 6 billion. However, the dollar crisis in April this year and the management oversight in delaying procurement had contributed to the company's inability open Letters of Credit on time, and compelled it to go for spot-purchasing to meet the consumer demand.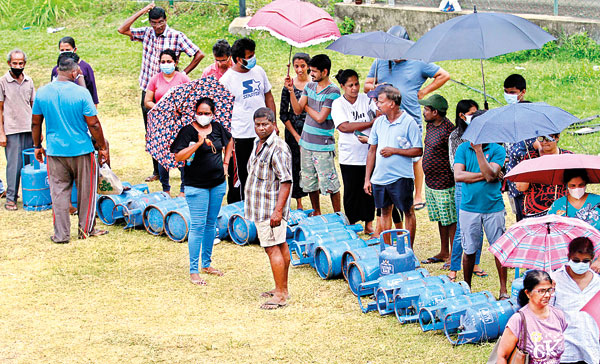 This resulted in the company's Rs. 10.4 billion-strong reserves falling to a Rs.100 million deficit. However, the intervention of the Ranil Wickremesinghe government enabled the company to obtain the World Bank loan and once again be in the business.
To avert supply interruptions, Litro has called for tenders to purchase gas for the next 12 months beginning November this year, Chairman Peiris said. He said bids from existing and new suppliers were being evaluated. The company is confident it can pay for new supplies from new sales revenue.
The company this week announced a Rs. 200 reduction in the price of a 12.5kg cylinder of gas.
Meanwhile, supplies from Litro's duopoly partner Laugfs Gas has come to an abrupt stop, though, it recently assured its customers of a steady supply of the yellow cylinders. Consumers complained that the Laugfs' supplies were not available in the market.
When asked, Laugfs's Chief Executive Officer W.H.K Wegapitiya said the company was continuing its supply as usual. He, however, refused to give figures. But customers say Laughs which has a 30 percent market share has stopped providing gas completely.
The company which was citing the dollar crisis as a reason for not supplying gas for several months, in June had talks with Central Bank Governor Nandalal Weerasinghe obtained an assurance for a steady flow of dollars for its gas imports. Mr. Wegapitiya had described the meeting as fruitful and said the Governor was 'very understanding ' of the plight of the company. Following this meeting and a sharp price increase, the company supplied gas to its customers for a few weeks.
Laugfs customers say they have been short-changed by the company and demand the company should refund the deposits made on the cylinder. Their attempts to buy Litro cylinder have been unsuccessful because of the non-availability of new cylinders.
Litro Gas cylinders are now fetching up to Rs.30,000 in the black market. Litro chairman said procurement of new cylinders had been temporarily halted as the company wanted to focus on servicing its existing 2.7 million customers.
The best way to say that you found the home of your dreams is by finding it on Hitad.lk. We have listings for apartments for sale or rent in Sri Lanka, no matter what locale you're looking for! Whether you live in Colombo, Galle, Kandy, Matara, Jaffna and more - we've got them all!