Fuel pass: Four-wheel users happy, but not so three-wheeler drivers
View(s):

By Nadia Fazlulhaq


A week into its implementation, the National Fuel Pass based on a QR code system, with a 5.4 million registered user base is receiving both bouquets and brickbats.

A majority of four-wheel users hailed the system mainly due to shorter queues and the absence of thuggery and violence witnessed at filling stations across the country in the past few weeks.

"There is less hassle and for me 20 litres are more than enough to travel to and from work. I stayed only for 40 minutes in the queue compared to three days previously. It is a huge relief for those of us who have to travel to office," said Shehan Pathirana, a private sector employee who travels from Borelesgamuwa to Colombo.

Three-wheel drivers, however, were an unhappy lot. They complained that the five-litre weekly quota allocated to them was insufficient, especially for those whose sole income relied on hires.

Pradeep Prasanna Kumara (35), a father of two from Nuwara Eliya, works as a three-wheel driver in Colombo.

"I have to send money to my family and pay finance instalments on time in addition to the boarding fees and food expenses here. With the quota we get I can go on hires for a maximum of two days," he lamented.

Many other three wheel drivers echoed the same sentiment.

"Some three wheel drivers were involved in illegal practices and charged exorbitantly from customers. But if the present situation continues we will have to charge Rs. 250-300 for a kilometre and this will reduce our hires further," said S. Udayakumar, a three wheeler driver from Colombo.

Farmers too complain that they are not getting sufficient fuel for their machinery and equipment.

A filling station employee said the QR system was convenient for both the motorists and the sheds. However, for the system to work, there should be a regular supply of fuel.

The shortage of Octane 95 and super diesel saw users being affected both in city areas and outstations this week.

Asoka Perera, Senior Professor of Moratuwa University's Department of Transport and Logistics said the QR system should be in operation for at least one year, but it addressed only a part of the problem.

"The QR system is successful if there are sufficient fuel stocks. The system heavily depends on the supply. However, if the distribution is limited there will be queues forming outside filling stations," he said, adding that experts have also come up with a digital booking system.

"A digital system needs to be developed so users could be notified when fuel is available at their respective filling station along with a queue number. This will be useful to prevent people queuing up unnecessarily," he said.

Prof. Perera said the Government should focus on the continuous supply of diesel as the country's economy depended heavily on diesel.

Dr. T. Siva Kumar, Senior lecturer at the Moratuwa University's Department of Logistics and Transport, said that with limited quota of fuel issued, this is the best time for the government to popularise and strengthen the public transport system.

Some people are reluctant to use public transport due to overcrowding and inconveniences, he added.

Since the launch of the QR code system, the 1919 helpline of the Information and Communication Technology Agency (ICTA) which developed the system has been inundated with calls, its director Dilini Ratnayake said "With calls coming in, our technical team is now offering support via social media channels, answering inquiries and addressing concerns. We are improving the system by adding a profile-deleting feature, single mobile for multiple vehicles with business registration number facility etc," she said.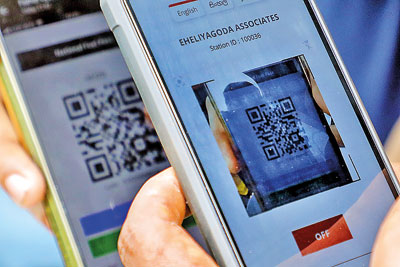 Energy Minister Kanchana Wijesekare, too, made several announcements with regard to the QR code system.
The minister urged fuel pass users not to show the QR code to others to avoid malpractices.
He said shed owners had been informed that fuel would be distributed to them only if the QR system was adopted. From August 12 government institutions, organisations and private institutions that have multiple vehicles will be able to register with one code and one specified mobile number for all their vehicles.
The Ministry is creating a fuel card that tourists can purchase as they arrive at the airport using US dollars.
The Minister also said discussions were held with developers to introduce real time stock monitoring system for stations.
A ministry spokesman told the Sunday Times that the QR system would continue to be in use in the coming months.
"We are in the process of making payments to ensure continuous fuel supply,"
he added.
The best way to say that you found the home of your dreams is by finding it on Hitad.lk. We have listings for apartments for sale or rent in Sri Lanka, no matter what locale you're looking for! Whether you live in Colombo, Galle, Kandy, Matara, Jaffna and more - we've got them all!