APPRECIATIONS
View(s):

An ordinary person who accomplished extraordinary things

Audrey Rebera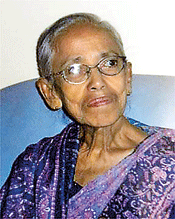 Audrey Rebera was born in October 1933 and passed away in August 2021. Educated at the Presbyterian Girls' School (Dehiwala), Methodist College (Colombo 3) and the University of Peradeniya, Audrey began her ecumenical journey in the Church of Ceylon Youth Movement. Joining the Central Bank in the 1950s, she became a member of the Trade Union Committee. She took early retirement to devote her time and energy to the Student Christian Movement (SCM) of Sri Lanka as its General Secretary. Her dedicated service for over four decades defined her life and work within the ecumenical movement, making the name Audrey Rebera synonymous with that of the SCM in Sri Lanka.
Closely associated with the Ecumenical Institute for Study and Dialogue, Centre for Society and Religion, Devasarana in Ibbagamuwa and the Christian Workers Fellowship, she was active in movements for democracy, human rights, civil and political rights, workers' rights, women's rights and in national and international ecumenical organizations.
A key figure in establishing the National Christian Council Women's Commission in the 1980s, she pioneered in serving as its first Secretary.  Then, the NCC office was in a house in Colombo 6, with the Women's Commission located in the kitchen. While Audrey was amused at this, she was conscious that it signified the conventional status of women in the church and society.
I met Audrey when I was an A/L student, active in the Methodist College SCM unit and she later invited me to join the National SCM. Audrey and the SCM enabled young SCMers to gain an alternative worldview by engaging with ecumenical and secular organizations and movements on socio-political and economic issues. SCM taught us that faith alone is insufficient to make us good Christians as our actions defined us as followers of Christ. Audrey exemplified such a Christian life as her spirituality was articulated through her committed and passionate social engagement.
Audrey and the SCM were involved in the women's movement from the late 1970s/early 1980s. In 1983, Audrey and several women from SCM participated in launching the Women's Action Committee comprising feminist and progressive women's groups. She later joined the Mothers and Daughters of Lanka network formed in 1989. Her activism for women's rights also brought her into the struggle for women's ordination.
Activism takes many forms and we know that Audrey has done her share of holding a placard and shouting slogans at Lipton's Circus. However, Audrey's activism, her Christian and feminist praxis, went beyond such actions and were often unseen and unknown by others.  She shared her limited resources with people with less, gave moral and material support to those who made unconventional life choices, spoke for those with no voice and provided shelter to those in need at great risk to herself.
Audrey worshipped at Christ Church, Dehiwala, being deeply involved in the life of the parish. After many decades of service, she was finally admitted into the ranks of the Mothers' Union, as an Associate Member, as she recalled with wry amusement!
A loving and much-loved aunt, Audrey was renowned for her unwavering concern for her nieces and nephew. She went regularly, by bus, to visit her nieces boarded in school in Colombo, while their parents worked overseas. Her loving, consistent presence during their schooldays led to her nieces' hostel mates too calling her "Lokus" (the title 'Loku Amma' abbreviated by her nephew).
She lived a simple, even frugal life, concerned more about her family, neighbours, friends, colleagues and comrades than herself.  Despite her myriad commitments she made time to teach English to poor neighbourhood children, found jobs for those without influence, gave counsel and befriended those in need. She lived life on her terms, challenging accepted practices and norms and facing the consequences with strength and courage. Audrey was a very ordinary person who accomplished extraordinary things and our lives are so much richer for knowing her.
We miss her familiar presence in our lives, her laugh, her smile which showed her crooked teeth, her sense of humour and resolute commitment to and active participation in the many struggles she espoused.  She was my mentor and role model, my guide and philosopher, and most of all, my friend.
 Nelun Chrisanthi Gunasekera
---
The Scrabble community will always have fond memories of him
Kesavan Ashvin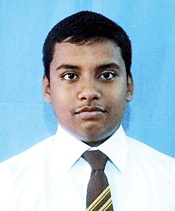 Ashvin was an eager and committed Scrabble player who was part of the Sri Lankan Scrabble community for many years. Having joined the Sri Lanka Scrabble League at the young age of 10, he was a constant presence faithfully attending every Sunday practice session and League tournament.
I personally trained Ashvin and his teammates at Bambalapitiya Hindu College Scrabble Club. He represented his school at Inter-school tournaments for many years and captained the school team. In 2015, they emerged champions in the B division. His teammates described him as a great pillar of their team. After every game he would share his knowledge by discussing the bonuses and unusual words he discovered in them.
Outside of Scrabble, he was a multi-talented student who dreamed of being a pilot, and balanced his studies alongside Eastern music, Western band, speech contests and Junior Prefectship.
Ashvin was also in the national circuit and progressed to playing at international level. He competed at the WESPA Youth Cup in 2017 (Malaysia), 2018 (Dubai) and 2019 (Malaysia) against players from around the world.
His fellow Sri Lankan players knew Ashvin as a friendly, easygoing teammate who accepted wins and losses with equal grace. His mother Bhavani was always a driving force behind him, accompanying him on his travels and his father Kesavan would constantly encourage him.
We at the Scrabble League will always remember Ashvin as the one player who truly played for the love of the game rather than pursuing awards. He was a talented player with a pleasing personality. We salute our dear son, friend and teammate, and carry fond memories of him.
V. K. Mahendran
---
Never short of a kind word and ready smile
Sega Nagendra
Sega was indeed a sincere friend. He had a warm personality which seemed to draw people to him.
Sega was never short of a kind word and always wore a smile; never allowing any situation to come in the way of his cheerful disposition, except when grief harshly snatched away happiness from Sega and Sarla, with the untimely passing of their precious daughter Kshirabdhi.
My husband Siva and I had the pleasure of associating closely with Sega, Sarla and family over a period of years. We were blessed to have been able to spend many happy times in their company and in the enjoyment of their generous hospitality.
During the past 20 years or so, I had yet other interactions with Sega as a result of my serving on the General Committee of the Colombo Club, in which organization, Sega was a pillar and took on increasing roles of responsibility and leadership.
Sega served the Colombo Club as its Honorary Secretary, Vice-Chairman, Chairman and finally as Trustee. Sega retired as Trustee only quite recently at the last AGM held in December 2021.
In his work sphere, what I admired most about Sega was his total commitment and passion for the Colombo Club. He was so much a part of the Club and willingly gave of his time and wise counsel whenever the need arose.
Sega will surely be missed by us all.
Our condolences go out to Sarla and family. We pray that they may find strength and comfort in their time of sorrow.
Sega – dear friend – rest in peace.
 Ramola Sivasunderam
---
Searching for an ideal partner? Find your soul mate on Hitad.lk, Sri Lanka's favourite marriage proposals page. With Hitad.lk matrimonial advertisements you have access to thousands of ads from potential suitors who are looking for someone just like you.