Gayathri creates history winning first foreign award for cinema music
View(s):

Gayathri Khemadasa wins the Best Music Director at the Ceylon International film festival

By Susitha Fernando

Internationally acclaimed musician Gayathri Khemadasa recently won the first ever international award for a film musical score for her music direction for 'The Newspaper' at the Ceylon International Film Festival in Santa Barbara, California, USA. The film directed by Sarath Kothalawala and Kumara Thirimadura, 'The Newspaper' also won in five categories including the Best Picture, the Best Director, the Best Actor and the Best Supporting Actor.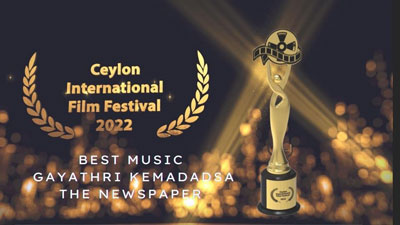 "I should thank the two directors Sarath Kothalawela and Kumara Thirimadura for giving me this opportunity. I would not have gone there if not for Saratha and Kumara who invited me to be on board," Gayarthri said with gratitude. "I know the work I did for music. I am grateful it is appreciated," "It is said that this is the first time Sri Lanka has won an international award for music. Thanks to everyone who has supported and inspired me along the way," Gayathri who was also marked as the first female music director to win award in Sri Lanka said.
Gayathri wholeheartedly dedicated the award for her father, maestro Premasiri Khemadasa, the pioneer musician who revolutionised Sri Lankan cinema music specially with his masterpieces for Lester James Peiris' 'Nidhanaya' (The Treasure) and 'Golu Hadawtha' (Silent Heart) and other films like Dr. Dharmasena Pathiraja's 'Ahas Gawwa' (One League of Sky) and 'Bambaru Ewith' (The Wasps are here). "I would have never done that if not for my father. I don't know whether I would have chosen this kind of career if not for him. If the jury recognised any difference in my music that kudos goes to my father," Gayathri said. The jury of the First Ceylon International Film Festival consisted of Warner brothers and Netflix and it included Marc Gareton, Douglas Montgomery, Isabelle Carpentier, Carlos Sanchez, Sjamsjam Sun, Claude Gagnon and Oscar Gutierrez.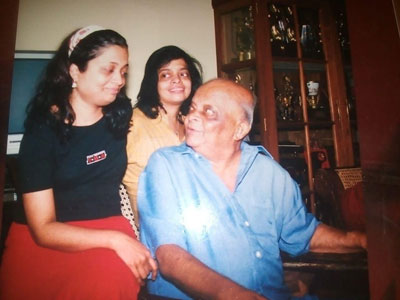 Gayathri who is also a music teacher says there are a lot of talents in Sri Lanka but they must go beyond just three minutes song. "There is lot of talents in Sri Lanka. The issue is how to channel that. We are still quite influenced by just doing a three or four minute's song. It is not just that composers be experimental but for others to notice that appreciate it as well," she said.
Searching for that next furry family member but couldn't find one in your area? Hitad.lk has the solution with our extensive listings of dogs for sale in Sri Lanka!