Psychiatric manifestations of COVID encephalitis
By Kumudini Hettiarachchi and Ruqyyaha Deane
Kandy Psychiatrists differentiate between primary psychiatric illness & COVID neuro-psychiatric manifestations
View(s):
COVID-19 and its neuro-psychiatric manifestations have been documented worldwide. Here in Sri Lanka, most probably in a first for the country, four such patients have been treated at the Kandy National Hospital.
The diagnosis of this link had been made by Dr. Shanika Ekanayake, Senior Registrar in Psychiatry under the mentorship of Consultant Psychiatrist Dr. Gihan Abeywardena who is also President of the Sri Lanka College of Psychiatrists.
Before focusing on the four patients whose illness had been diagnosed systematically and correctly at the Kandy Hospital, Dr. Ekanayake gives the context.
She explains that though the virus- causing COVID-19 predominantly affects the respiratory system, there has been increasing recognition that it is also a neuro-pathogen.
Up to 35% of COVID-19 cases have been recognised to have neurological manifestations, says Dr. Ekanayake referring to recent literature worldwide.
COVID encephalitis is a debilitating neurological complication – a form of inflammation of brain matter, giving rise to neurological and neuro-psychiatric manifestations. There is a reported incidence of 0.22% and a high mortality (death) rate of 13.4%, according to global data.
She reiterates that in the absence of other systemic features, COVID-19 neuro-psychiatric manifestations can be mistaken as primary psychiatric illness, resulting in "devastating" outcomes.
When considering the four patients with neuro-psychiatric manifestations at the Kandy Hospital, there had been no previous diagnosis of a COVID-19 infection. Later, however, all four cases had been confirmed as encephalitis caused by COVID-19, with neurological and neurophysiological evidence.
Two of the patients had no history of psychiatric illness in the past, it is learnt.
Just two weeks after the delivery of her first baby, a 26-year-old post-partum mother had been referred for a psychiatric opinion. She had had an acute onset of depressive symptoms progressing to psychomotor retardation, says Dr. Ekanayake.
Psychomotor retardation is a main feature of depression and is the slowing down or hampering of a person's mental or physical activities.
With this new mother showing a rapid progression of symptoms, subtle episodes of disorientation and changing psychotic symptoms had led to a 'clinical suspicion' of organic causes. Usually, organic causes are the result of an injury or disease affecting brain tissues. As such, further investigations and a neurology referral had been requested.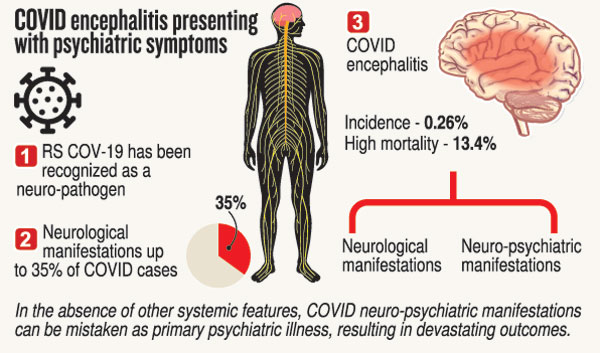 Later when this mother was gripped by fever, unstable vital parameters (such as pulse, respiration and blood pressure) had required Intensive Care Unit (ICU) care. An RT-PCR had also been positive. An MRI (Magnetic Resonance Imaging) of the brain had shown high intensities in bilateral medial temporal areas.
Dr. Ekanayake says that she remained stuporous (confused and slow to react) for six weeks. "The good news is that the brain issues had been linked to COVID-19 and she recovered six weeks later with medical and not psychiatric management. Soon there was a joyous reunion with her baby."
The 53-year-old woman with end-stage renal failure also had no history of psychiatric illness but was referred with acute onset depressive symptoms, once again progressing to psychomotor retardation over two days. Here too, there had been a clinical suspicion and screening by the psychiatric team had been requested.
An RT-PCR was positive and a CT (Computed Tomography) scan of the brain had shown cerebral oedema (swelling of the brain). This had been followed by fits and she had been put on the ventilator due to unstable vital parameters.
According to Dr. Ekanayake, the other two patients had been receiving psychiatric treatment earlier.
n  The first had been a 52-year-old man with a history of bipolar affective disorder, a condition in which a person suffers extreme mood swings that include emotional highs (mania or hypomania) and lows (depression).
He had been referred to the psychiatric team due to a manic relapse during the treatment of COVID pneumonia. There had been episodes of delirium even after recovery from pneumonia. Neurological investigations had been requested which had revealed encephalitis. Slow recovery over many months it had been, but he had recovered.
n  The fourth patient had been a 61-year-old woman with a history of schizo-affective disorder, characterized by a combination of schizophrenia symptoms such as hallucinations or delusions and mood disorder symptoms such as depression or mania.
She was unvaccinated against COVID-19 and had presented with disturbed behaviour and persistent confusion, following high-risk COVID-19 exposure. Even though an RT-PCR test was negative, an electroencephalogram (EEG – a record of brain activity) had revealed encephalitis.
She had developed fever and seizures but made a slow recovery over many months, after medical management.
A COVID antibody test later had been positive.
These examples point to the fact that a high degree of suspicion is mandatory in differentiating primary psychiatric illnesses from COVID-19 neuro-psychiatric manifestations in the context of the pandemic, says Dr. Ekanayake.
She adds: "In these cases, no psychiatric interventions were necessary in the acute stages of infection."
Appreciating the immense support extended by Consultant Neurologist Dr. Janaka Peiris in the assessment of these COVID patients, Dr. Abeywardena and his team were also very thankful for the collaborative care given by the neurologists and psychiatrists which facilitated the patients' recovery.
Meanwhile, these four cases had been presented as a poster by Dr. Ekanayake at the sessions of the Sri Lanka College of Psychiatrists in December last year.
High degree of suspicion is neededIn some illnesses, if there is a brain involvement, it can give rise to neurological and neuro-psychiatric manifestations, explains Dr. Shanika Ekanayake.

n Neuro-psychiatric manifestations: They are common when brain areas like the limbic system and temporal lobes get involved.
Dr. Ekanayake points out that there is much worry among psychiatrists about cases which can mimic primary psychiatric illnesses.

"If misdiagnosed, it can give rise to devastating outcomes with routine treatments.

Therefore, a clinician needs to have a high degree of suspicion in differentiating between a true psychiatric illness and one that comes in the guise of a psychiatric illness but is due to a different cause," she adds.
The best way to say that you found the home of your dreams is by finding it on Hitad.lk. We have listings for apartments for sale or rent in Sri Lanka, no matter what locale you're looking for! Whether you live in Colombo, Galle, Kandy, Matara, Jaffna and more - we've got them all!