Paper trail weighs down printing materials importers
By Yoshitha Perera
View(s):
Private importers of paper have been told they can buy stocks under the Indian credit facility, but are still unaware of how it will be implemented, the industry association said.
Sri Lanka is suffering from a dire shortage of printing paper and 400 agents have registered with the Trade Ministry for urgent imports under the credit facility offered in mid March. The scarcity has hit print products across sectors, including education and the media.
The Ministry of Industries says US$500 million (Rs 146.9 billion) has been set aside for all raw materials for local industries, including printing.
"Goods will be imported quickly based on priority," the secretary to the Ministry of Industry, Gen. (Rtd) Daya Ratnayake said, adding raw materials for manufacturing of export goods and equipment will receive priority. Three committees have been appointed to check eligibility of local agents who import raw materials. A Trade Ministry team is handling paper imports.
"While they are given a block amount, local printing agents have not registered with the Trade Ministry to complete their documentation," claimed Gilma Dahanayake, additional secretary to the Trade Ministry. "The government has given priority to importing printing paper and we urge them to register soon."
"Although there are nearly 5,000 printers, only 500 companies import printing paper and materials," said M. Senthilanthan, secretary of the Sri Lanka Association of Printers. "A majority buys from the local market."
Nearly all paper products, from receipts to packaging, are in short supply, as printers struggle to meet demand. The US dollar shortage has created numerous other issues.
"We need Rs.40 million per month to import printing materials," Mr Senthilanthan said. "Due to the current dollar scarcity and the hazy nature of the procedure, Indian suppliers are reluctant to send supplies."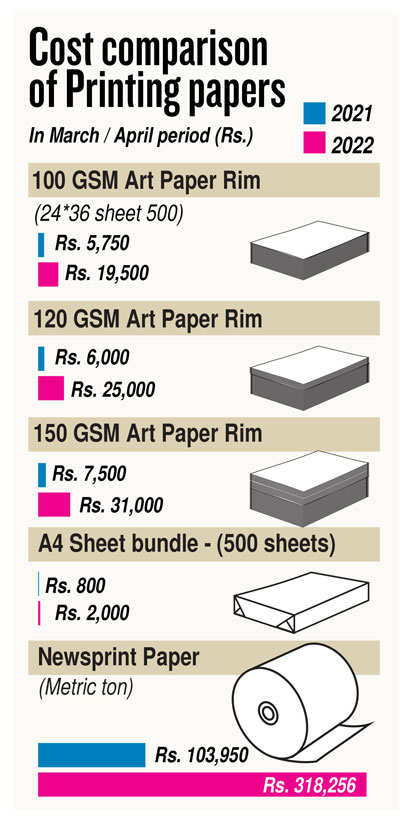 The process to be followed under the Indian credit facility is complicated. It requires a Sri Lankan agent to place the order with the Indian supplier, then submit the relevant pro forma invoice to the local bank which checks the agent's eligibility via the Trade Ministry. The invoice will then go through the intermediary, the Export Import Bank of India, which receives Sri Lankan rupees from the local bank.
The document will then go to the State Bank of India and the Indian Treasury which will pay the supplier to export materials to the Sri Lankan agent.
"The Indian sellers are reluctant to send supplies as they get paid in Indian rupees and not dollars, which is a disincentive," Mr Senthilanthan said.
The shortage of paper has hit the newspaper industry badly. Two major newspapers have been forced to stop some editions.
Imports also suffer serious clearance delays owing to lack of forex. Some companies are therefore paying heavy demurrage to the port. Others could not get any stocks as the banks could not meet their US dollar requirements.
The rupee depreciation combined with record inflation have caused costs to skyrocket. The logistics cost, including shipping, borders on the prohibitive. The global price of newsprint is also rising. In 2021, it cost US$525 per metric ton. It is now US$1,080 per metric ton (corresponding period).
"Usually, all newspaper companies use 45 GSM newsprint paper and there is almost a 100% price increase in that in the global market," Mr Senthilanthan said.
The large-scale printing company 'Soft Top Printers' in Piliyandala similarly has done paper-based printing for over a decade and is running at a loss.
"Our biggest problem now is we aren't able to give quotations," said owner, Roshan Liyanage. "If we do give a quotation, we must complete printing within three days owing to the currency fluctuation."
Bulk paper distributors have already restricted supply to printing houses as they know it can be sold for a higher price a day later, as prices are spiral. "Large printing companies like ours are severely inconvenienced by the lack of regulation," Mr Liyanage said.
Government offices are also struggling to find stocks for the next three months. They, too, don't know how the credit facility will work for them.
"We use fifteen types of printing papers," said Government Printer, Gagani Liyanage. "Last year, we got one metric ton for Rs. 165,000 but now it is Rs. 350,000 and will increase further."
The currency fluctuation has hampered purchases of printing materials and chemicals via the private sector, she said. And discussions are still underway on how state institutions can benefit from the Indian credit facility.
"The requirement for general forms, like documents for the health sector, tri-forces and police are passing the 1,000 metric ton paper mark annually and we place orders from local agents every three months," Ms. Liyanage. There is still no confirmation from the industry regarding the next batch of paper imports.
Two other services providers, Ceylon Electricity Board (CEB) and the National Water Supply and Drainage Board (NWSDB), are also in difficulty and introducing alternative billing methods.
The CEB has six million connections and it has not been able to distribute bills in some areas. It has started issuing handwritten notes, rather than the printed ones hitherto used. The CEB has asked customers to use the CEB website or download its CEB Care App and enter usage and time period to verify details, in the event of any doubt.
The NWSDB has called for quotations for paper, but suppliers have said it is difficult to meet demand as US dollars are scarce, said deputy commissioner (commercial), Piyal Pathmanathan.
The NWSDB has 2.8 million connections. They need to print 10 million bills within three months at the cost of Rs100 per bill. It is being explored whether mobile printers could be used to provide bills for those without smart phone or internet facilities.
Mobile printing is a generic term for products and services that let people print documents when they are away from a traditional network or local printer. Usually, mobile printing is wireless and often requires blue-tooth.
The NWSDB is already sending SMSes to customers with a link to their meter reading which they can use to pay online.
The issuance of laminated driver's licences is also affected, with authorities unable to pay for the card imports.
The government has temporarily extended the validity period of expired licences for a year. In the case of new applications, the Department of Motor Traffic (DMT) started issuing temporary liicences from March 21 until cards could be procured, said Commissioner (Driving Licences) Wasantha Ariyaratne. The cards come from Australia and the DMT issues around 600,000 -700,000 licences per year.
Temporary licences distributed via the postal service can also be renewed for a year, he said. Once a consignment of cards is received, cards will be posted to applicants.
An app will be launched for the police and other relevant authorities in Sri Lanka to maintain law and order on the roads. The mechanism will also use the National Identity Card (NIC) to verify the licence holder, the official said.
The Public Service Ministry will connect with the departments and institutions via emails, WhatsApp, and other social media platforms, Ministry Secretary J.J. Ratnasiri said. They will use meetings technologies to communicate with ministries, agencies, and provincial councils, such as Zoom.
On a daily basis, ministries and agencies send out a vast number of government circulars and letters. However, whether these alternative platforms can be used as a virtual documentation process in the future is an issue as the government relies on printing documents for every matter.
The best way to say that you found the home of your dreams is by finding it on Hitad.lk. We have listings for apartments for sale or rent in Sri Lanka, no matter what locale you're looking for! Whether you live in Colombo, Galle, Kandy, Matara, Jaffna and more - we've got them all!