Economic wheels not turning without diesel
By Nadia Fazlulhaq
View(s):
Rising fuel prices and the prolonged shortage of diesel is severely impacting a number of economic sectors, ranging from container transport to fisheries and exporters.
Nihal Amarasekara, the secretary-general of the Association of Container Transportation said: "We have met with import and export customers and forwarded our new rates, an increase of 60%. However, the majority agreed for 45% to 50% as they too are struggling.''
Mr. Amarasekara said drivers spend hours and even park overnight at filling stations.
"We have to make sure they get food, and have to pay extra as well. Due to import restrictions, there are fewer containers," he said, adding that a request has been made to the finance minister to allocate a separate filling station supplying diesel for container vehicles.
Retailers are struggling, said the president of the Retailers Association Murali Prakash. The group represents clothing, household and consumer durables, e-commerce, entertainment
and healthcare.
"The ongoing dollar crisis could continue to significantly reduce revenues, impede growth and impact all operational levels. The margins in retail businesses are very low. With logistics costs going up and the present energy crisis, our retailers are struggling," he said.
The secretary of the Multi-day Trawler Owners' Union, Ruwan Fernando complained that vessels can not get diesel.
"There are over 170 multi-day trawlers at the Dikowita fisheries harbour waiting for fuel, and our fellow owners in other harbours are complaining as well. We received only one bowser of diesel last week, and for five days there is no fuel. Ten multi-day trawlers can fetch export quality fish worth about US$10,000. If the government fails to accelerate fuel purchasing and prioritise distribution to revenue-generating industries like ours, the future of the fish export industry will be uncertain," he said.
Fruit and vegetables exporters are facing a tough time with some unable to maintain export quality standards, said vice-chairman of Lanka Fruit and Vegetable Producers, Processors, and Exporters Association, Charindi Ranasinghe.
"Transporting from warehouses has been challenging with the significant increase in fuel prices. The shortage of diesel for cool room generators is affecting the quality of fruit and vegetables. Producers are fed up with the unavailability of chemical fertilisers apart from diesel for transport," she said.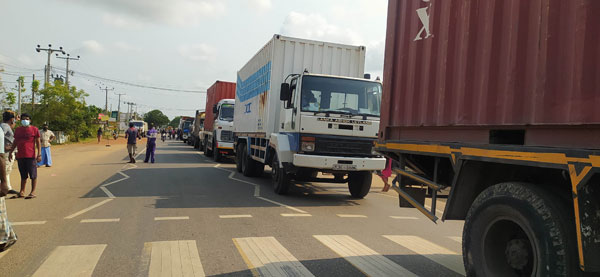 Exporters of flowers and ornamental plants are faced with similar constraints.
Dilip De Silva, president of the Floriculture Produce Exporters Association, said due to the increased overseas and local demand during the coronavirus disease pandemic, many companies expanded and invested.
"With the fuel crisis, export difficulties have arisen. The shortage of diesel for cold storage is becoming a growing concern," he added.
The best way to say that you found the home of your dreams is by finding it on Hitad.lk. We have listings for apartments for sale or rent in Sri Lanka, no matter what locale you're looking for! Whether you live in Colombo, Galle, Kandy, Matara, Jaffna and more - we've got them all!