Completely dependent on electricity and connectivity, ICT industry grinding to a halt
By Tharushi Weerasinghe
View(s):
Service providers despair as clients go to competitors in other countries like India
Some companies with international clients flying people out to Singapore and Maldives to keep their projects going
Company heads face brain drain as more and more disheartened employees apply for visas
Irosha de Silva's marketing tech company, Creative Hub, is generally buzzing with 45 people providing end-to-end marketing solutions for countries across the world. Over the last week, however, there's an air of idleness in office, with highly qualified IT professionals passing time playing chess and cricket. The reason: power cuts.
Continued, prolonged electricity interruptions are bringing the ICT industry to a halt. Many service providers despair that time-sensitive projects from a global clientele were being sabotaged because of continued power supply.
First, they grappled with power outages that were inconsistent with announced schedules. Creative Hub is in Rajagiriya, which was exempted from prolonged outages until last week. Mr de Silva just couldn't identify his area on the Ceylon Electricity Board's (CEB) lists to figure out when the interruptions would take place. This made planning impossible.
Local clients were easier to placate. But international clients did not tolerate delays. "We're startups and we've worked very hard to build these connections overseas and to gain client trust," he said. Their hard work could now amount to nothing.
Desperate, Mr. de Silva made a public appeal on Facebook for space with electricity. "My team was even willing to sit on the floor and work so they're very committed," he said. Fortunately, he managed to buy a petrol generator from Kandy to restart operations.
Company heads are being driven to take drastic measures.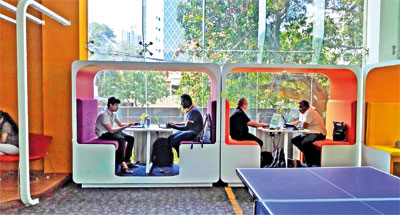 "We're flying people out to Singapore and Maldives to keep our projects going," said CEO of WSO2 Sanjiva Weerawarana. Substantial customer support and sales-related tasks are done locally and are time-sensitive. Some employees are on a 3 a.m. shift since most ICT companies provide service to international clients.
"There is no 'ideal time' for a power cut to be imposed," he pointed out. The industry is completely dependent on electricity and connectivity.
"This is an internationally portable industry so migration pressure is increasing," Dr Weerawarna, who employs 850, said. Employees are increasingly disheartened and "see no future". "Most are applying for visas and I can't possibly ask them to stay given how volatile the situation is." There is concern about significant brain drain.
Those attached to companies could function as long as generators had diesel but freelancers and others working from home (WFH) for international companies could not afford it.
"I started hiring a hotel room to work from during the first week," Rukmal Fernando, a WFH ICT industry professional. He provides services to a Singapore firm and has two computer monitors on. Depending on laptop battery wasn't an option. All of his activities, from customer communications to project running, are internet-dependent and the routers don't work during power outages. So he bought an inverter for Rs 600,000. This was not affordable for younger people just starting out.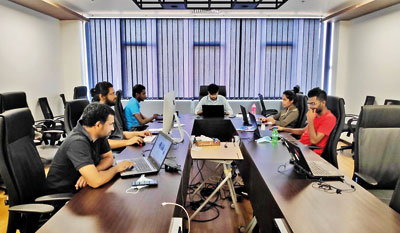 The recurrent power cuts have severely affected customer confidence. "They question how we plan on providing services because we need to be 24/7, running without interruption," Mr Fernando said. Providing backup power solutions to employees wasn't practical; neither was it practical to get into office as there was no fuel.
"These inconveniences are sending a lot of our clients to competitors in other countries like India," he warned.
Electricity outages extended to a maximum of 13 hours this week. Laptop battery lasts for four hours, at most. Using them to the brink also affects their quality and lifetime. "Nothing in the current context is built to withstand complete blackouts like this," Mr Fernando said.
ICT services are Sri Lanka's fifth biggest export, earning US$ 1.2bn in 2020, says Chairman of the Information and Communication Technology Agency (ICTA) Oshada Senanayake. The Agency's goal had been to hit US$ 3bn by 2024. But the compounding issues are alarming.
"These are mission-critical international projects and we have IT companies setting up their extended IT teams and outsourcing branches of their IT functions to Sri Lanka," Mr Senanayake said. The cycle of dysfunction that hampers professionals–from lack of fuel to work from offices and lack of power to work from home– will severely affect competitiveness.
"Because this affects our credibility across the world, it isn't just the forex coming in right now that we're worried about," Mr Senanayake said. "It is our potential for forex expansion."
ICTA opens doors to tech startups

To allow tech startups to stay afloat, ICTA premises were opened up for free with internet access and electricity.

"It's a very small step and we're bootstrapping at this point," said Mr Senanayake. The ICTA startup incubator SPARX Lab has a co-working space where ICTA manages, funds and mentors startups to help them scale up. It is now available to any company along with boardrooms, including the Chairman's boardroom, and auditorium.

"This has been a huge relief," noted Chamara Jayaweera, Managing Director of Itechro, one of the companies function out of ICTA now. They got five seats and ran operations without disturbance till 5:30pm on Friday after a week of idling (their office generator ran out of fuel).

ICTA has requested through the Ministry of Technology for fuel to be prioritised for tech companies. "If not, one of our most vibrant forex earners will get hammered," Mr. Senanayake said. Keeping the industry motivated was increasingly difficult when
the momentum of digital transformation was crippled.

---

 

Connectivity drops

There is a noticeable drop in connectivity and cell phone signals as power outages continue beyond the 10-hour mark. Businesses claimed that their already delayed targets were becoming impossible to meet because internet connectivity would sometimes completely disappear.

"This is because base station backup power
isn't built to run for 13-hour blackouts," said Mr Senanayake, former head of the Telecommunications Regulatory Commission
of Sri Lanka.

Base stations that manage and provide internet services have battery backups and run on fossil fuel generators during power outages. But the longer they are, the more fuel–not available in required quantities–is needed. And batteries have to be recharged more often.

"Apart from that, the moment these blackouts occur, direct fixed-line usages goes to 0 and everyone hops on their 4G lines through hotspot," Mr Senanayake said continued. "This means mobile broadband consumption skyrockets, using up even more base station power which again significantly bring speed, and consequently bandwidth, down.
The best way to say that you found the home of your dreams is by finding it on Hitad.lk. We have listings for apartments for sale or rent in Sri Lanka, no matter what locale you're looking for! Whether you live in Colombo, Galle, Kandy, Matara, Jaffna and more - we've got them all!