Cheers and firecrackers and hundreds of lawyers flock to represent suspects
View(s):

Clapping, cheers and the sound of firecrackers greeted the release on bail on Friday night of 21 persons arrested in connection with the violent incidents during Thursday night's protest near the President's residence in Mirihana.

Police had arrested 53 persons (52 males and one female) in connection with the incidents and the Mirihana police produced 27 of them before the Gangodawila Magistrate's Court on Friday evening.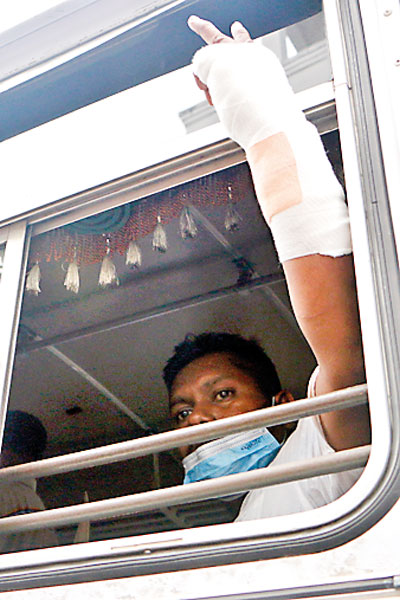 The suspects were greeted with applause by lawyers, family members and well-wishers when they were taken to buses at the police station to be transported to court.
When the suspects were taken to court, several hundred lawyers were already present in the court premises ready to offer their services to them free of charge.
The lawyers' central argument was that the B report submitted by police had only given a general outline and had failed to disclose any specific offence committed by each of the suspects under the Public Property Act and as such, court could not remand them.
It was also pointed out that for police to charge them with being part of an "unlawful assembly," their objective would have to have been unlawful in the first place. Their intention however, was to exercise their right to peaceful protest and assembly guaranteed under the Constitution, lawyers told the magistrate.
Whoever committed the violent acts late on Thursday night were also not part of the original protest and the objective of those who took part in the peaceful protest were different from those who took part in the violence that followed, they also argued.
Taking the arguments into consideration, Gangodawila Magistrate Prasanna Alwis released fifteen of the suspects on personal bail of Rs. 100, 000 each. Six others were remanded till April 4 and will be produced before an identification parade.
Twenty-six other suspects who were being treated for injuries at the Kalubowila and National Hospitals were yesterday remanded till April 4 after a magisterial inquiry. They will be produced before the Mount Lavinia and Maligakanda Magistrate's Courts.
The best way to say that you found the home of your dreams is by finding it on Hitad.lk. We have listings for apartments for sale or rent in Sri Lanka, no matter what locale you're looking for! Whether you live in Colombo, Galle, Kandy, Matara, Jaffna and more - we've got them all!