Shirantha Peries, now with NOC, keen to contribute more to sports
shooting
View(s):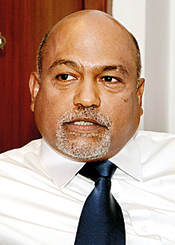 Shirantha Peries, the incumbent President of National Shooting Sport Federation of Sri Lanka (NSSF), added another feather to his cap in contributing to sports and its development activities, by being elected as the new Assistant Treasurer of the National Olympic Committee of Sri Lanka (NOC).
He was elected uncontested after the NOC Election Committee rejected the nomination of Manoj Karunaratne, who was to compete against Peries for the position. Peries has been an integral part of the NOC, as a member of one of its Sub Committees and the new position will allow him to contribute towards all Olympic Sports.
"It's a great honour to become an office bearer of the NOC, one of the highest and respected sports entities in the country. It's not just about being elected and the honour, it's all about how willing and eager one is to contribute towards sports and its development. This is a greater responsibility,
" Peries stated.
Peries, a keen sportsman himself and one of the leading clay target shooters of the island, has contributed immensely to develop the Olympic shooting sport in Sri Lanka. Initially he created history becoming the first from the civil society to be appointed as NSSF President, a position held by officials of the armed forces since its inception.
Yet, he took the shooting sport of Sri Lanka to another level, by providing latest facilities available and exposure to shooters at leading local meets as well as international competitions. Peries took the shooting sport a step further when he took over NSSF in 2015 for the first time, by promoting the sport among schools and associating closely with the Schools Section of the sport. As a result the number of young shooters, mainly from schools from all parts of Sri Lanka, skyrocketed, creating solid competition among leading marksmen and markswomen.
Though his initial approach in 2018 to contest for the position of Treasurer of NOC failed, its incumbent President Surech Subramaniam invited Peries to join the entity and make his contribution towards the development of sports. This was a invite Peries could not decline.
He was appointed as Chairman of Junior Development Committee of the NOC, which also included other well known stalwarts such as Fazil Hussain, Jayalal Ratnasooriya, Iqbal Bin Issack, Dimuth Gunawardena, Niloo Jayatilleke, Sujani Bogollagama, Upali Amaratunga and Indika Prabath. The target of this committee is to groom young athletes for the Youth Olympic Games in 2026.
"We have been working on this target alongside the national federations and school associations, as it should be a gradual yet well cemented plan to prepare the athletes well in time for the Youth Olympics. It's a long process. Now that I'm a part of NOC, I will be able to focus more on this project with my fellow committee members."
Peries has proved his credentials as an efficient and productive administrator with his involvement and input towards the development of shooting sport. He has personally contributed to preserve the standards of the Olympic shooting sport and its facilities, which in return has earned him a great respect among the shooting sport fraternity and beyond.
Though presently a dual responsibility lies on his shoulder, Peries is more confident and resolute to make his contributions by his vast administrative skills and close association with the international community.