Fitness and Bhanuka Rajapaksa's resignation
cricket
View(s):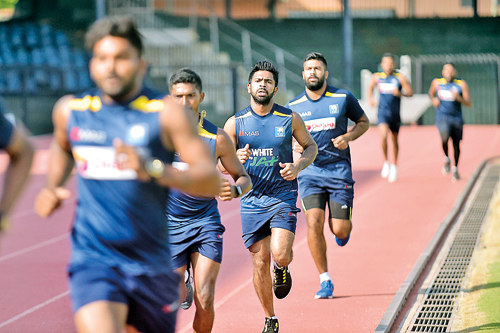 Sri Lankan cricket fans got a rude shock in the New Year when Bhanuka Rajapaksa, a vital cog in Sri Lanka's white-ball plans, 'resigned' from Sri Lanka Cricket prematurely citing his inability to handle the "mental trauma of conforming to the challenges posed in the rules and regulations in being contracted to Sri Lanka Cricket".
The other reason is familial obligations associated with fatherhood as the 30-year-old is expecting their first child. In a short parting letter, Rajapaksa did not explain the "challenges" but it's understood to be SLC's new fitness benchmarks for national cricketers.
In the year since the fitness regime was introduced, Sri Lanka has reaped its benefits. On-field performances improved noticeably with Rajapaksa, too, showing significant progress after shedding weight to get back into the side (he was dropped for last year's England series on fitness grounds).
The requirements were toughened this time and Rajapaksa appears to feel he cannot meet the new challenges, not necessarily the 2km run, but shedding skin-fold.
The 2km run has now become a global fitness standard to make cricketers better athletes. Faster batters can steal more runs; more powerful players can hit more boundaries; fitter bowlers can maintain pace and accuracy even at the death; and less tired fielders have better concentration and reactions.
National selectors in consultation with trainers, have set higher benchmarks for the 2km run and skin-fold test where players are expected to complete the stretch in 8.10 minutes, down from 8.55 minutes last year (the original requirement was 8.35 minutes but was raised on player requests).
Players who run below 8.10 minutes will now be eligible for selection while those clearing 8.35 minutes will be eligible for selection but with 10 percent of their contract fee withheld until they reach the benchmark. Skin-fold test benchmarks, meanwhile, were reduced from 85 to 70 with a tolerance level of 80. Again, 10 percent of the contract fee will be retained until expected levels are reached.
Last year, the Board of Control for Cricket in India added the 2km time trial in addition to the yo-yo test as part of their efforts to improve the fitness of their players. Only those who reach the required level in one of the two tests are selected for national duty.
Cricket is primarily a skill-based game. Players only get to play at the international level if they possess all the necessary skills. No one will be considered for a professional team without the requisite skills and techniques.
Why, then, is this heavy emphasis on fitness? With heavy international schedules and franchise leagues, the player workload has increased dramatically. Therefore it is important to manage their workload to remain injury-free.
There is a general consensus that Sri Lanka hadn't prioritised fitness for many years and this was identified as a key reason for the poor performances of the national team across formats.
When Mickey Arthur took over as head coach of the national team, this was an area that he was keen to address. He had a no-compromise attitude towards player fitness during his two-year stint which ended in December. There were initial rumblings with former and present players criticising the tough fitness regime but they responded well lately.
Among those who slammed them was Lasith Malinga, one of the best short-format players of all time, who said he could bowl for around two hours without an issue but could not complete the 2km run within the specified time. But, while he did complete his quota of overs despite sporting a potbelly towards the tail-end of his international career, Malinga was a liability on the field, conceding runs through misfields and dropping crucial catches and affecting the outcome of games.
Arthur believed that, while runs and wickets would always be considered in selection, fitter and stronger players had a better opportunity to deliver match-winning performances.
"I'm all about match-winning performances. That means when a guy gets to 40 or 50 in these conditions, he's got the fitness to get us a hundred. Now, when he's getting a hundred, he's starting to win games," he told cricinfo.com last year.
"When a guy gets through five or six overs, and he's got them on the ropes, he's got the stamina and the ability to bowl those one or two extra overs. When it gets to five minutes to 6.00pm in a game and [Lasith] Embuldeniya is coming around the wicket to a No.9 or 10, our silly point and short leg are aware enough to take the catch that's going to change the game. There can be no compromises. We need to be as professional as we can in everything we do".
There cannot be any compromise on fitness, as Arthur says. SLC will want their players to keep improving on fitness to give their best. They have lined up four tests for the year where the first one was held on Friday and Saturday while the remaining three are scheduled for April, August and November.
Players want more preparation time in future to pass these better, a fair request given the tough national and international schedule. If not, they could follow Rajapaksa's path as better opportunities present themselves via mushrooming franchise leagues worldwide.