Eye-watering prices of essentials, shortages set to worsen
By Nadia Fazlulhaq
View(s):
The dawn of the New Year failed to cheer many due to the soaring costs of living.
While the opposition, and even the indigenous community took to streets protesting against the rising costs of living this week, hundreds lined up for cooking gas, kerosene, rice, and milk powder. In wet markets, housewives complained of high prices, while traders noted the limited supply of vegetables, rice, and essential commodities.
Compared with last December, prices have soared. From pulses and rice to vegetables and spices, the price tag is high. Fish, poultry, eggs, bread, and milk powder are costlier.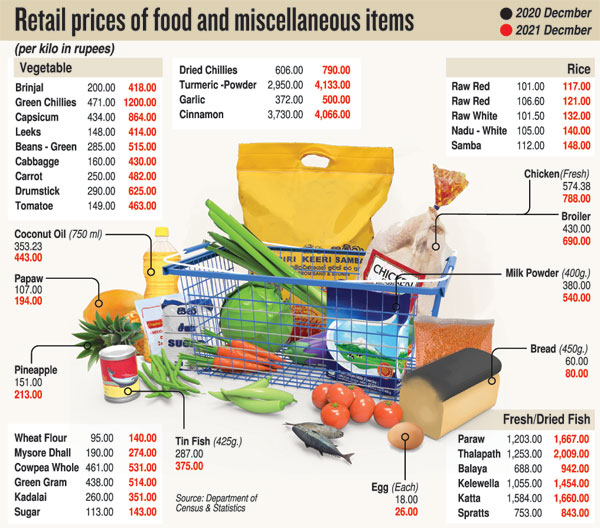 Up country vegetable prices rose again this week. A kilogramme of leeks was selling at Rs. 414 whereas last December it was Rs. 148. Beetroot costs Rs. 446 a kilo, cabbage Rs. 430 a kilo and carrot Rs. 482. In 2020, these vegetables were sold for between Rs. 160 and Rs 250.
Drumsticks that sold for Rs. 290 last December are now sold for Rs. 625 a kilo. Capsicum costs Rs. 846 compared last December's Rs 434.
Green beans are priced Rs. 515 per kilo, tomatoes Rs.463, bitter gourd Rs. 448, and brinjals at Rs. 418. A kilo of green chillies is more than Rs 1,000.
"Vegetable prices usually increase during the festive season," said A.T. Sooriyaarachchi, director of Agriculture Department's Socio Economics and Planning Centre. He would not comment about the fertiliser crisis.
The All Ceylon Farmers' Federation fears even higher prices of vegetables and a severe shortage of agri-based products in 2022.
"Farmers continue to suffer from the shortage of fertiliser, low quality organic fertiliser, unavailability of weedicide and pesticide and from the fuel price increase. The vegetable production will record its lowest this time. This will affect the retail market. This is going to affect vegetable purees made for infants, vegetable soup for the elderly and the sick, as well as the rice packets," Farmer Federation's National Organiser, Namal Karunaratne told the Sunday Times.
"The Trade Ministry is urging people to grow chili and other needed vegetables. But home gardens are insufficient for daily use. Also, urban residents are unable to grow so much," he added.
Spices are pricier. Turmeric, garlic, and dried chili are among the most expensive. Sugar that was Rs.113 last December is now sold at an average price of Rs. 143 a kilo.
Mysore dhal is Rs. 274, whereas it was Rs. 189 in the same period last year. Cowpea, green gram and chickpeas are also costlier compared with last year.
With the removal of the maximum price of bread, the average price of a 450g bread loaf increased from last December by Rs 57 to Rs 77.
Canned fish that was Rs. 286 last December is now sold for between Rs. 320 and Rs 374. The average price of an egg is Rs. 26, while it was only Rs. 18 last December. The average price of a kilo of fresh chicken is Rs. 788 and broiler chicken is Rs. 690. Last year, chicken sold at Rs 574 and Rs.430, respectively.
This week, the price of a one kilo pack of milk powder was increased by Rs. 150 and a 400g pack by Rs. 60. Added to that is the severe shortage of imported and locally manufactured milk powder. While supermarkets imposed limits, there were queues at local milk powder dealers this week.
"Parents of infants who have replaced costly formula with milk powder are having a difficult time," Nilmini Menaka, a mother of two from Boralesgamuwa said.
The All Ceylon Canteen Owners' Association's Asela Sampath, said the sale of tea with milk will end because a cup of tea is now selling for about Rs. 80.
The minimum bus fare for Sri Lanka Transport Board and private operators, will rise by Rs. 14 to Rs.17 from Wednesday, while other fare categories for SLTB and private buses, too, will rise by 17%.  

"With schools starting and all public institutions starting work this week, the transport cost will go up. The gas and milk powder shortages are adding to the burden. In some areas, there is a rice shortage as well. People are in queues for kerosene. Hot plates and other cookers are sold at exorbitant prices. The public has no place to go and complain," said Ranjith Vithanage, president of the National Movement for Consumer Rights.
The best way to say that you found the home of your dreams is by finding it on Hitad.lk. We have listings for apartments for sale or rent in Sri Lanka, no matter what locale you're looking for! Whether you live in Colombo, Galle, Kandy, Matara, Jaffna and more - we've got them all!