Seventeen years after tsunami catastrophe Naduni still hopes she would find her little sister
By Nadia Fazlulhaq, Jayani Madawala, Rekha Tharangani Fonseka and Gamini Mahadura
Calls for common platform where families of lost or missing people can connect
View(s):
A tragedy, technology and togetherness, are what tsunami survivors and families have seen 17 years after the 2004 tsunami catatrosphe.
Naduni Hansana is still in search of her sister Hiruni and said she found comfort and hope through technology.
"Our family was heading to Hikkaduwa by train on that fateful day, we were swept away by tsunami waves at Telwatte in Peraliya. After a man said he helped a little girl, who resembled Hiruni, our parents searched the whole village for her, placed advertisements and even put-up posters. We went to astrologers and anjanam tellers who believe that my sister is alive. Now I have taken the search to social media," said Naduni a resident of Kirulapone.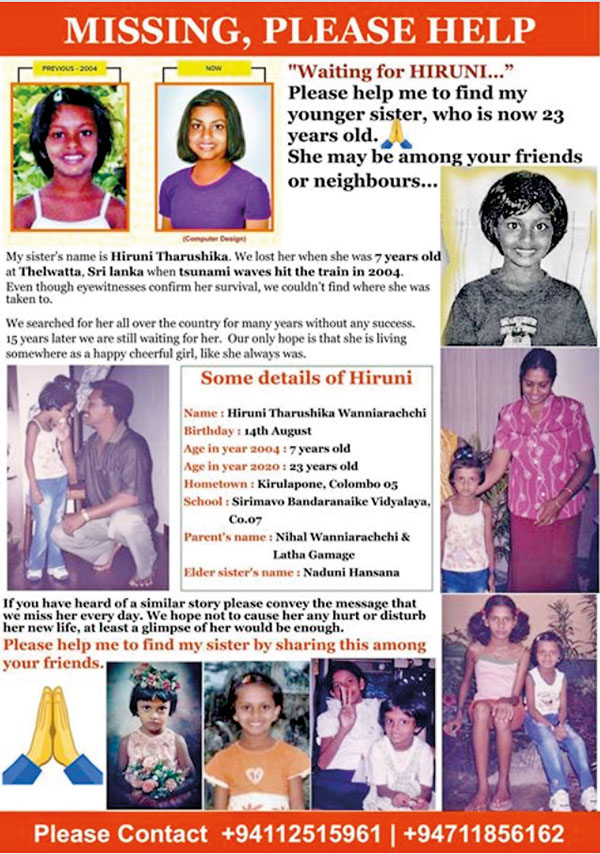 Naduni still lives in hope that Hiruni, who would be 23 years now is among the living
"She was just a grade 2 student at Sirimavo Bandaranaike Vidyalaya at that time. As it was her first train journey, she was a bit nervous. We still wonder whether she went into shock or lost her memory. My sister will be 24 this year. Even if she is in the country or overseas, she will definitely have access to technology. Even if she was adopted, we are ready to forgive those who took my sister. We just want to know that she is alive and talk to her," she said.
"If you have heard of a similar story, please convey the message that we miss her every day. We hope not to cause her any hurt or disturb her new life. at least a glimpse of her would be enough," Naduni said in a Facebook post.
Naduni said she was able to connect with those who had lost their loved ones.
"I still have not got much information, but there is a lot of compassion and many people are genuinely trying to help us. I wish the authorities would set up a common platform where people from all over the country, families of lost or missing people can connect," she said.
Udara Jayasundara was one of the survivors of the Peraliya train tragedy. For her, relief comes from sharing painful memories and learning coping mechanisms along with other survivors.
"As our carriage was located near a bend, we saw the engine and two or three carriages being dragged away with the second wave. The train was completely submerged by this time and the water continued to rise. Most of the windows were closed at that time, however people on the top smashed the glass windows to rescue the people trapped inside. I had fainted and some people found me lying out on the sand," said Udara, who was 26 years old and was heading to Galle, from her hometown of Peradeniya.
"I am sure many people hold on to the painful memories, 17 years later. There were lots of children and babies on the train and many lost their parents. Most of these children might be young adults now," she said.
The best way to say that you found the home of your dreams is by finding it on Hitad.lk. We have listings for apartments for sale or rent in Sri Lanka, no matter what locale you're looking for! Whether you live in Colombo, Galle, Kandy, Matara, Jaffna and more - we've got them all!