Prices merrily on high this Christmas, many complain of bleak festivities
By Dina Mendis
View(s):
Many Sri Lankans find Christmas a time for celebration despite their religious beliefs. It is a time to meet and greet friends and loved ones. Christmas is a time that reminds everyone that Sri Lanka is a melting pot of cultures and religions.
Most hotels and restaurants around Sri Lanka organise many events, from Christmas Eve dinners to Christmas brunches. Many churches and organisations plan events, celebrations, and religious activities several weeks ahead of Christmas day. The Sunday Times spoke to several people about such activities leading up to Christmas Day.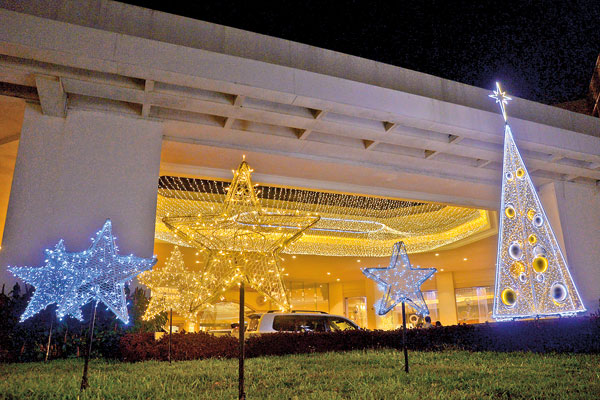 "Our Christmas celebrations last year were minimal. However this year we increased the capacity of guests slightly while adhering to Government health guidelines. We heralded the festive season with our cake mixing ceremony in November. We hosted our Christmas dinner buffet at Plates restaurant, offered a seven-course set menu at London Grill, and a seafood market at the Lagoon restaurant. We also had our Christmas concert for the 17th consecutive year," John Keells Group Vice President Kamal Munasinghe said. He is also the General Manager at the Cinnamon Grand and Cinnamon Lakeside hotels in Colombo.
"The high costs and the non-availability of ingredients negatively affected the planning of these programmes. We are not linearly increasing our prices and are absorbing some of the cost," he added.
Krishantha Damunupola, the General Manager of Double Tree at the Hilton Weerawila Rajawarna Resort said:  "We opened our hotel in 2020, so we did not have any Christmas celebrations last year. However, this year we decided to have a few activities during the week leading up to Christmas starting from December 21 for in-house guests who visited from various parts of the world. We decorated the hotel and organised music and carols. We organised a cookie-making tutorial for the guests and a cupcake decorating event. We had a Christmas tree lighting ceremony and a cocktail evening, and a Christmas Day brunch ending with the Christmas gala dinner."
"A customer's purchasing power has lowered, and we have been affected by around 20% of inflation due to the increase in prices. Therefore, we decided to organise a few events to ensure a holly, jolly Christmas," he added.
Dutch Burger Union President David Colin-Thome said: "Our Christmas festivities have been dampened by COVID-19 and our construction projects that are currently underway. Therefore, decorations are not as elaborate as the previous years, and our restaurant is only open for take-out and delivery. Due to COVID-19, we did not host our annual Christmas dinner last year and we are not having it this year either."
Dunstan Kanagasundaram of The Banquet Company Events Pvt Ltd.  said: "Weddings are generally popular during this time and have remained so. However, the hosts have been more conscious of gatherings. They tend to stick with parties of 200 to 250 people despite the health guidelines allowing 50% of the hall's capacity for guests. Office Christmas parties and dances are smaller or departmental. The high cost affects rentals, catering, and transport costs."
"The shortage of flowers is quite a problem as farmers have not been able to supply the market. Smaller florists cannot import flowers like bigger establishments. Some hosts have had to consider a mix of imported, local, authentic and artificial flowers in their arrangements. I hope in the future people can get acquainted with this new normal and be able to celebrate with family despite the restrictions," he added.
Rt. Rev. Keerthisiri Fernando, the Anglican Bishop of Kurunegala said: "We have the traditional events such as carol services, Sunday school programmes and youth programmes. We have adjusted most of them depending on the situation by either moving some events to virtual platforms or reducing the crowd at these events. For example, the Hillwood college carol service was held online, and an event held at Christ Church in Kandy was crowd-controlled."
"We have been focusing on preserving life in our diocese, from flora and fauna to livelihoods. With the help of well-wishers, we have been supporting families who have lost their breadwinner. We have provided school supplies and supported their livelihoods to enable and improve their self-sustenance. We have seen many people having only two meals a day and have seen families survive the whole day by eating the milk rice they cook in the morning," Bishop Fernando added.
Rev. Charles Jansz, former president of the Christian Reformed Church of Sri Lanka, celebrated 50 years of ministry this year. He reflected on how Christmas traditions have differed over the years.
"Before this new normal came to be we had our annual carol service, kids musical, Sunday school Christmas party, and a youth programme. We would organise caroling and the women's ministry would organise a dinner with a message, a community outreach programme, and a gift giving Sunday to name a few events. This year we could not go caroling, visit elder's homes, organise the musical or Christmas parties," he said.
"For Christmas, we usually organise a party with a magician, fairly personalised gifts given by Santa, school books, and other supplies and project a video on the value of Christmas. This was followed by a scrumptious buffet with sweets and desserts too, but we had to cancel this year. Instead, this year we made hampers containing absolute household essentials including sugar, rice, and dhal, to last for a week or two weeks. We could not pack any special sweets or chocolates for the kids like we usually do due to the high cost of thse items. Gift-giving at Christmas is something that brings joy to people, and this year the joy stemmed from essentials rather than sweets, toys, or other treats," Shalini Ferreira, event planner for the church community's outreach programme in Dehiwela said.
"This December felt like another month. I did not feel the Christmas spirit at all. With all the horrible news coming from all ends, this Christmas feels extremely muted and monotonous. The Christmas decorations felt out of place and the traditions we usually observe felt like burdens. Last year I was determined to bring some Christmas spirit into the house after a rough year, however, this time it felt quite useless to do so," a university Student from Colombo said.
"This Christmas we managed to meet family and a few friends, and do some home-based charity work. Last year, even though we were not in a lockdown for Christmas, we decided to remain indoors, for the most part, to keep safe, and it was the dullest Christmas I had ever experienced. I am glad this year I was able to spend some time with my extended family," a school leaver from Colombo said.
The best way to say that you found the home of your dreams is by finding it on Hitad.lk. We have listings for apartments for sale or rent in Sri Lanka, no matter what locale you're looking for! Whether you live in Colombo, Galle, Kandy, Matara, Jaffna and more - we've got them all!