Good riddance to gloom and doom of 2021
View(s):

As COVID-19 continued its ravages into 2021, the country experienced several lockdowns, while the year also saw the cost of living soaring to unprecedented levels with consumers hit by high vegetable prices, a double fuel hike, milk food shortages and more. More recently the issues relating to shortage of gas and explosions have dominated headlines.  

Sri Lanka lost around 14,500 peoples due to COVID-19. Leading personalities such as Mangala Samaraweera, R. Rajamahendran and Sunil Perera were among those who fell victim.  

The Government's sudden decision to stop importing chemical fertiliser in a bid to promote organic farming saw farmers protesting islandwide, while trade unions of many sectors took to the streets over salary anomalies and other issues.  

As a battered people look forward for a better year as 2022 dawns, following are some key events of 2021. 

Jan 3 – While the pandemic is raging all over the world, a group of 173 tourists arrive from Ukraine

Jan 11 – The United States Justice Department announces that three Sri Lankan citizens are charged with terrorism offences, including conspiring to provide material support to a designated foreign terrorist organisation ISIS.

Jan 12 – Actor-turned politician Ranjan Ramanayake is jailed for four years for the offence of contempt of court.

Jan 22  – Veteran journalist and editor Edwin Ariyadasa passes away.

Jan 28 – COVID-19 vaccination programme begins with the first batch of Oxford–AstraZeneca vaccines arriving from the Serum Institute of India.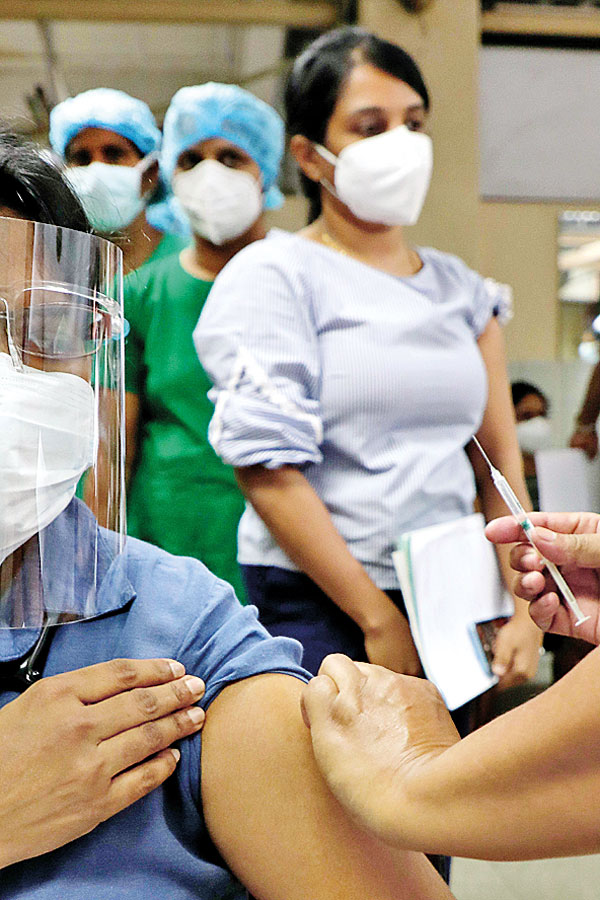 Feb 2 – Cabinet approves a proposal to wholly operate Colombo Port's East Container Terminal (ECT) under the Sri Lanka Ports Authority (SLPA).
Feb 4 – Dr Neville Fernando, founder of the Neville Fernando Teaching Hospital in Malabe passes away at the age of 89, after contracting covid.
Feb 7 – Thousands take to the streets, demanding the rights of Tamils, under a five-day long "Pottuvil to Poligandy" (P2P) protest march.
Feb 11 – Veteran actor and script writer Jayalal Rohana passes away at the Ragama Hospital at the age of 57.
Feb 14 – Former Speaker W.J.M. Lokubandara passed away after infected with COVID-19.
Feb 19 – Chamal Rajapaksa was sworn in as the State Minister of National Security and Disaster Management and the State Minister of Home Affairs.
Feb 22 – Pakistani Prime Minister Imran Khan arrives in the country on a two-day official visit.
Feb 23 – A copy of the final report of the Presidential Commission of Inquiry into the Easter Sunday attacks handed over to Speaker Mahinda Yapa Abeywardena and tabled in the House.
Feb 25 – The Government allows burial of COVID-19 victims.
March 1 – A Secretariat for Trilateral National Security Advisors on Maritime Security Cooperation consisting of representatives from India and the Maldives is established at the Sri Lanka Navy (SLN) Headquarters.
March 5 – Attorney General files indictment papers against former Minister Patali Champika Ranawaka at the Colombo High Court on charges of reckless driving and failure to prevent an accident.
March 5 – Journalist and former diplomat Bandula Jayasekara (60) passes away.
March 6 – Wishma Rathnayake, 33, a Sri Lankan student dies in a detention centre in Nagoya, Japan after being denied medical care and food for months.
March 7 – Sri Lanka receives the first batch (264,000) of COVID-19 vaccines from the COVAX facility.
March 9 – Wimala Amaradeva (86), the widow of veteran musician and singer W. D. Amaradeva passes away.
March 10 – In Suriyawewa, hundreds of farmers temporarily call off their fast unto death they have been carrying out for several days on the Walsapugala River bank, demanding the proposed Wild Elephant Management Reserve in Hambantota to be gazetted.
March 12 – Janatha Vimukthi Peramuna (JVP) files a Fundamental Rights (FR) petition in the Supreme Court over the loss incurred by the Government through the reduction of the import tax on sugar.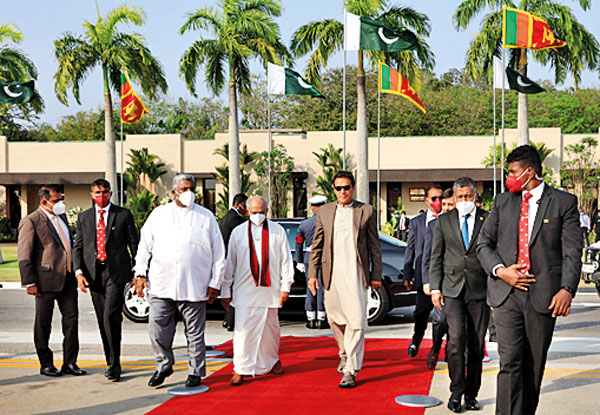 March 12 – The Attorney General files indictments against Attorney-at-Law Hejaaz Hizbullah and Puttalam Al Suhariya Madrassa School Principal Salim Khan Mohamed Shakeel in the Puttalam High Court. They are charged with terrorism related offences with regard to the 2019 Easter Sunday attacks..
March 17 – The Attorney General files fresh indictment papers against former Finance Minister Ravi Karunanayake and seven others at the High Court Trial-at-Bar over the 2016 Central Bank bond scam.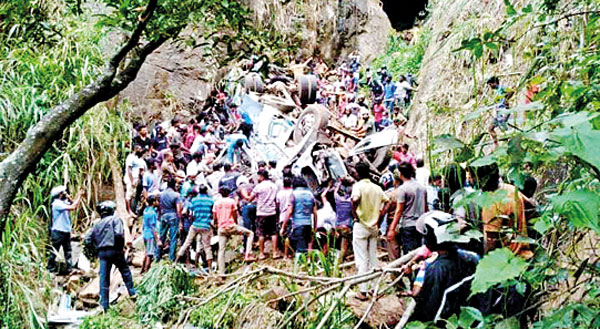 March 20 – Passara bus accident claims 15 lives and injures 30 when the bus plunges off the road.
March 22 – Ven. Kotugoda Dhammawasa Thera (88), a respected monastic patriarch of the Amarapura Nikaya and chief incumbent of Sri Dharmapalaramaya, Mount Lavinia, passes away in Colombo.
March 23 – United Nations Human Rights Council passes a resolution on Sri Lanka, calling for reconciliation and accountability on human rights violations said to have taken place in the last stages of the war and thereafter.
March 24 – Cabinet of Ministers approves a proposal to declare April 6, as National Sports Day honouring Sri Lankan Olympic medal winner Duncan White who won the silver medal for 400-metre hurdles at the Summer Olympic festival in 1948.
March 26 – Colombo Magistrate Court acquits Minister Johnston Fernando and two others over two bribery cases filed against them.
April 1 – Former Finance Minister Ravi Karunanayake and six others who had been remanded over the alleged March 2016 bond scam are released on bail.
April 1 – Mannar's former Bishop Rayappu Joseph passes away at the age of 80.
April 9 – The Terrorism Investigation Department (TID) arrests Jaffna Mayor V. Manivannan on charges of promoting Liberation Tigers of Tamil Eelam (LTTE) ideologies and setting up of a 'security unit' under the council.
April 11 – Sri Lanka Air Force Aircraftman and swimmer Roshan Abeysundara who embarks on a record-breaking endeavour successfully completes the mission at Thalaimannar, breaking the Asian Long Distance Swimming Record.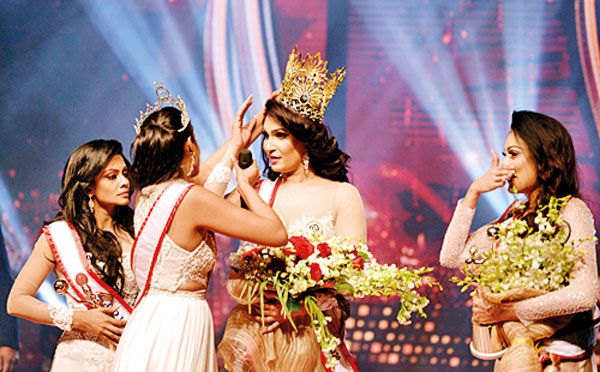 April 21 – Mrs World Inc. accepts Mrs World 2020, Sri Lankan born Caroline Jurie's resignation from Mrs World position following a controversial pageant ceremony in which she pulled the crown off the head of Mrs Sri Lanka pageant's winner.
April 22 – In a meeting with heads of state corporations and statutory boards, President Gotabaya Rajapaksa says that fertiliser import (amounting to USD 400 million) will be banned completely in keeping up with his Presidential manifesto "Vistas of Prosperity and Splendour".
April 27 – The cabinet of Ministers approves a proposal by Public Security Minister Sarath Weerasekara to ban all face coverings that conceal the identity of a person.
April 27 – Schools close due to COVID-19.
April 27 – Chinese State Councillor and Defence Minister General Wei Fenghe visits the country on a two-day official visit.
May 6 – The gazette notification banning the import of fertiliser through Sri Lanka's Import and Export Control Act is issued, following a Presidential directive.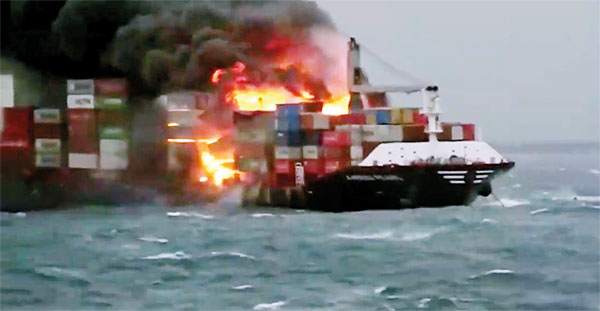 May 20 – A Singaporean owned cargo ship X-Press Pearl carrying dangerous chemicals catches fire off the coast of Colombo.
May 24 – The Meteorology Department issues a severe warning of Cyclone as 'Yaas' passes through Sri Lanka.
May 30 – Former MP Ven Baddegama Samitha Thera passes away while receiving treatment for COVID-19 at a hospital in Matara.
May 31 – President Gotabaya Rajapaksa appoints six members to the Colombo Port City Economic Commission after the bill is passed in Parliament on May 20.
June 2 – After burning for 12 days, the X-Press Pearl sinks as it is being towed away to deeper waters. The incident is considered the worst marine ecological disaster in Sri Lanka's maritime history.
June 11 – Ministry of Energy announces a fuel price hike coming into effect from midnight: Petrol Octane 92 – Rs. 157, Octane 95 – Rs. 184, Auto Diesel – Rs. 111, Super Diesel – Rs. 144 and Kerosene oil – Rs. 77.
June 11 – Rs 12 billion worth Chinese funded National Hospital of Nephrology to treat Kidney patients in Polonnaruwa is declared open.
June 16 – General (Retd) Cyril Ranatunga, who served as the General Officer Commanding, Joint Operations Command and Chief of Staff of the Sri Lanka Army and Defence Secretary's position passes away.
June 16 – Former Criminal Investigations Department Director Shani Abeysekara is released on bail after 10 months in custody.
June 23 – Veteran dancer Kulasiri Budawatta passes away at the age of 71.
June 24 – Former Parliamentarian Duminda Silva, who was serving a death sentence over the killing of former MP Bharatha Lakshman Premachandra is released under a special presidential pardon.
July 8 – Trade Union leader Joseph Stalin and 30 others arrested during protest near Parliament on the grounds they violated COVID health regulations.
July 8 – Basil Rajapaksa sworn in as the Finance Minister.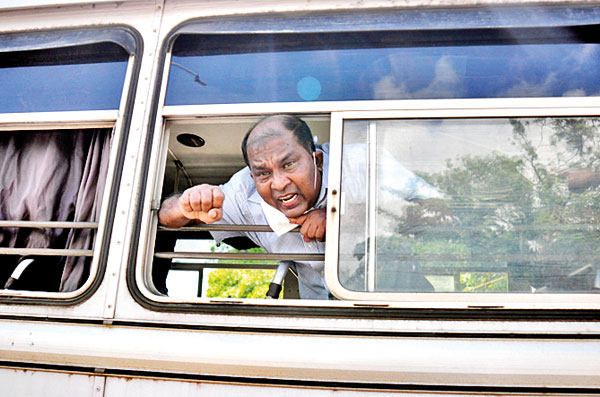 July 11– Teachers and principals of government schools islandwide withdraw from online education programmes in protest over arrest of teacher trade union activists.
July 20 – No-Confidence Motion against Energy Minister Udaya Gammanpila defeated in Parliament by a majority of 91 votes.
July 20 – Cabinet approves proposal to amend the Civil Procedure Code to enable Muslims to get married under the Marriage Registration Ordinance, if they wish to.
July 23 – Former Prime Minister Ranil Wickremesinghe sworn in as an MP for a record ninth consecutive time as sole National list Parliamentarian representing the United National Party.
July 26 – Wife of MP Rishad Bathiudeen and three others remanded over investigation into the death and sexual abuse of a 16-year-old domestic aide.
July 30 –Veteran actress Hyacinth Wijeratne (75) passes away in a fatal road accident in the Lindula area on the Nuwara Eliya-Talawakelle road
July 31 – The fertiliser ban partially lifted allowing import of chemical fertilisers required for tea, rubber cultivation under licence.
Aug 19 – Indian Naval Ship Shakti sails to Colombo with 100 tons (5 containers) of Liquid Medical Oxygen (LMO) on board from Visakhapatnam.
Aug 20 – The government announces a 10-day lockdown with night- time curfew as the country is hit by the second wave of COVID-19 with the death toll rising.
Aug 24 – Former Minister Mangala Samaraweera passes away while receiving treatment for COVID-19 at a private hospital.
Aug 30 – Dinesh Priyantha Herath of Sri Lanka establishes a world record in the Javelin Throw event (67.79m) and wins the Gold medal at the Paralympic Games 2020 in Tokyo.
Sept 6 – Sri Lankan pop icon Sunil Perera (68) passes away at a private hospital in Colombo after being treated for COVID19.
Sept  10 – The ongoing COVID-19 lockdown further extended till September 21.
Sept 13 – United Nations High Commissioner for Human Rights Michelle Bachelet expresses grave concerns on the current state of human rights in the country.
Sept  15 – State Minister of Prison Management and Prisoners' Rehabilitation Lohan Ratwatte resignes from his post following public outcry over incidents where he entered Welikada and Anuradhapura prison complexes
Sept 15 – Ajith Nivard Cabraal sworn in as new Governor of Central Bank of Sri Lanka after handing over his letter of resignation as National List MP.
Sept  21 – US based energy firm New Fortress Energy Inc. announces signing agreement for investment in West Coast Power Limited, the owner of the 310 MW Yugadanavi Power Plant based in Colombo,
Oct 1 – The 40-day-long islandwide lockdown ends.
Oct 1 – India's conglomerate Adani Group, Sri Lanka's diversified coempany John Keells Holdings and Sri Lanka Ports Authority (SLPA) sign an agreement to jointly develop the Colombo West International Container Terminal (CWICT) of the Port of Colombo (POC).
Oct 4 – Former Minister Nirupama Rajapaksa's name is among 300 high profile persons mentioned in the Pandora Papers compiled by the International Consortium of Investigative Journalists (ICIJ) following investigation into a leak of 12 million documents that revealed hidden wealth, tax avoidance and, money laundering.
Oct 7 – Three women Senior Superintendents of Police promoted as Deputy Inspector Generals of Police.
Oct 9  – The tenth Chief incumbent of the historic Nallur Kanthaswamy Kovil of Jaffna Kumarathasa Mappana Mudaliyar (92) passes away.
Oct 13 – Attorney General withdraws indictment against former Navy Commander Wasantha Karannagoda over the alleged abduction and disappearance of 11 Tamil youth in 2008.
Oct 18 – Bandula Warnapura who captained Sri Lanka's first Test Cricket match passes away.
Oct 21 – A 33-year-old mother Dilini Wasana Dayananda gives birth to sextuplets (three girls and three boys who were born just two minutes apart) at the Ninewells Hospital in Colombo.
Oct 25 – Teachers and Principal Unions report to work following the government's decision to re-open primary schools after 90 days of continuous trade union action.
Oct 27 – President Gotabaya Rajapaksa appoints a 13-member controversial task force, headed by Ven Galagodaaththe Gnansara Thera for the establishment of the One Country, One Law' to prepare a draft Act.
Oct 28 – Sri Lanka's first sand dune track declared open at the Colombo Port city.
Nov 2 – President appoints Ven. Muruththettuwe Ananda Thera as the Chancellor of the Colombo University replacing Rt. Rev Dr Oswald Gomis, who held the position of Chancellor close to two decades.
Nov 10 – Disaster Management Centre (DMC) announces that at least 26  people had died and over 60,000 affected by heavy rain, floods and landslides due to bad weather conditions in previous weeks.
Nov 12 – Veteran actor and musician Lakshman Wijesekara passes away.
Nov 15 – The death toll from the COVID-19 pandemic in Sri Lanka surpasses 14,000.
Nov 16 – Samagi Jana Balawegaya holds a major protest in Colombo against skyrocketing cost of living, fertiliser shortage and government mismanagement of the economy.
Nov 23 – Six people including four children drownd and 20 others hospitalised after a ferry capsises in the Kinniya area.
Nov 24 –A state-of- the- art Kelani bridge named "Golden Gate Kalyani" is declared open.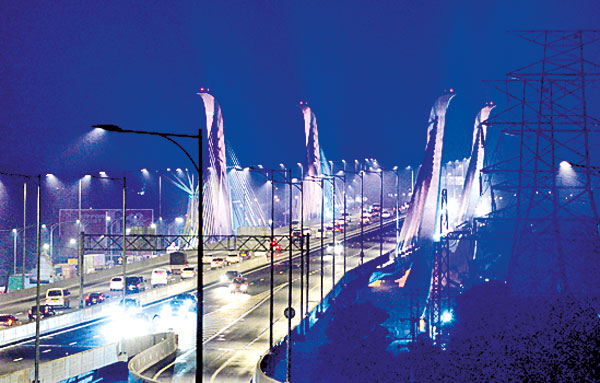 Nov  28 – The European Union's General Court rejects an appeal to lift the proscription of the Liberation Tigers of Tamil Eelam (LTTE) as an international terrorist organisation within Europe.
Nov 30 – The government lifts a ban on the import of chemical fertilisers following widespread protests by farmers across the country amidst increasing vegetable prices and serious concerns over food security in the country.
Dec 2 – Former Governor Azath Salley who was in custody since March 2021 over a controversial statement to the media released and acquitted from all charges by the Colombo High Court.
Dec 2 – Board of Investment Chairman Sanjaya Mohottala and board of management resignes. Raja Edirisuriya appointed new Chairman.
Dec 3 – Vetaran actor Sampath Tennakoon passes away.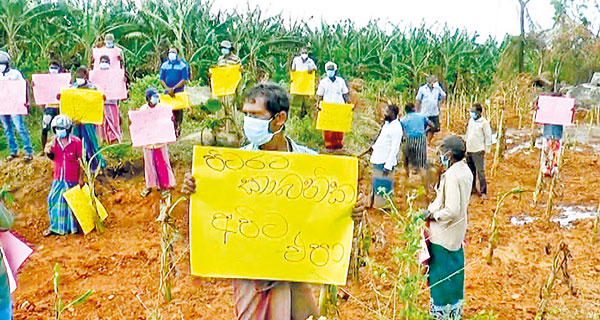 Dec 3- A Sri Lankan Manager Priyantha Kumara Diyawadana (49) working at a garment company in Sialkot, Pakistan, lynched to death by a mob over allegations of blasphemy.
Dec 3 – The country experiences an islandwide power outage due to the failure of a transmission line disrupting power supply to most parts of the country.
Dec 3 –The government suspends the distribution of all gas cylinders following an alarming rise in cooking gas explosions and fires that claims at least seven lives and injure many. A committee appointed to probe recorded 458 such incidents.
Dec 4 – Veteran actor Sarath Chandrasiri passes away.
Dec 4 – Mahinda Samarasinghe announces decision to step down as MP and accepts a new position as Ambassador to the US.
Dec 6 –The Health Ministry orders Director, Kurunegala Teaching Hospital to pay the salary of Dr. Shafi Sihabdeen, who was sent on permanent leave on allegations of performing illegal sterilization operations along with arrears.
Dec 7 – The Chinese firm – Seawin Biotech whose 20,000-tonne fertiliser stock was rejected by the authorities on the grounds that it contained harmful bacteria.  

Dec 10 – The Third Reading of the Appropriation (2022) Bill passed with 157 votes in favour and 64 votes against.
Dec 11 – A special Navy raid results in seizure of a large consignment of drugs worth Rs 2, 509 million street value, in international waters along with six foreigners on board.
Dec 12 – President Gotabaya Rajapaksa prorogues Parliament with effect from midnight. The next session to commence on January 18, 2022.
Dec 15 – Young poet and teacher Ahnaf Jazeem, detained over Easter Sunday attacks granted bail after 18 months by Puttalam High Court.
Dec 15 – UNESCO recognises Dumbara Ratā as an Intangible Cultural Heritage
Dec 21 – The Census and Statistics Department says inflation, as measured by the year-on-year (Y-o-Y) change in the National Consumer Price Index, had increased to 11.1 percent in November from 8.3 percent in October.
Dec 21 – Sharp increase in fuel prices come to effect following an announcement from Ceylon Petroleum Corporation– (92 Octane Petrol -Rs. 177, 95 Octane Petrol -Rs 207, Auto Diesel-Rs. 121, Super Diesel -Rs. 159, Kerosene -Rs. 87)
Dec 21 – Government Medical Officers Association (GMOA) launch islandwide strike over dispute on internship appointments.  
Compiled by S. Rubatheesan and Nadia Fazlulhaq
The best way to say that you found the home of your dreams is by finding it on Hitad.lk. We have listings for apartments for sale or rent in Sri Lanka, no matter what locale you're looking for! Whether you live in Colombo, Galle, Kandy, Matara, Jaffna and more - we've got them all!