Adding fuel to fury: Oil price hikes trigger serial explosions
By Kasun Warakapitiya
View(s):
Inflation at double digit, first time in seven years
Little state intervention as transport sector jacks up rates
People accuse Govt. of being insensitive to their plight
This week's fuel price increase has triggered a string of chain reactions, raising the prices of goods and services, amid indications that further price rises are to follow.
The move to increase fuel prices came after the Statistics Department recorded the highest inflation rate of 11.1 percent based on National Consumer Price Index figures for November. It was the first time since 2014 that the inflation rate had hit double digits. In October, it was 8.3 percent.
Inflation is defined as the decline of purchasing power of a given currency over time. In Sri Lankan context, it means the rupee effectively buys less than it did in prior periods.
While world fuel prices had been declining over the past three months, the upward fuel price revision from Monday midnight took the people by surprise. The following day, Tuesday, the people were dealt more blows, with transport sector unions announcing fare increases.
According to the new price revision, the price of 92 octane petrol is now Rs 177 a litre – a Rs 20 increase. The price of 95 Octane petrol is Rs 207 – a Rs 23 increase.
The prices of both auto diesel and super diesel were increased by Rs 10 and 15 a litre respectively. Accordingly, auto diesel is Rs 121 a litre and super diesel is 159 a litre. The price of kerosene has been increased by Rs 10 from Rs 77 to Rs 87.
The price revision directly affected the commuter transport sector with private bus owners, three-wheel drivers, school van operators and container transport providers calling for a raise in their charges.
Private Bus Owners Association's President Gamunu Wijeratne told the Sunday Times the association had worked out the revised overhead expenses and sent it to the National Transport Commission requesting an increase in bus fares.
"Due to the pandemic, many people show a reluctance to use public transport. Therefore, we cannot go for a big fare increase and dissuade our commuters from using public transport," he said, adding that apart from fuel, they also had to pay more for spare parts and other items and services.
Three-wheeler unions also called for a fare hike, pointing out that rates had to go up for them and their families to survive.
All-Island Three-wheeler Drivers and Owners Association President Sudhil Jayaruck told the Sunday Times they were forced to increase fares due to the soaring cost of living.
He said the union had decided to increase the fare for the first kilometre from Rs 50 to Rs 60 and charge Rs 50 for each additional kilometre.
Mr Jayaruck said if the Government did not want them to increase the fares, then it must provide them relief by way of waving off or reducing the taxes on tyres and spare parts.
All-Island Three-Wheeler Drivers Trade Union, too, believes that it needs to go for a fare increase in view of the skyrocketing prices. Union President Lalith Dharmasekara said they increased their fares taking into consideration further increases in prices of goods and services in the coming days.
He said the union had decided to fix the rate for the first kilometre at Rs 80 and Rs 45 for each additional kilometre.
Mr Dharmasekara said a regulatory body must be established to control and standardise the sector.
School van and staff van operators also said that unless the government gave them a fuel subsidy, they would increase their rates.
The All Island Inter-District School Children's Transport Association President N M K Harischandra Padmasiri said prices of spare parts and lubricants had doubled in recent months along with the increase in fuel prices.
"It was only last month we increased our rates, but we cannot run at a loss when all expenses are increasing. Therefore, we plan to increase the fares by 5-10 percent," he said, adding that they were also planning protests to demand relief from the Government.
Meanwhile, in reaction to the Monday midnight fuel price hike, the container transport sector has also increased charges by 5 percent, or 20 percent when compared to the 2016 rates, contributing to a further increase in prices of goods.
Container Transporters Association President Roshan Menickwaduge said the 5 percent increase was over the 15 percent increase made six months ago in response to the fuel price hike then.
"When we charge more, ultimately it is the customers who have to pay more as traders tend to pass on the additional cost to them," he said.
Meanwhile, with the Government lifting the price control on bread, the Bakery Owners Association has instructed its members to decide on prices of bakery products according to costs.
Its president N K Jayawardena said the decision was taken following the sudden increase in fuel prices.
"No longer can we, as an association, increase prices of bakery products as the prices of flour, margarine and other ingredients too increase every day," he said.
As prices of goods and services increase without control, there is growing anger among people. Most of them said that they were unable to manage the expenses with their income and accused the Government of being indifferent to their plight.
Roshan Jayasuriya (42), a private company lorry driver, said his expenses had doubled after the fuel price increase.
He said the prices of food items were rising from Tuesday and he was unable to make a saving for his family from his Rs 2,000 daily wage.
He said he ate from outside as he was a lorry driver and every food outlet where he usually had his meals had increased the prices saying they had to pay more for rice, vegetables, spices and other items.
Isuru Sajith, an IT company employee, said the Government was insensitive to the people's difficulties and each family needed at least Rs 200,000 a month to survive. He said he used a motorcycle and had decided to cut down his visits to reduce his fuel budget.
Some believe the Government had increased the fuel prices with a view to reducing the country's fuel consumption, and thereby the fuel import bill, to tide over the foreign currency crunch.
Colombo University Medical Faculty's Professor Deepal Mathew said the country situation had become worse due to the shortage of goods and increase in prices.
"The Government's measures are impractical," he said, pointing to the fertiliser crisis as an example. "Even countries such as China and India do not engage in 100 percent organic agriculture. When agriculture fails, exports drop along with foreign currency exchange," he said.
Prof Mathew said he was bewildered by the Government's move to increase fuel prices when the world fuel prices had recorded a decline.
P Indrani, who works as a domestic aide, said she could not survive with her Rs 1000 daily wage. "Fuel price increase is a death knell for people like us. I cannot feed my family with what I earn," she said.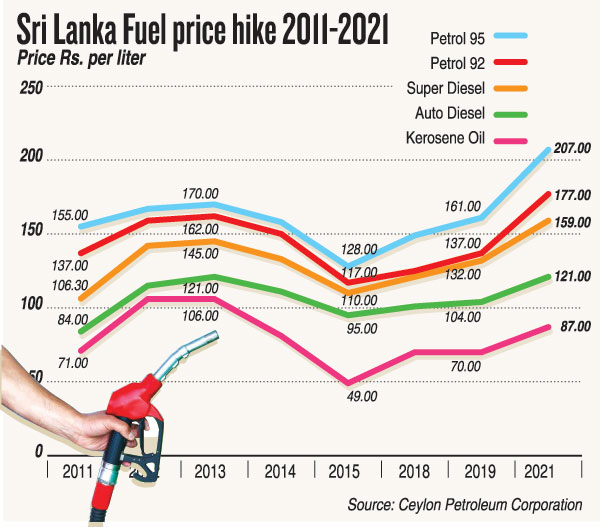 Ten-rupee hike in kerosene price leaves poor fishermen in sea of debt

For poverty-stricken fisher folk, the kerosene price increase was too much to bear. Most of them are struggling to survive in a sea of debt. The ten-rupee increase in the price of a litre of kerosene means a poor fisherman has to find at least Rs. 500 more to buy the kerosene required to operate his boat for a day trip.

Worse still, the price increase in kerosene came at a time when the warakan or the off season was ending and they were about to go out to sea. To fend for their families during the off season, the poor fishermen had borrowed money from money lenders at high interest rates. Now with their fuel costs increasing along with the prices of other items, they have to borrow more, says Southern Fishermen's organisation Convenor Dulith Rangajeewa.

He said some fishermen had decided not to go to sea because they felt they would not be able to cover the cost and repay their debts with the meagre catch at the beginning of the season.

R.S.P. Sisisaratunga, chairman of the Thotupola Fishing Association in Balapitiya, said the price increase of kerosene was a major blow to most of the union members who were already neck deep in debt.

"If fishermen are unsuccessful in one fishing trip, they won't have enough money in hand to buy fuel for the next trip. If they return with a poor catch in consecutive trips, they have to find money not only to buy fuel but also to repay the money lender. This pushes them to go to another money lender and borrow more at a higher interest rate. They literally drown in the sea of debts," said Mr Sisisaratunga, calling on the Government to come up with a relief package for the fisher folk.

---

Trade Ministry urges people to buy goods sparingly, grow vegetables in home gardens

The Trade Ministry has urged the people to buy goods sparingly and grow vegetables in their home gardens.

Ministry Secretary J M Bhadranie Jayawardhana said the pandemic had affected the supply chain, giving rise to shortages in the market.

Pointing out that the country was also facing a dollar crisis due to the decline in tourism arrivals and a drop in migrant worker remittances and demand for exports, she said these factors had led to delays in the import of goods. "The country depends on food imports. Sugar, dhal, even big onions and potatoes are imported, as local production cannot meet the demand," she said.

She said that even though the Government reduced taxes and allowed more traders to import sugar, rice and other essential commodities, the shortages of food items continue to push the prices up.

The secretary said the ministry had taken the initiative to provide essential goods at concessionary prices through Lanka Sathosa outlets.

Ms Jayawardhana said the people also needed to cut down their dependence on imports, grow vegetables in their home gardens and help the economy to overcome challenges during this difficult time.
The best way to say that you found the home of your dreams is by finding it on Hitad.lk. We have listings for apartments for sale or rent in Sri Lanka, no matter what locale you're looking for! Whether you live in Colombo, Galle, Kandy, Matara, Jaffna and more - we've got them all!