Relax in comfort and style
By Ruqyyaha Deane
Thisakya Senanayake's sleepwear and loungewear line grew out of wearing brother's oversized T-shirts
View(s):
Never being able to find sleepwear that was the perfect marriage of making you look good whilst also ensuring comfort, Thisakya Senanayake used to resort to sleeping in her 6'8" brother's oversized T-shirts. Although they were comfortable, she realised she needed something else when she travelled and that was when she identified a gap in the Sri Lankan market.
It was back in 2018 that she began 'The Moon And All Its Stars' (M.A.I.S) with just four styles of sleepwear. Recently relaunched, M.A.I.S. has a more expansive collection including different styles of sleepwear and loungewear after a few details with regard to sourcing and production were sorted.
"With this relaunch, we expanded towards more sleepwear and loungewear while keeping in mind that the overall plan for the future is to make it a lifestyle brand," she shares adding that at the moment they do have a few menswear items and expansion on that line as well as kidswear and homewear are in the pipeline.
She describes the identity of her brand as overall comfort and style and notes that while it is important to absorb trends because the generations are changing, staying true to your brand identity is vital.
A graduate from Central Saint Martins at the London College of Fashion with a degree in fashion design technology for surface textiles, Thisakya tells us that although her sense of style does go into the design process, she is also very interested in people's feedback on what they like in terms of comfort, colour, and even details like whether more elasticity around the waist is needed, etc.
While it's important to have your core products, you need to see what sells and what doesn't so you can understand the market and create curated collections that customers would enjoy.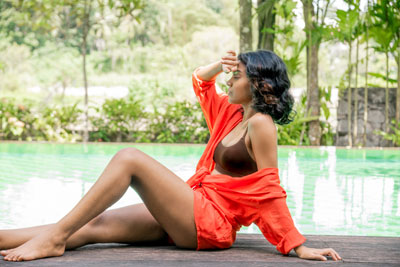 "Due to difficulties in sourcing fabric as locally there are very limited amounts of a particular fabric, we source our materials from China. But we have always produced locally and will continue to so," she adds.
A brand that is both price-conscious and size-inclusive, Thisakya says as someone who has personally struggled with not being able to shop online for her size, she wants M.A.I.S to welcome all body types and even if the racks may not have the size you're looking for, if the demand is there, they will produce it. All the designs are made a little bigger for comfort.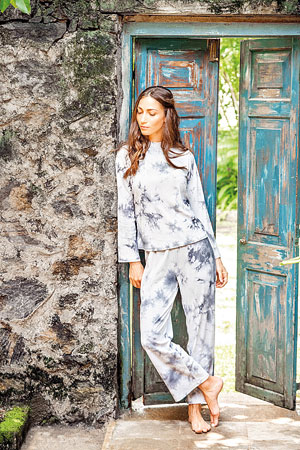 From long pyjamas with collared tops, sleep shirts and sleeve dresses that can be mixed and matched to contemporary loungewear that is a combination of vacation wear and travel sets, M.A.I.S designs are created with the Sri Lankan climate and lifestyle in mind. In time for the holiday season, they are also launching Christmas themed products.
M.A.I.S is available at the Design Collective Store and Odel (Ward Place) with plans to expand to other outlets. You can also order direct online from their recently launched website www.themoonandallitsstars.com – they deliver both locally and internationally.
Searching for that next furry family member but couldn't find one in your area? Hitad.lk has the solution with our extensive listings of dogs for sale in Sri Lanka!