Hitting the ramp with new Lankan look
By Ruqyyaha Deane
Mercedes-Benz Fashion Week (MBFWSL) 2021 on next weekend
View(s):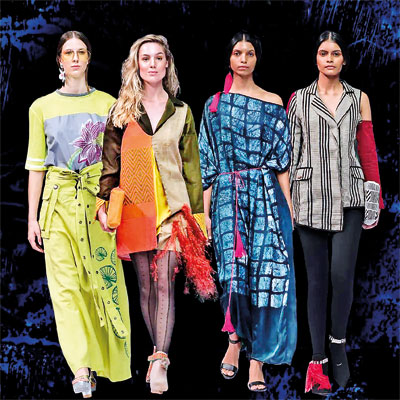 Mercedes-Benz Fashion Week (MBFWSL) 2021 powered by Dimo will take place on December 10, 11 and 12 at the Colombo Innovation Tower  over three runway shows and an exhibition. MBFWSL has in the past connected Sri Lankan designers to global platforms and created pivotal turning points for many up and coming designers and this year,  presenting the Academy of Design's (AOD) new campaign 'The New Local' it will demonstrate Sri Lanka's new approach to its exports.
The aim is to showcase how local fashion exports can be taken to new consumer niches beyond borders. The very first show which is titled after this vision will present a series of collections that re-envision traditional craft in a different manner.
To gain a little more insight into what to expect, the Sunday Times spoke to some of the ambassadors and designers of the New Local campaign and show.
Founder of  Mendés Ceylon, Sajee Seneviratne will be showcasing for the second time at MBFWSL with her first showing being back in 2017. "A lot has changed since then due to the pandemic and I have changed my brand's direction. My sustainable take on my brand now is making a conscious wardrobe and expanding my brand into the export market," she says, noting how MBFWSL is a good platform to get recognition on an international platform. It is a privilege to exhibit her batik collection with a modern twist at the New Local show, she adds.
"To tie in with the new local campaign, I am using a lot of artisanal crafts in modern contemporary garments fashioned in timeless silhouettes to give them a new look," says Uddami Wijesekara about her eponymous brand Uddami. Uddami's upcoming Spring/Summer 2022 collection will be launched at MBFWSL and audiences can expect to see elements such as cotton, beeralu lace, tie-dye and batik incorporated in the designs.
Tropical Ceylon by Nithya is what the Founder of Nithyarn, Nithya Yamini Lamahewa will be exhibiting at MBFWSL. Inspired by street fashion, a modern take on the batik sarong will be shown on the runway to normalise wearing sarongs for everyday wear, teamed with casual cotton T-shirts. Sarees too will make an appearance. The prints on this collection are inspired by nature and the endemic fauna in Sri Lanka.
"Now is the best time to talk about what we have in Sri Lanka. We have great history and culture but we always tend to look at the negative side of things. There is much more. Through New Local, we are showing a piece of Sri Lanka to the world because with the fashion industry we take our craft (batik, handloom, etc) in our own way to the world," Nithya says emphatically.
Featuring fashion and textile graduates from AOD, the Emerging Designers and New Gen showcases are something to watch out for as these young creatives take it to the next level by demonstrating their ability to create a perfect balance between the Sri Lankan aesthetic and a fashion philosophy that is sustainable and globally relevant.
The MBFWSL fashion exhibition, highlighting projects with outstanding creative and sustainable thinking in young Sri Lankan designers will be open to the public from December 10th to the 12th following COVID-19 guidelines at the Colombo Innovation Tower on R.A. de Mel Mawatha, Colombo 4 between 10.30 a.m. and 5 p.m.
The MBFWSL shows will be live-streamed on www.mbfwsrilanka.com
Searching for that next furry family member but couldn't find one in your area? Hitad.lk has the solution with our extensive listings of dogs for sale in Sri Lanka!