Minul and Sakuni win the Asian University Chess Selection Trials
View(s):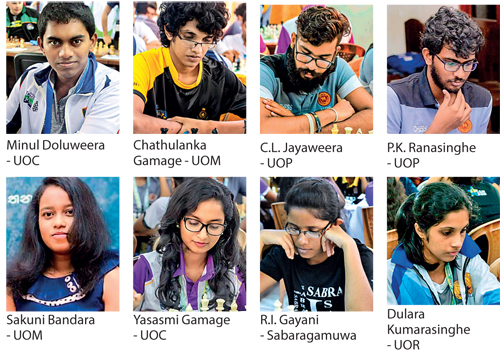 Minul Sanjula Doluweera, Chathura Jayaweera and P.K. Ranasinghe will team up in the Men's division while Sakuni Bandara, R.I. Gayani and Dulara Kumarasinghe will represent the Women's team when Sri Lanka fields a team for the Asian University Chess Championship. In addition Chathulanka Gamage and Yasasmi Umarusiru Gamage will also join the squad to represent Sri Lanka at the forthcoming regional competition. The eight were picked at a Selection Trial held, in particular to form a team of university students.
Minul Sanjula Doluweera of University of Colombo and Sakuni Bandara of University of Moratuwa won the Selection Trials for the Asian University Chess Championship convincingly. Minul, presently Sri Lanka's No. 2, recorded six straight wins and conceded a draw in the final round to score 6½ points out of possible 7 games in the Men's division. Sakuni, on the other hand, also had a remarkable event, scoring 6 points with five straight wins and recording two draws in the Women's division.
Chathulanka Gamage of University of Moratuwa also was in the run throughout and was placed second with 5 points in the Men's. Three players — Chthura Jayaweera, P.K. Ranasinghe, both from University of Peradeniya, and M.C.L. Mendis, scored 5 points each. But Chathura and Ranasinghe managed to book the berths into Sri Lanka National University Chess team with the better tie breakers.
In the Women's Yasasmi Umarusiru Gamage of Colombo University was placed second with 5½ points out of 7 games. After five-way ties with 5 points by R.I. Gayani, Dulara Kumarasinghe, Anuki Pasquel, Nelunika Methmani and Inoli Tashini, Gayani and Dulara, both of University of Ruhuna, qualified to represent the Sri Lanka National University Women's team with better tie breaking scores.