The hospitals are full-up
By Kumudini Hettiarachchi and Ruqyyaha Deane
Saturated or close to saturation, is the lament heard from a majority
View(s):
With hospitals not only in Colombo but even in Ratnapura and Karapitiya tumbling like dominoes under the onslaught of COVID-19 and the weight of hapless patients who are taking up 'lodging' in the garden, the Sunday Times felt the COVID pulse in many outstation areas.
"Reached saturation" or "close to reaching saturation" was what we heard over and over again.
Here are the chilling findings of the Sunday Times on Friday and Saturday:
Northern Province
Jaffna district – At the Jaffna Teaching Hospital, two wards (31 beds for males and 34 beds for females) were "almost" full with COVID-19 patients, as also the 14 beds in the obstetrics & gynaecology ward. The 8 ICU beds were occupied. The 6 intermediate care ward beds were also occupied.
Four hundred of the 420-bed Intermediate Care Centre (ICC) in Kopai coming under the Jaffna Hospital were also occupied.
Kilinochchi district – At the Kilinochchi District General Hospital, all COVID-19 beds (23 – 11 for females and 12 for males) were occupied. There was 1 patient on the floor. The 2 ICU beds were occupied and 1 of 4 HDU beds was occupied. The 14-bed intermediate care ward was full.
The two ICCs the Kilinochchi Hospital is looking after with 464 beds were full, while it has taken another ICC in the Mullaitivu district with 300 beds also believed to be full.
Mannar district – 25 of the 48 beds at the Mannar District General Hospital were occupied with an increasing admission trend.
Vavuniya district – 25 of the 60 beds (including HDU and maternity beds) were occupied at the Vavuniya District General Hospital. There was an increasing trend in admissions.
Central Province
Kandy district – The Kandy Teaching Hospital was "managing"with the 108 beds with an influx of 188 patients on Friday. More and more beds from medical wards were being taken to accommodate COVID-19 patients.
Nuwara Eliya district – At the Nuwara Eliya District General Hospital, of the 90 COVID-19 beds, 60 were occupied. There was an increasing admission trend.
North Western Province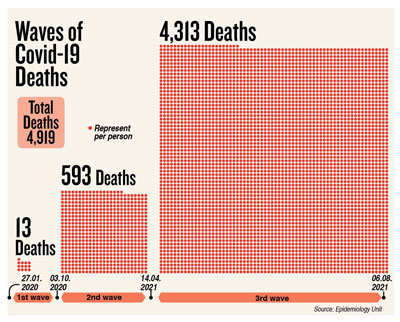 Kurunegala district – The 120 beds at the Kurunegala Teaching Hospital were full with a high inflow, more beds from other wards would have to be commissioned. Currently there are no floor patients.
North Central Province
Anuradhapura district – The Anuradhapura Teaching Hospital was reaching saturation point with the 46 beds in the HDU, the 6 beds in the ICU and the 50 beds in the intermediate care area all full. The ICC close by with 600 beds was also full.
Southern Province
Hambantota district – There were 171 patients for the 150 COVID-19 beds at the Hambantota District General Hospital. The hospital was "managing" and hoping to expand bed capacity next week.
Eastern Province
Batticaloa district – The125 beds in four wards at the Batticaloa Teaching Hospital were full. It had reached saturation point with patients in chairs and mats.
Ampara district – 25 of the 37 COVID-19 beds at the Ampara District General Hospital were full. The general beds had exceeded capacity and the unoccupied beds were maternity and paediatric beds.
Uva Province
Moneragala district – The 27 COVID-19 beds at the Moneragala District General Hospital were occupied.
Badulla district – Of the 116 beds at the Badulla Provincial General Hospital, 102 were occupied and there were concerns over reaching saturation point. Three of the 8 ICU beds were occupied.
A heartening tale of dedication & sacrifice from Matale

A tale of dedication, sacrifice for the betterment of patients and systems being in place with all healthcare staff going beyond the line of duty, while also taking timely decisions comes from the hills of Matale.

"Yes, we are seeing a rapid rise in the number of COVID-19 patients seeking treatment here from around July 20," says the Director of the Matale District General Hospital, Dr. Asela K. Dissanayake, appreciating his staff.

All 327 beds dedicated to COVID-19 patients are full but there is no one on the floor. The hospital Steering Committee meets daily to assess the situation and take urgent decisions.

Dr. Dissanayake himself has given up his quarters, turning it into a Preliminary Care Unit (PCU) which has four beds where oxygen-needing patients can be treated on-the-spot and also resuscitated if the need arises.

At the PCU, the patients are triaged and screened and in consultation with specialists sent to one of the six COVID-19 treatment units.

"There is a special 12-bed Obstetric Unit with a labour room for expectant mothers who are positive. So we can attend to deliveries too," says Dr. Dissanayake, explaining that there is also a 26-bed ward for those needing oxygen.

The hospital is managing a 260-bed intermediate care centre which was also full.

Having given up his quarters, where does Dr. Dissanayake live?

"I have found a room," he says.

Heartening news for the humble people of Sri Lanka being battered by COVID-19, with hope that more hospitals would follow suit.

---

Expansion of home-based care system

The home-based care system for a specific category of COVID-19 positive patients – the 'Patient Home Isolation and Management System' – PHIMS, is on in the Western Province, with plans for a rollout this week (tomorrow or Tuesday) to Sabaragamuwa and the Southern Province.

Thereafter, it would be implemented in Uva and the North Western Province and then in the rest of the country, it is learnt.

"Up until today (Friday), we have enrolled nearly 6,000 people into this scheme, without a single death in the Western Province," said the Director-General of Health Services, Dr. Asela Gunawardena.

As at Thursday, the numbers were:

Colombo district – 1,616 people with 84 hospital admissions and no deaths.

Kalutara district – 2,334 people with 222 hospital admissions and no deaths.

Gampaha district – begun on Monday, so far 1,387 cases with 15 hospital admissions and no deaths.

Pointing out that home-based care would be one solution to the hospital overload, the DG stressed that these patients are positive but asymptomatic or mildly symptomatic and are not in a high risk category.

He added that hospitals are evaluating patients who have been admitted and if they are stable and meet the criteria, sending them for enrolment in home-based care.

The Sunday Times reported on this scheme on July 4 headlined 'Overcoming COVID-19 in the comfort of one's home'.

---

Laying down a clear set of markers

Consultant Physician Dr. Upul Dissanayake of the National Hospital of Sri Lanka (NHSL) laid down a clear set of markers which people may follow.

He told Friday's media briefing at the Health Promotion Bureau that if anyone is having respiratory problems and fever these days, it should be considered as COVID-19, until ruled out. If it is only fever, the two suspect diseases would be COVID-19 and dengue.

On what should be done if staying at home, Dr. Dissanayake says:

The main danger that needs to be considered is reduction in oxygen which can be attributed to two reasons – the oxygen that is taken in by the lungs and the oxygen utilized when working.

There is nothing that can be done about the amount of oxygen being taken in by the lungs while at home, but if you rest, you can prevent oxygen levels in your system from going down.

If you feel that there is a reduction of oxygen in your system, you must take bed rest. Don't try to catch up with the work that was missed before. This is especially relevant for women who have a lot of work within their home such as cooking and looking after children. It is important to stop all housework and stay in bed.

If possible, get a pulse oximeter to measure your oxygen levels three times a day. If your oxygen level drops below 96, go to a hospital immediately.

Another way of checking oxygen levels is to sit and stand eight times and keep the oximeter attached for two minutes, once a day. If there is a drop of two units compared to when resting, go to hospital immediately.

---

Urgent restrictions vital at this point, say experts

The fourth wave of COVID-19 is wreaking havoc in Sri Lanka, leaving behind a trail of disease and death.

The authorities need to take action right now, even then the results would be seen only in two weeks' time, multiple experts warned, urging that severe restrictions need to be imposed at least in the Western Province (comprising the Colombo, Gampaha and Kalutara districts).

"This will allow hospitals to get a breather. To be fair by the exhausted health staff, they are overburdened. It is humanly impossible to attend to all patients all the time. So, deaths are bound to occur," an expert pointed out.

Another reiterated that the need is to put a brake on transmission. All mass gatherings including weddings, funerals, musicals and also protests should be halted.

Pointing out that inter-provincial travel should be frowned upon, others were critical of the opening up of government offices, which they said would lead to an escalation of the virus spread.

"Government officials travelling back and forth from the Western Province will be the ideal situation for the more transmissible Delta variant to be taken to all parts of the country," said an expert.

Restrictions are critical to buy time for the vaccination rollout and also for the vaccines to kick-in, they said in unison, adding that this is a wake-up call before the catastrophe worsens.

Some suggested the setting up of makeshift hospitals in abandoned buildings quickly by putting in beds and facilities for those who are oxygen-dependent.