New circular on public services in effect until virus spread subsides
By Tharushi Weerasinghe
View(s):
The newly issued circular on maintaining public services will continue until the dangerous situation in the country owing to the rapid spread of Covid-19 subsides, a senior government official said.
According to the new circular issued on Friday (6), teams should be formed for officers of all public institutions in such a manner that one officer should report for duty at least three days a week, enabling such teams to continue providing the service of the institution.
Heads of departments however, have the option to discuss the matter and call in a smaller group of employees on shift basis if a large number still end up coming to office, making it difficult to work under health guidelines, Secretary to the Ministry of Public Services, Provincial Councils and Local Government J J Ratnasiri told the Sunday Times.
The new circular also states that steps should be taken not to call pregnant officers and mothers with children below the age of one year, when calling officers for duty to government institutions.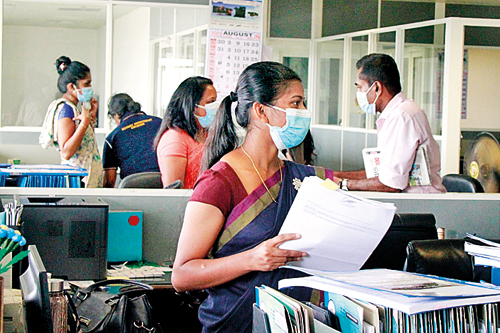 Friday's circular reversed a circular issued just a week before, on July 30, recalling all government servants back to work. The new circular outlining the terms of the reversal was released to department heads and the general public citing health concerns in light of the rapidly rising rates of Covid-19, and the delta variant in particular.
However, by that point, the "return to normalcy" had been in operation for a week since August 2. The Ministry of Power and Energy and the Department of Immigration and Emigration were both shut down this week as workers tested positive.
The circular calling for the return to work under health guidelines revoked 14 circulars that had been passed before in relation to the work-from-home and closure of offices due to the pandemic. The circular referred to the fact that a studious vaccination plan was underway and Mr Rathnasiri told the Sunday Times that special vaccination arrangements would've been made for those that had not received theirs yet.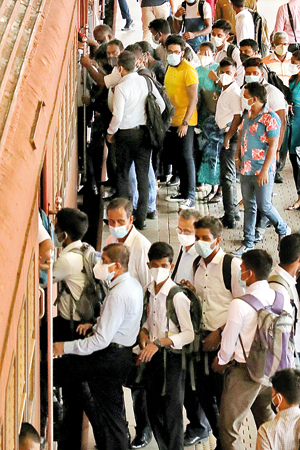 Commenting on the decision to recall workers to offices Mr Rathnasiri told the Sunday Times that the work-from-home practice of the public sector had been unsuccessful. "If it worked why would we even need offices?" he asked. "We can't keep the country closed forever."
Despite being recalled to work under health guidelines such as mask wearing, social distancing, and sanitation, trade union representatives claimed that workers had been forced to come to work.
"People were not mentally ready to go back to work amidst transport issues and rising Covid-19 rates," said Samantha Koralearachchi, President of the All Ceylon Health Services Trade Union Federation. He also alleged that offices did not have the resources to adhere to guidelines like social distancing. "People spent their own money for their safety because they were afraid, they also spent much more on transport since public transport is still a huge health hazard."
"Bringing people to work when it's practically impossible to protect them from the virus is shocking," Mr Koralearachchi said.
According to him, approximately 1.5 million people were recalled to work this week.
Meanwhile, the Sunday Times reached out to heads of the transport sector to gauge their preparation for a potential increase in the number of passengers on public transport. "There was no demand for public transport but we were prepared nonetheless," said Sashi Welgama, Chairman, National Transport Commission. Buses are only permitted to take on passengers based on the number of seats available, and masks were mandatory. However, buses are only sanitised at the beginning of the day.
According to Kingsley Ranawaka, Chairman, Sri Lanka Transport Board, 4,500 buses had been prepared to cater to the incoming traffic with the opening of the public sector. Since inter-provincial buses were not functioning, these were also deployed to service short-distance routes.
Sources told the Sunday Times that buses were now checking vaccination cards and identity cards of younger crowds before letting them on the bus. Nonetheless, pictures circulating on social media showed that social distancing was non-existent on trains as people clung to each other in the crowded compartments.