CMA Sri Lanka New Council 2021 – 2023 inducted via online
View(s):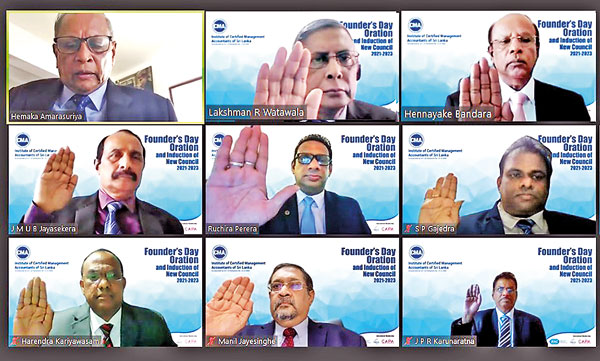 The induction of the new council of CMA Sri Lanka was held on 10th June 2021 via online.
CMA Sri Lanka was set up in 1999 with the technical support of CMA Canada (now CPA Canada) and the financial assistance of the Canadian International Development Agency (CIDA). CMA was launched on 3rd June 2000 and thereafter incorporated in April 2009 as The Institute of Certified Management Accountants (CMA) of Sri Lanka by Act of Parliament No.23 of 2009 to be the National Professional Management Accounting Institution in Sri Lanka.
The new council of CMA Sri Lanka for the year 2021 to 2023 are as follows:
President Prof. Lakshman R Watawala FCMA, Founder President CMA Sri Lanka, Past President CA Sri Lanka, Past President South Asian Federation of Accountants (SAFA), Founder President AAT Sri Lanka, Former Chairman BOI Sri Lanka and Peoples Bank.
Vice President Mr. H.M. Hennayake Bandara FCMA, Vice President South Asian Federation of Accountants (SAFA), Past Council Member CA Sri Lanka, Past President AAT Sri Lanka and Former General Manager National Savings Bank Sri Lanka.
Council Members, Mr. M Ruchira A Perera FCMA, Vice President Finance. BioMedica (Pvt) Ltd, Analytical Instruments Group,  Mr. J M U B Jayasekera FCMA, Past President AAT Sri Lanka, Chairman JMC Jayasekera Management Centre (Pvt) Ltd., Mr. Puvendran Gajendra FCMA, Partner at Kanesalingam & Co. Chartered Accountants.
The three Nominated members to the Council as per the Act are Prof.  Harendra Kariyawasam Head Department of Accounting, University of Sri Jayewardenepura, Mr. Manil Jayasinghe FCMA President, CA Sri Lanka and Mr. J.P.R. Karunaratne FCMA Assistant Governor, Central Bank of Sri Lanka.
Senior Advisory Council Member and Founder Member CMA Sri Lanka Mr. Hemaka Amarasuriya FCMA inducted the President, Vice President, and the new council on 10th June 2021.
The Congratulatory Remarks to the new council was delivered by H.E. David McKinnon High Commissioner for Canada in Sri Lanka who thanked the Founder President Prof Lakshman R Watawala for his vision and leadership without which CMA will not be what it is today and for the strong links with Canada to build the knowledge economy in Sri Lanka.