Sri Lanka 'groping in the dark' on how to deal with cyber-bullies
By Nadia Fazlulhaq
Women stalked and abused on the internet - 'We see young girls come crying to us': police
View(s):
Women suffer disturbing harassment on the internet, with about 400 cases reported during the past year detailing revenge pornography, blackmail for money or sexual favours, sale of videos to pornography websites, sharing of obscene photos and videos and editing photos posted on social media sites.
"Online harassment is a new form of gender-based violence," Savitri Wijesekare, Executive Director of Women In Need (WIN), said.
"This is a growing trend with females aged between 15 to 45 years – from Advanced Level or university students to young unmarried and married women being harassed by strangers, former boyfriends, ex-husbands or former sexual partners," she said.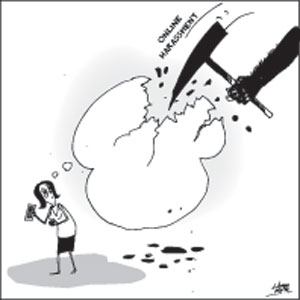 While some offences are reported, most victims suffer in silence, some because they do not know how to lodge complaints while others fear exposure of personal details and content.
A Standard Operating Procedure introduced last year for police on handling sexual harassment of women on social media came to a standstill due to the pandemic but will recommence this year.
The procedure was introduced by WIN and other institutions that handle harassment of women, such as the police Cyber Crimes Unit and Children and Women's Bureau, the Criminal Investigation Department, Sri Lanka Computer Emergency Readiness Team (SLCERT), and Telecommunication Regulatory Commission among others.
Ms Wijesekare said most local police stations or women's and children's desks did not know how to handle cyber-bullying cases.
Last week, she said, comprehensive training for officers of the Children and Women's Bureau desks in the Western Province commenced.
"Our female parliamentarians have asked for a parliamentary select committee to look into violations of women's rights. One aspect they should highlight is laws and measures to curb harassment of women on the internet," Ms Wijesekare said.
"This is a new area and Sri Lanka is groping in the dark.
"We have to give it a lot of attention as women suffer in a similar way to when they are physically abused. We cannot ignore it with 400 cases of sexual harassment on the internet in the past year," she said.
Current laws are inadequate to deal with the new kinds of crime emerging from technological advancements, Ms Wijesekare said.
It was important for women exposed to such harassment to feel safe and understood when lodging a complaint at women's desks in police stations, police Children and Women's Bureau Director, Senior Superintendent of Police Dharshika Kumari emphasised.
SSP Dharshika Kumari, a former director of the CID's Computer Crimes Investigation Unit, said the new procedure would help police handle complaints directly instead of forwarding all cases of online harassment to the CID.
"Previously, all such cases were forwarded to the CID," she said, adding, "One cannot directly go to the CID and lodge a complaint, and many women are reluctant to write to the CID.
"Once our officers are well-equipped to handle this type of harassment, women can go to a police station Women's Desk and lodge a complaint.
"The CID already has a massive workload and there is a possibility of delays. This kind of harassment should be dealt forthwith.
"Harassment, publishing obscene photos of videos are punishable offences under the Penal Code therefore local police can take action," SSP Kumari said.
She emphasised the need for technology training for officers and said a book on how to handle cybercrime complaints, including online harassment, had been printed and was currently being distributed to all police stations.
Most complaints are from Colombo, Gampaha and urban areas and most of the victims suffer depression and anxiety and are a suicide risk, the Officer-in-Charge of the police Cyber Crimes Investigation Unit, Chandima Arumapperuma, said.
"We see young girls come crying to us, saying a former lover is sending videos of them together to family and friends," she said.
"There are women who are being stalked and harassed by men on different social media accounts. There are complaints of money extortion. Some women do sexual favours as they are threatened. These women undergo immense mental agony," OIC Arumapperuma said.
"There are laws against sexual harassment, intimidation, blackmail, obscene publications, defamation and domestic violence, but all the aspects of cyber-bullying such as cyber-stalking, trolling, online witch hunts, fake news, misleading and false news, hate speech and privacy abuse are not properly protected by the law," senior lecturer in cyber law, Aparajitha Ariyadasa said.
Sri Lanka had substantial gaps in the creation and implementation of the scattered legislation that strives to cope with the incorporation of the internet into everyday life.
"There is also a need for well-written legislation that details the protections, punishments and penalties," Ms Ariyadasa said.
"Lack of adequate legal protection and lack of knowledge and interpretations may unintentionally help a cybercriminal to trap a victim, to cause a victim to feel defenseless, and to cause a victim to be threatened or in danger," she warned.