Remembering Upali
View(s):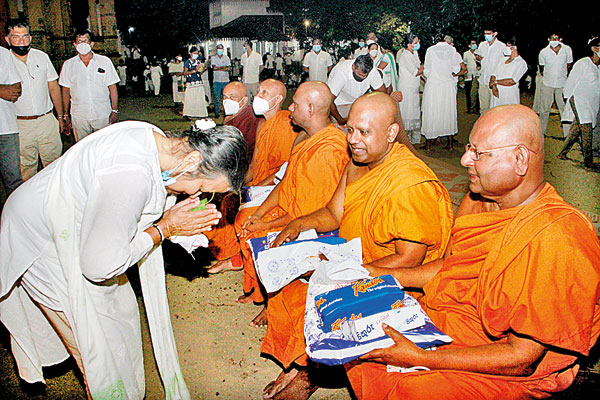 The 38th annual pinkama in memory of Upali Wijewardene, business magnate and founder of the Upali Conglomerate the first Sri Lankan owned multinational company that included Kandos chocolates, Upali Newspapers, Grand Central Plantations, electronic cars among other enterprises and one-time Chairman of the GCEC (Greater Colombo Economic Commission), was held last evening at the Kelaniya Raja Maha Vihara in the presence of Mrs. Lakmini Welgama, Mr. Nimal Welgama, Mr. Dhammika Attygalle and staff of the Group.
On February 13, 1983, the private Lear Jet of Mr. Wijewardene went missing as he returned to Colombo from his home "Cocoa Hill' in Kuala Lumpur where he had gone for a business meeting. He was 44 at the time.
Five others were on board the flight — his Commercial Director Ananda Peli Muhandiram; lawyer and Chairman of Upali (Malaysia) S.M. Ratnam; steward S. Senanayake; pilot Capt. Noel Anandappa and co-pilot Sydney Soysa.
Pix by Priyankara Samaraweera.